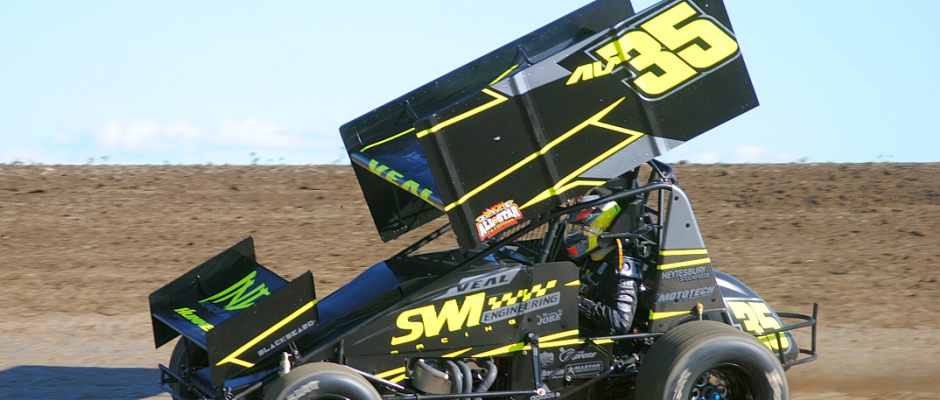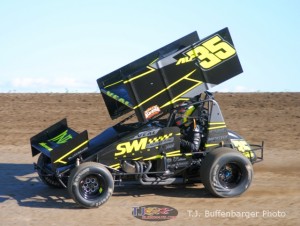 From Premier Speedway
Warrnambool, AU — (November 29, 2014) — Jamie Veal's dream like start to the 2014-15 season continued as the Warrnambool native returned to his home track Sungold Stadium for round three of the Eureka Garages and Sheds Series, where he once again was a cut above come feature time.
On a perfect night for Sprintcar racing in front of a healthy and appreciative audience Veal started the night by qualifying third fastest before a pair of heat wins, the second from position ten on the grid assured Veal of a front row start alongside current Australian Champion David Murcott.
At the drop of the green flag in the 30 lap final it would be Veal who got the initial jump before the caution lights flew courtesy of Daniel Pestka who sustained front end damage as a result of contact as he entered turn one.
With a complete re-start called, it would be Murcott who would gain the ascendancy in the opening lap before order was restored for the Veal camp as he regained the lead.
Darren Mollenoyux who had also enjoyed a solid night at the wheel with two strong heat performances made his move disposing of Murcott as he moved into second, however Murcott soon made the move back into second place.
When contact was made between Brett Milburn and Ash Scott resulting in another yellow flag period it gave Veal plenty of clear track as he used the low groove to accelerate from the field and from here he was never headed as he stormed to victory in the 30 lap final by a margin of a half a lap to Murcott and Mollenoyux.
Rod Matthews who earlier claimed a heat win over dual Australian Champion James McFadden was impressive all night long and managed a solid fourth place finish doing his Eureka Garages and Sheds Series points haul no harm at all while rounding out the top five defending series champion Shaun Dobson.
McFadden overcame a tough night at the office which included an engine detonation to somehow scramble his way to sixth in a sign of his true class while Brad Warren, New South Welshman Max Johnston, Nick Lacey and Grant Anderson rounded out the top ten.
The remaining drivers to go the journey were John Vogels, Brett Milburn, James Hennessy and Ashley Scott.
Corey McCullagh who earlier in the night set quick time and recorded a heat win was unfortunately confined to a DNF and was joined by Pestka, Jordyn Brazier and Kris Lacey.
Heat wins went the way McCullagh, David Murcott, Veal (2), Rod Matthews, Bradley Warren, Shaun Dobson, Glen Sutherland, Jack Lee and Matthew Dumesny.