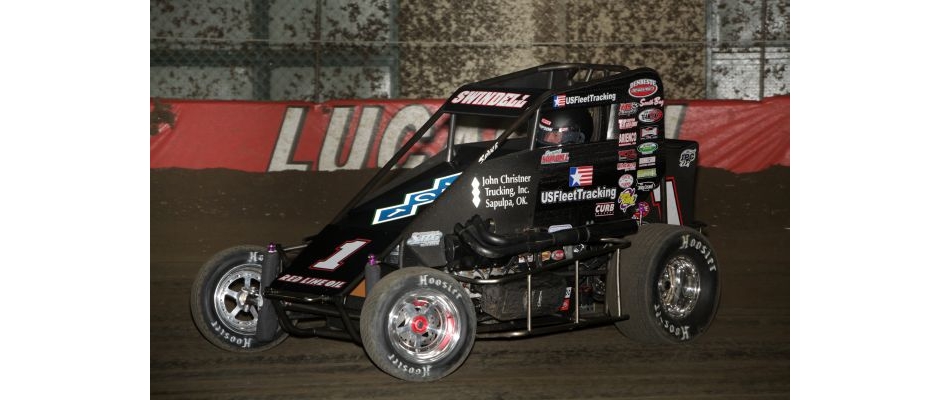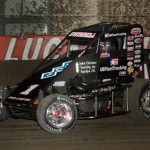 From Bryan Hulbert
Tulsa, OK — (January 8, 2015) — A 20 lap shootout among some of the best to ever race the Lucas Oil Chili Bowl Midget Nationals presented by General Tire, the Vacuworx Invitational Race of Champions will see its seventh round during Warren Cat Qualifying Night, scheduled for Tuesday, January 13.
The opening night of the 29th annual Lucas Oil Chili Bowl Midget Nationals presented by General Tire, the VIROC will take place prior to the evening's B-Features. With 16 drivers making the call for this year's event, the $2,500 to win dash saw a three year dominance of Swindell come to a close in 2014, when California's Kyle Larson charged from sixth to win.
Drivers who have made the cut for VIROC VII are as follows:
• 1 – Sammy Swindell (Germantown, Tenn.) – The five time winner of the Lucas Oil Chili Bowl Midget Nationals has topped the VIROC on three occasions. Announcing his retirement in 2014, Swindell was quick to note that he would still take on the Chili Bowl in 2015 for the 25th time.
• 1st – J.J. Yeley (Phoenix, Ariz.) – Under the banner of 1996 owner champion, Jay McKinnie, Arizona's J.J. Yeley will take on the VIROC for the fourth time. Yeley's best finish in the VIROC came in 2013 with a runner-up to Kevin Swindell.
• 5 – Jerry Coons, Jr. (Tucson, Ariz.) – The choice of Wilke-Pak Racing, Jerry Coons, Jr. has competed in the last two VIROC events with a finish of fifth in 2013, and seventh in 2014. His 2015 bid is the second year for the 2005 Chili Bowl owner champions.
• o5 – Brad Loyet (Sunset Hills, Mo.) – Winning the VIROC in 2010 gives Brad Loyet his ticket into the 2015 edition of the 20 lap affair. Loyet holds three POWRi Championships to his name, as well as his best finish of third in Lucas Oil ASCS National Tour points in 2014.
• 6k – Ricky Stenhouse, Jr. (Olive Branch, Miss.) – Transplanting from his Clauson ride for one race to drive under the banner of Ralph Potter, NASCAR Sprint Cup driver, Ricky Stenhouse, Jr. looks to redeem his 2012 VIROC performance where he ended up with a DNF.
• 15x – Chad Boat (Phoenix, Ariz.) – Son of a Chili Bowl champion, Arizona's Chad Boat again looks to match the accomplishment of his father, Billy Boat, in the John Lawson machine. Boat's best finish in the VIROC is a fourth place run in 2013.
• 21k – Cory Kruseman (Ventura, Cali.) – The VIROC is one race that has eluded Cory Kruseman. Topping the Chili Bowl on two occasions, Cory has only managed a best finish of seventh in 2014.
• 22 – John Heydenreich (Indianapolis, Ind.) – The 1990 Lucas Oil Chili Bowl winner, Heydenreich last saw action in the VIROC in 2011. His best finish in three starts came the previous year with a ninth place showing.
• 24 – Tracy Hines (Wilkinson, Ind.) – The 2005 Lucas Oil Chili Bowl Nationals Champion finished fifth in the 2014 edition of the VIROC. In all, Hines has finished top-ten in five of the six VIROC events held.
• 39 – Kevin Swindell (Germantown, Tenn.) – Four times a Chili Bowl champion, Kevin Swindell topped the VIROC in 2013. In six Chili Bowl A-Feature starts, Swindell's four wins comes with five top fives.
• 47x – Tim McCreadie (Watertown, N.Y.) – The Late Model ace grabbed a Golden Driller in 2006. Piloting an Andy Bondio entry, McCreadie looks to rebound from 2014 when the No. 47x saw his VIROC end early.
• 63 – Bryan Clauson (Noblesville, Ind.) – The defending champion of the Lucas Oil Chili Bowl Midget Nationals entered his first VIROC in 2014. Representing owners Rusty Kunz and Joe Dooling, on the No. 63. Clauson came from fifteenth to ninth in his first VIROC attempt.
• 71 – Christopher Bell (Norman, Okla.) – For the second year in a row, Christopher Bell's bid into the VIROC comes as the National Midget Driver of the Year. Also topping the Downforce Designs Midget Power Rankings, Bell rattled off 16 wins across North America behind the wheel of a Midget.
• 71k – Kyle Larson (Elk Grove, Cali.) – The 2014 NASCAR Sprint Cup Rookie of the Year started his season with a VIROC win. As the reigning champion of the Race of Champions, Kyle Larson automatically qualifies for the 2015 event.
• 71L – Damion Gardner (Concord, Cali.) – A Chili Bowl Champion in 2008, "The Demon" looks for his first VIROC triumph in a Klatt Enterprises entry in 2015.
• 97 – Rico Abreu (Rutherford, Cali.) – Coming off a banner season, Rico is the driver chosen by Keith Kunz to represent his Chili Bowl dominance. The 2014 USAC National Champion finished fourth in the Downforce Designs Midget Power Rankings and will start his first VIROC in 2015.
Vacuworx Global is the title sponsor of the VIROC which brings past Chili Bowl Champions as well as champions from around the world together for a single 20 lap race to see who is the best of the best. For more information about Vacuworx log onto www.vacuworx.com. For more information on past champions of the VIROC, log onto www.theviroc.com.
The 29th Lucas Oil Chili Bowl Nationals presented by General Tire will begin moving teams in on Sunday, January 11, 2015.
Practice is scheduled for Monday, January 12 with the first night of competition getting underway with Tuesday's Warren CAT Qualifying night as well as the seventh annual Vacuworx Invitational Race of Champions.
Competition continues with Wednesday's River Spirit Casino Qualifier, Thursday's John Christner Trucking Qualifier, and Friday Vacuworx Global Qualifier with everything culminating on Saturday's Lucas Oil Chili Bowl Championship.
The top three in each Qualifying Night A – Feature will transfer directly into the Saturday championship event with the remainder of Saturday's features lined up according to the Qualifying night finishes.
General Admission seating is available along the back straight-a way and can be accessed with the purchase of a Pit Pass. Additional information regarding the Lucas Oil Chili Bowl presented by General Tire can be found online at http://www.chilibowl.com. For more updates follow the Chili Bowl on Facebook and on Twitter.