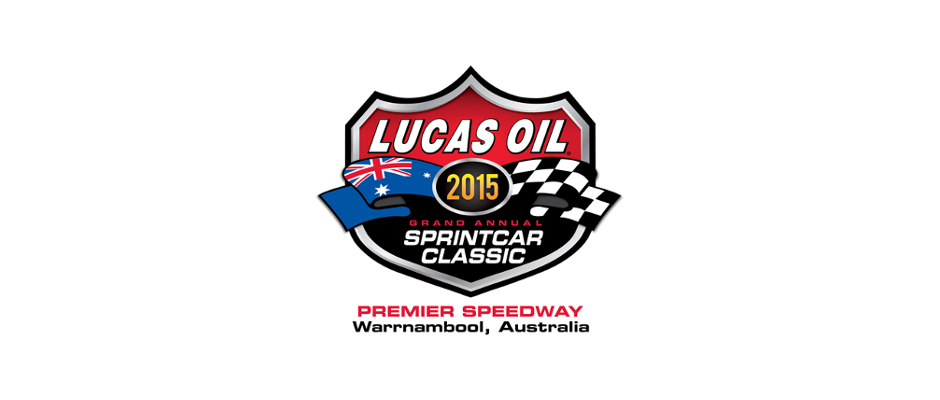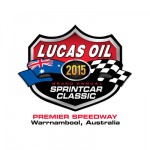 From Premier Speedway
Warrnambool, AU — (January 26, 2015) — Brooke Tatnell tamed the high banks of Sungold Stadium, Premier Speedway, Warrnambool to claim night one honors in what was a non-stop 30 lap feature event on night one of the 43rd Lucas Oil Grand Annual Sprintcar Classic.
The three time Classic Champion started from position three behind pole sitter Ian Madsen and Tasmanian young gun Callum Zizek who gave car owner Darren Goodyer a two pronged front row assault in a dream result.
It wasn't long though before Tatnell asserted his authority as the moves further back in the pack began to play out.
Ian Loudoun having started from position seven , Darren Mollenoyux from eight and Jamie Veal from position 17 were slicing their way forward as Tatnell went about taking care of business at the front of the pack.
Ian Madsen's stellar night one run was also continuing as the pole sitter ran strongly throughout the 30-lap journey, holding down second place as Loudoun made his way inside the top three.
There would be no stopping Tatnell aboard the Krikke Motorsport Cool Chassis, as he powered to a fourth Oval Express Magazine Australia America Challenge Cup win.
At the drop of the checkers it would be Tatnell taking out night one, from the current Knoxville Raceway Track Champion – Ian Madsen with Ian Loudoun home in third, doing popular Geelong based car owner David Dickson proud with a podium finish.
The top five was completed by Darren Mollenoyux while Jamie Veal again impressed at his home track with a fifth place finish, salvaging something from a night that required a transfer from the B-Main.
Sixth would be Daniel Pestka who was followed home by Robbie Farr, Lucas Wolfe and Trevor Green with Tim Rankin rounding out the top ten.
Livewire American Christopher Bell fought his way to an 11th place finish ahead of Callum Zizek, Terry McCarl, Brad Sweet, Jackson Delamont, Bradley Keller, Danny Holtgraver, Chad Ely and B-Main transferees John Vogels and Jamie Hennessy.
Earlier in the night Robbie Farr set quick time in qualifying to earn himself an extra $1000.00 and a shot at taking out the prestigious Alan Pollard Memorial.
Heat wins then went the way of Farr, Terry McCarl, Tatnell, Daniel Pestka, Ian Madsen, Matthew Dumesny, Danny Holtgraver, Darren Mollenoyux, Brendan Balcombe and Trevor Green.
The night was marred by an injury to Tim Kaeding who was transferred to hospital as a precaution following a heat race incident.
Qualifications:
1. Q7 – Robbie Farr, 10.961
2. S97 – Terry McCarl, 11.043
3. W2 – Brooke Tatnell, 11.150
4. V88 – Daniel Pestka, 11.181
5. S19 – Bradley Keller, 11.216
6. T22 – Callum Zizek, 11.302
7. S22 – Chad Ely, 11.341
8. W12 – Daniel Harding, 11.495
9. V81 – Lucas Wolfe, 11.514
10. V35 – Jamie Veal, 11.556
11. V47 – Tim Rankin, 11.641
12. Q21 – Jorydan Brazier, 11.664
13. Q58 – Peter Lack, 11.665
14. V21 – Jamie Hennessy, 11.670
15. V90 – Corey McCullagh, 11.686
16. N36 – Eddie Lumbar, 11.692
17. S78 – Keke Falland, 11.703
18. W18 – Scott Riely, 11.747
19. V3 – Ian Loudoun, 11.768
20. T10 – Ian Madsen, 11.839
21. V54 – Bradley Warren, 11.839
22. V4 – Phil Lock, 11.863
23. V16 – Kris Lacey, 11.872
24. Act55 – Stephen Bell, 11.878
25. Usa21 – Christopher Bell, 11.890
26. USA99 – Brad Sweet, 11.915
27. N48 – Jackson Delemont, 12.006
28. S24 – Ricky Maiolo, 12.009
29. V98 – Peter Doukas, 12.055
30. NQ25 – James McFadden, 12.066
31. S62 – Ben Atkinson, 12.070
32. V96 – Andy Caruana, 12.085
33. V70 – John Vogels, 12.104
34. N11 – Trevor Green, 12.118
35. V22 – Quentin Tanner, 12.158
36. V12 – Kristy Ellis, 12.168
37. N99 – Tim Kaeding, 12.269
38. S84 – Scott Bogucki, 12.278
39. N75 – Glen Saville, 12.288
40. V58 – Rhiannon Burleigh, 12.354
41. W53 – Matt Egel, 12.387
42. Q36 – Danny Holtgraver, 12.395
43. V77 – Darren Mollenoyux, 12.447
44. V20 – Domain Ramsey, 12.451
45. T14 – Mark House, 12.481
46. Act99 – Jay Waugh, 12.590
47. V57 – Matthew Dumesny, 12.614
48. V24 – Brendan Balcome, 12.756
49. V48 – Adam King, 12.813
50. W45 – Daryl Clayden, 12.820
51. Q67 – Paul Morris, 13.395
52. V40 – Darren Hickman, 13.432
Heat Race #1
1. Q7 – Robbie Farr
2. T22 – Callum Zizek
3. V47 – Tim Rankin
4. S62 – Ben Atkinson
5. USA99 – Brad Sweet
6. W53 – Matt Egel
7. V54 – Bradley Warren
8. N36 – Eddie Lumbar
9. Act99 – Jay Waugh
10. V12 – Kristy Ellis
11. Q67 – Paul Morris
Heat Race #2
1. S97 – Terry McCarl
2. N99 – Tim Kaeding
3. N48 – Jackson Delemont
4. Q21 – Jorydan Brazier
5. S22 – Chad Ely
6. Q36 – Danny Holtgraver
7. V57 – Matthew Dumesny
8. S78 – Keke Falland
9. V4 – Phil Lock
10. V40 – Darren Hickman
11. V96 – Andy Caruana
Heat Race #3
1. W2 – Brooke Tatnell
2. V77 – Darren Mollenoyux
3. V70 – John Vogels
4. Q58 – Peter Lack
5. S24 – Ricky Maiolo
6. W18 – Scott Riely
7. V16 – Kris Lacey
8. V24 – Brendan Balcome
9. W12 – Daniel Harding
10. S84 – Scott Bogucki
Heat Race #4
1. V88 – Daniel Pestka
2. V3 – Ian Loudoun
3. V81 – Lucas Wolfe
4. N11 – Trevor Green
5. V21 – Jamie Hennessy
6. N75 – Glen Saville
7. Act55 – Stephen Bell
8. V98 – Peter Doukas
9. V48 – Adam King
10. V20 – Domain Ramsey
Heat Race #5
1. T10 – Ian Madsen
2. V35 – Jamie Veal
3. S19 – Bradley Keller
4. Usa21 – Christopher Bell
5. NQ25 – James McFadden
6. V22 – Quentin Tanner
7. V90 – Corey McCullagh
8. W45 – Daryl Clayden
9. V58 – Rhiannon Burleigh
10. T14 – Mark House
Heat Race #6
1. V57 – Matthew Dumesny
2. W53 – Matt Egel
3. N48 – Jackson Delemont
4. V47 – Tim Rankin
5. Q67 – Paul Morris
6. S22 – Chad Ely
7. V54 – Bradley Warren
8. S78 – Keke Falland
9. Q7 – Robbie Farr
10. S62 – Ben Atkinson
11. N99 – Tim Kaeding
Heat Race #7
1. Q36 – Danny Holtgraver
2. V12 – Kristy Ellis
3. USA99 – Brad Sweet
4. V96 – Andy Caruana
5. T22 – Callum Zizek
6. Act99 – Jay Waugh
7. Q21 – Jorydan Brazier
8. V4 – Phil Lock
9. S97 – Terry McCarl
10. N36 – Eddie Lumbar
Heat Race #8
1. V77 – Darren Mollenoyux
2. N75 – Glen Saville
3. V48 – Adam King
4. V70 – John Vogels
5. V3 – Ian Loudoun
6. V81 – Lucas Wolfe
7. W2 – Brooke Tatnell
8. Q58 – Peter Lack
9. V98 – Peter Doukas
10. V44 – Ron Dalton
11. V16 – Kris Lacey
Heat Race #9
1. V24 – Brendan Balcome
2. T14 – Mark House
3. V22 – Quentin Tanner
4. Usa21 – Christopher Bell
5. V90 – Corey McCullagh
6. W12 – Daniel Harding
7. S24 – Ricky Maiolo
8. S19 – Bradley Keller
9. S84 – Scott Bogucki
10. W18 – Scott Riely
Heat Race #10
1. N11 – Trevor Green
2. W45 – Daryl Clayden
3. T10 – Ian Madsen
4. V20 – Domain Ramsey
5. NQ25 – James McFadden
6. Act55 – Stephen Bell
7. V21 – Jamie Hennessy
8. V88 – Daniel Pestka
9. V35 – Jamie Veal
10. V58 – Rhiannon Burleigh
C-Main:
1. V54 – Bradley Warren
2. V24 – Brendan Balcome
3. W45 – Daryl Clayden
4. V12 – Kristy Ellis
5. W18 – Scott Riely
6. T14 – Mark House
7. S78 – Keke Falland
8. W12 – Daniel Harding
9. V48 – Adam King
10. N36 – Eddie Lumbar
11. S62 – Ben Atkinson
12. V20 – Domain Ramsey
13. V4 – Phil Lock
14. V16 – Kris Lacey
15. V98 – Peter Doukas
16. Act99 – Jay Waugh
B-Main:
1. V35 – Jamie Veal
2. V70 – John Vogels
3. Q36 – Danny Holtgraver
4. V21 – Jamie Hennessy
5. Q21 – Jorydan Brazier
6. NQ25 – James McFadden
7. Q58 – Peter Lack
8. W53 – Matt Egel
9. N75 – Glen Saville
10. V90 – Corey McCullagh
11. V22 – Quentin Tanner
12. V54 – Bradley Warren
13. S24 – Ricky Maiolo
14. V57 – Matthew Dumesny
15. V12 – Kristy Ellis
16. V24 – Brendan Balcome
17. W45 – Daryl Clayden
18. Act55 – Stephen Bell
A-Main:
1. W2 – Brooke Tatnell
2. T10 – Ian Madsen
3. V3 – Ian Loudoun
4. V77 – Darren Mollenoyux
5. V35 – Jamie Veal
6. V88 – Daniel Pestka
7. Q7 – Robbie Farr
8. V81 – Lucas Wolfe
9. N11 – Trevor Green
10. V47 – Tim Rankin
11. Usa21 – Christopher Bell
12. T22 – Callum Zizek
13. S97 – Terry McCarl
14. USA99 – Brad Sweet
15. N48 – Jackson Delemont
16. S19 – Bradley Keller
17. Q36 – Danny Holtgraver
18. S22 – Chad Ely
19. V70 – John Vogels
20. V21 – Jamie Hennessy
Points:
1. T10 – Ian Madsen – 512
2. W2 – Brooke Tatnell – 500
3. T22 – Callum Zizek – 484
4. V47 – Tim Rankin – 478
5. V3 – Ian Loudoun – 476
6. V88 – Daniel Pestka – 476
7. V77 – Darren Mollenoyux – 474
8. Q7 – Robbie Farr – 468
9. V81 – Lucas Wolfe – 462
10. N11 – Trevor Green – 458
11. S97 – Terry McCarl – 454
12. N48 – Jackson Delemont – 448
13. V35 – Jamie Veal – 442
14. Usa21 – Christopher Bell – 436
15. S19 – Bradley Keller – 430
16. USA99 – Brad Sweet – 428
17. S22 – Chad Ely – 422
18. V70 – John Vogels – 416
19. Q21 – Jorydan Brazier – 406
20. Q36 – Danny Holtgraver – 402
21. V21 – Jamie Hennessy – 392
22. Q58 – Peter Lack – 388
23. NQ25 – James McFadden – 380
24. N75 – Glen Saville – 380
25. W53 – Matt Egel – 378
26. V90 – Corey McCullagh – 378
27. V22 – Quentin Tanner – 372
28. V57 – Matthew Dumesny – 354
29. S24 – Ricky Maiolo – 346
30. V54 – Bradley Warren – 338
31. V24 – Brendan Balcome – 336
32. Act55 – Stephen Bell – 332
33. V12 – Kristy Ellis – 326
34. W45 – Daryl Clayden – 318
35. S78 – Keke Falland – 308
36. W18 – Scott Riely – 306
37. T14 – Mark House – 300
38. V48 – Adam King – 292
39. W12 – Daniel Harding – 290
40. V4 – Phil Lock – 286
41. N36 – Eddie Lumbar – 286
42. N99 – Tim Kaeding – 280
43. V20 – Domain Ramsey – 278
44. V98 – Peter Doukas – 272
45. V16 – Kris Lacey – 272
46. S62 – Ben Atkinson – 268
47. V96 – Andy Caruana – 266
48. Act99 – Jay Waugh – 262
49. Q67 – Paul Morris – 240
50. V58 – Rhiannon Burleigh – 226
51. S84 – Scott Bogucki – 194
52. V40 – Darren Hickman – 118
53. V44 – Ron Dalton – 112