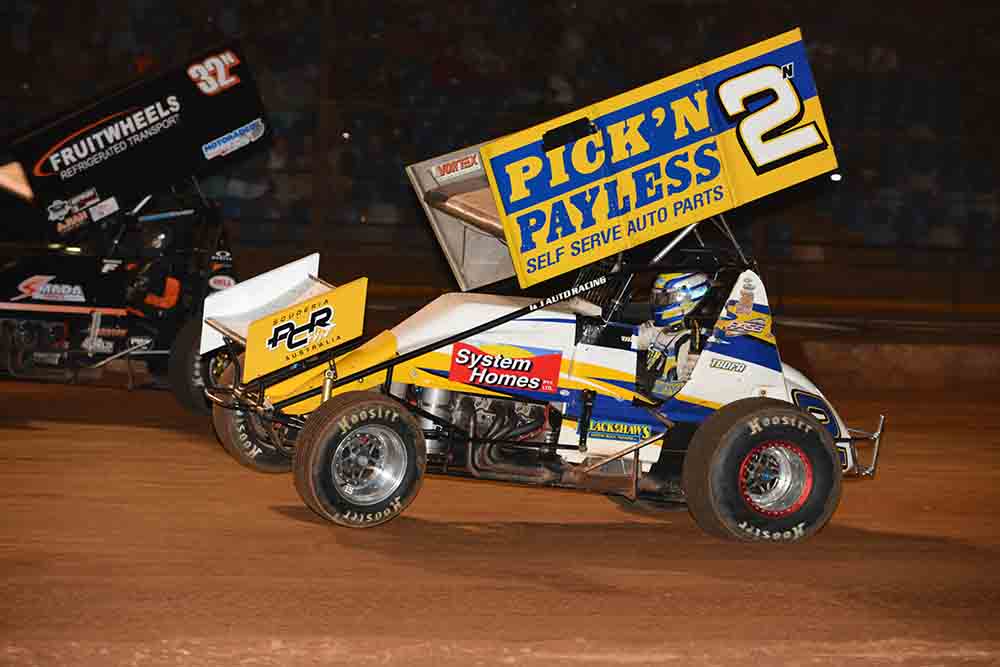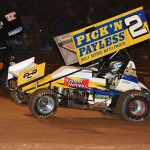 From Wade Aunger
Sydney, AU — (March 8, 2015) — Benny Atkinson sounded a clear warning tonight that his Track Championship aspirations are far from over as he stomped to a commanding win in the 30 lap A-Main feature race at Valvoline Raceway.
The Darwin stick of dynamite survived an unsettling shunt in the Pole Shootout with rival Toby Bellbowen where the former was lucky not to roll over and Bellbowen unfortunately did forcing both teams to thrash to be ready for the main event.
When the lights went green in the main event Bellbowen led early but Atkinson resumed full control in the #2 Pick n Payless J&J and was never headed after that as he took the uninterrupted race victory.
Along the way, with lap leader sponsorship money the Northern Territory will have earned around $7500.
"I didn't think about that (the money) during the race because my focus was just on getting some feature wins before the end of the season. My guys have done a great job, JB always does a great job (his crew chief John Barrett), he's getting a little older now but he hasn't lost any of his drive to win races. I've had the pleasure of working with some good crew chiefs and working with JB is pretty special."
Atkinson sped home ahead of Grant Anderson in second place with Jackson Delamont rounding out the podium in third.
"We don't get to run here very often but it's always so much fun when we do," said Anderson, "I can't be sure how many more races we'll make here this month but we'll do as many as we can."
Young NSW racer Jackson Delamont showed plenty of speed on the lowline to score his second podium finish of the season.
"The track was nice tonight and that allowed me to zip around the bottom on my own little line. It's a great result for our team and I can't thank my Dad enough for all the effort he puts in every week on this car. It should really be him up here getting this trophy."
Sam Walsh was simply devastating in the #92 Maxim as he sizzled from 18th starting position to an eventual fourth place finish.
"Ideally I would have had a better night early and then we wouldn't have had to start so far back in the A-Main but it was still good to finish where we did. The car was fast, I just need to stop making mistakes."
Australian Champion David Murcott came home in fifth place ahead of Toby Bellbowen (who seemed to suffer some front end damage in an earlier race incident and who's team pulled off a major Houdini to even get him out on track after his Pole Shootout rollover) Jeremy Cross for seventh in one of his better finishes this year, Robbie Farr came out the B-Main to place eighth whilst current Track Championship leader James Thompson finished ninth ahead of South Aussie veteran Trevor Green in tenth.
Grant Tunks, Brent Aprile, Steve Caunt, Adrian Maher, Warren Ferguson, Jimmy Matchett, Matt Jackson, Kyle Caunt, Andrew Wright, Kelly Linigen, Clayton Hart and Mark Attard placed 11th – 22nd respectively whilst DNF's went to Alex Orr and Craig Brady.
Five times Australian Sprintcar Champion and living legend Dick Briton was the Grand Marshall for tonight's action and presented the winner's trophies to the Sprintcar and Wingless Sprint main event winners.
Briton received a warm and enthusiastic ovation from the fans when he lapped the circuit in a borrowed wingless with son Brian and granddaughter Nikki either side of him during the national anthem honours.
Central Coast Late Model driver Ryan Fenech atoned for his second place in last weekend's NSW Championship with an all the way in in the main event tonight leading home David Doherty in second place and Darryl Grimson in third.
Doherty literally stole second place from Grimson in the last twenty metres of the race as the duo sped to the chequers.
Following the lead trio home were Ben Nicastri, Todd Bayley, Nathan Disney, Ed Borg, Barry Kelleher, Michael Hickey and Bruce White rounding out the top ten.
The Wingless Sprint main event honours went to Mark Blyton for the second time this season over Nathan Dicker in second place and the rim riding seventeen year old Daniel Sayre home in third.
The next event at Valvoline Raceway will be held this Saturday night, March 14 and feature Sprintcars, Speedcars and Street Stocks.
James McFadden will join the ranks and legend Bob Tunks will be honoured as the Grand Marshall of the racing.