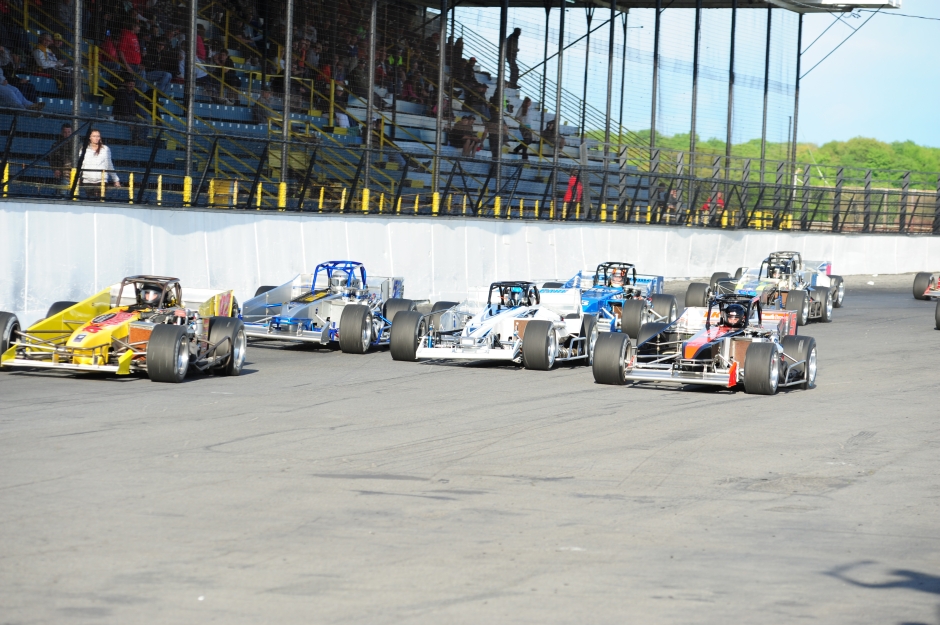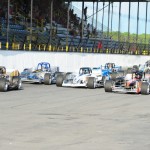 From Oswego Speedway
Oswego, NY — (March 24, 2015) — Reserved tickets are now on sale for Oswego Speedway's highly anticipated Port City 160 'Super Spectacle' presented by Corr/Pak Merchandising and Shea Concrete on May 23, featuring the rare opportunity to see the Novelis non-wing Supermodifieds and the winged ISMA Supermodifieds take on the 'Steel Palace' on the same night, with the running of the Jim Shampine Memorial 75 and 'Irish' Jack Murphy Memorial 50.
Not since 2004 have the Novelis Supers and ISMA Supers competed on the same night at the same venue, with Craig Rayvals and Johnny Payne driving to victory lane at the Port City oval on May 29, 2004.
With the 2015 season marking the 65th anniversary of Oswego Speedway, Speedway officials felt the time was right to reintroduce the Supermodified double, at the Home of the Supermodifieds.
"With the non-wing Oswego fields being as strong as they have been in recent years, along with a rejuvenated weekly ISMA lineup this season including the additions of Dave Shullick Jr., Trent Stephens and more, we felt we had the right opportunity in front of us to make this addition to the schedule," said Oswego Speedway PR Director, Dan Kapuscinski. "Historically, Memorial Day Weekend has been a mini Classic Weekend of sorts, and with this year's 'Super Spectacle' on tap we believe we have set-up a can't miss event for all Supermodified and open-wheel racing fans."
Kapuscinski believes that race teams, as well as fans, will relish the opportunity to be a part of such a rare weekend of racing.
"It is not often Supermodified racers across the Midwest and Northeast can all come together on one weekend to compete on the same stage, on the same night," said Kapuscinski. "As a fan first, and a former Supermodified driver, I simply cannot wait for this night of racing and I hope Supermodified teams across all platforms take the opportunity to be a part of such a special event."
The Pathfinder Bank Small Block Supers will also take part in the 'Super Spectacle' with the running of the annual Tony White Memorial, a 35-lap main event, making for a total of 160-laps of feature action on May 23.
The Memorial Day Weekend lineup for the 'Super Spectacle' will include a Friday night open practice session for Novelis Supermodifieds, ISMA Supermodifieds, and the Pathfinder Bank Small Block Supers. Admission into the grandstand on Friday will be free, and fans will also be able to enjoy the Tiki Bar and Grill below the main grandstand as well.
The Oswego Kartway will also be in action on Friday night, behind the Speedway's rear grandstand.
Fans are encouraged to call Oswego Speedway's box office at (315) 342-0646 to reserve seating for this one of a kind event. Reserved tickets are currently on sale for $40, with kids 16 and under and camping free for the entire weekend.
General admission tickets will be available the week of the race for $35, with pit admission set at $40.
Friday night's 'Super Spectacle' open practice session on May 22 will see pit gates open at 4:30 p.m. with hot laps scheduled between 6 p.m. and 10 p.m.
Saturday's Port City 160 'Super Spectacle' main events will open pit gates at 11:30 a.m. with practice set at 1:30 p.m., ISMA time trials only at 4 p.m., and heat racing scheduled to take the green at 5 p.m.
A Sunday rain date of May 24 is in place.
Oswego Speedway's 2015 racing season will kick off on Saturday, May 9th with the 65th annual opening night celebration featuring the lid lifters for the Novelis Supermodifieds and Pathfinder Bank SBS, as well as the 75-lap Richie Evans Memorial for the Race of Champions Asphalt Modified Series presented by Planet Fitness and Mitchell's Speedway Press.
For more information on Oswego Speedway visit online at www.oswegospeedway.com or call (315) 342-0646. Visit the Speedway on social media @OswegoSpeedway or on Facebook at www.facebook.com/OswegoSpeedway.