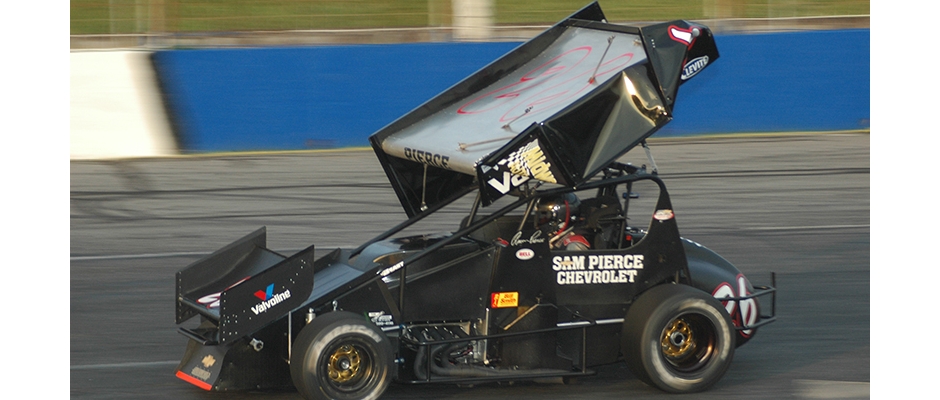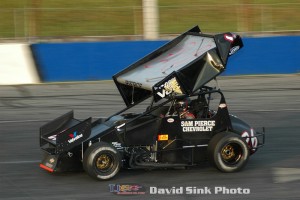 From Must See Racing
Newton, NC – (April 3, 2015) – Aaron Pierce won Friday night's Must See Racing 25-lap qualifying race at Hickory Motor Speedway in Newton, NC. By virtue of his win, Pierce will start from the pole position in Saturday night's 40-lap "Southern Showdown".
Must See Racing made it's first-ever visit to the famed 3/8 mile Hickory Motor Speedway Friday night. Due to an array of last minute misfortunes among Must See Racing teams, the car count was less than had been expected. Friday's qualifying race was none-the-less entertaining.
The sidebar story of the weekend was the strong performance of the 360 c.i. engine thus far. Must See Racing invited several teams who compete with 360 c.i. engines to battle the visiting 410 c.i. regulars of Must See Racing. Must See Racing had recently given these 360 teams a 100 lb. weight break and a monetary bonus for this weekend's event.
Cherryville, NC driver Johnny Bridges accepted the challenge and pulled an unexpected second fastest qualifying time to the delight of the crowd. Bridges had his left sideboard on his top wing collapse during his second lap of his qualifying attempt, thwarting a shot at quick time. Bridges went on to finish third in the 25-lap qualifying race after stealing third position from Jeff Bloom at the checkered. The duo put on a thrilling battle for third position in the closing laps of the event.
Aaron Pierce was the man to beat all day and will be a heavy favorite to win Saturday night's "Southern Showdown". Pierce wrestled the lead from pole sitter Bloom by lap 10 and never looked back despite having his left sideboard of the top wing collapse in the final laps of the 25-lap qualifying race. The misfortune didn't appear to slow Pierce down as he went on to claim the 25-lap qualifying race. "I couldn't tell the wing collapsed" Pierce explained in victory lane. "The car got a little free and I moved the wing back. I just tried to drive it straight and keep the tires on it. When I got out of the car I was surprised to see it collapsed. It should be a good race tomorrow, but they're (other competitors) gonna have to get quicker, because we're good" concluded Pierce.
Saturday's 40-lap "Southern Showdown" will be the season opener for the Must See Racing Sprints. The event is part of the 10th annual Easter Bunny 150 PASS South Super Late Model event.
For more info on Must See Racing log onto www.mustseeracing.com.
25-LAP QUALIFYING RACE RESULTS
1.) Aaron Pierce 26 – 2.) Jimmy McCune 88 – 3.) Johnny Bridges 07b – 4.) Jeff Bloom 26b – 5.) Jacob Wilson 07w – 6.) Johnny Petrozelle III 59 – 7.) Joe Napoleon 21k – 8.) Anthony McCune 44 – 9.) Cody Gallogly 27 – 10.) Derek Bischak 35 – 11.) Jason Blonde 81 DNS