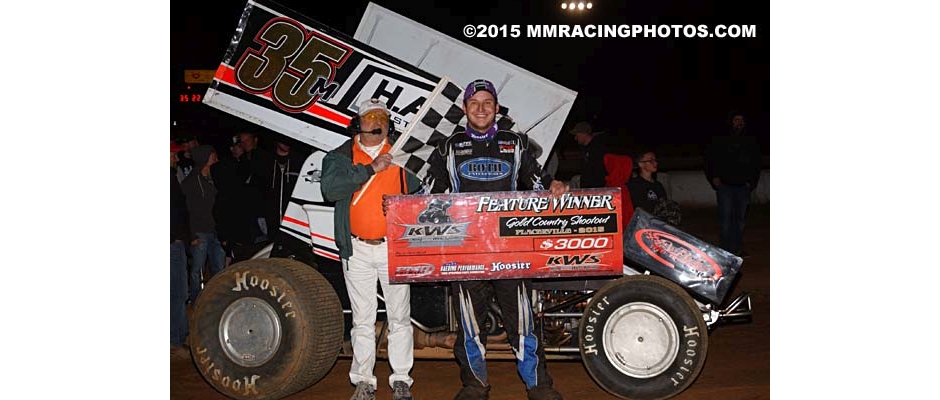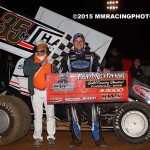 From Placerville Speedway
Placerville, CA — (April 4, 2015) — Two-time and defending King of the West champion Kyle Hirst fired off a warning shot at the opening round in 2015 that he will certainly be a player once again, after driving to victory at the Placerville Speedway on Saturday night.
It was Hirst's 12th career series win and tied him with former driver Pylant for eighth on the all-time win list. It came during a rough and tumble 30-lapper on the challenging quarter-mile bullring and was aboard the Main Motorsports No. 35m machine.
"It's awesome to come out here and get a win right out of the box," said Hirst on the front stretch. "I can't thank the whole Main family enough for giving me the opportunity to drive this car and want to give big thanks to Rod Tiner and Brad Sweet for their help tonight. Hopefully we can come back on Wednesday and have a good run with the Outlaws."
Hirst started on the front row alongside Cory Eliason from Visalia. Early on Hirst would set the pace until Eliason made a hair raising move to get by up high off the fourth corner. Eliason looked poised to scoop up his first career King of the West win as he set a torrid pace out front. A number of slowdowns and stoppages plagued the flow of the 30-lapper, as numerous reds and yellows appeared.
Eliason's strong run came to an end unfortunately on lap 18 when he spun off the third and fourth corners, which handed the lead back to Hirst. After this Hirst was able to keep everyone at bay and drive off to take the checkered flag for his second career 410 win at Placerville. Shane Golobic of Fremont came home third with Lemoore's Carson Macedo in third. Fresno's Dominic Scelzi and Sacramento's Willie Croft rounded out the top-five.
Craig Stidham won the 12-lap B-main with Hirst taking the dash. The four 10-lap heats were picked off by Tim Kaeding, Tanner Thorson, Cory Eliason and Kyle Hirst. Willie Croft opened the night by setting fast time.
The companion BCRA Midget main event was also an up and down affair with a number of stoppages slowing the flow. Shane Golobic looked to have the race in hand until contact on a late race restart left him parked sideways in turn one. The checkered flag would fly on lap 29 and it saw Bryan Gard pick up the big win over Ronnie Gardner.
Placerville CA King of the West A-main…Kyle Hirst, Shane Golobic, Carson Macedo, Dominic Scelzi, Willy Croft, Chase Johnson, Mitchell Faccinto, Billy Butler, Jonathan Allard, Bobby McMahan, S.Wright, Bud Kaeding, C.Eliason, JJ Helberg, J.Statler, Brent Kaeding, J.Soares, DJ Netto, M.Moore, C.Stidham, T.Kaeding, T.Thorson, P.Harvey.
Racing action returns to Placerville Speedway on Wednesday night with the World of Outlaws Sprint Car Series invading the high banks.