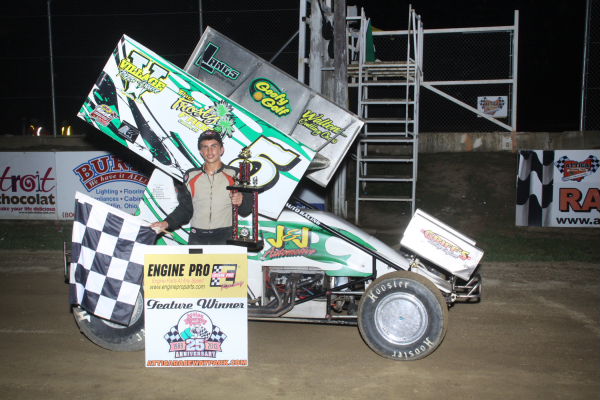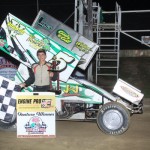 From Brian Liskai
Attica, OH — (April 10, 2015) — Jordan Ryan won the 305 sprint car feature Friday night at Attica Raceway Park. Ryan held off Paul Weaver opening night feature winner T.J. Michael for the victory. Steve Rando and Seth Schneider rounded out the top five.
In the Foster's Auto Body 305 Sprint 25 lap feature Paul Weaver and Jason Keckler paced the field with Weaver grabbing the lead over Keckler, Seth Schneider, Ryan, Steve Rando, Ricky Peterson and T.J. Michael.
Ryan would drive into third by the second circuit and took second a lap later as the yellow flew for a tangle involving Jerry Dahms and Brian Gibbs. On the restart a multi-car incident involving Trey Jacobs, Gibbs, Alex Hill and Tyler Street necessitated another green.
Weaver was able to hold off Ryan to maintain the lead with Schneider in third while Rando, Michael, Keckler, Dan McCarron and Bobby Clark gave chase. Luke Griffith would spin after a lap was complete. A long span of green flag racing would follow.
Weaver continued to lead Ryan with opening night winner Michael moving into third as the leaders raced into lapped traffic by lap 12. Ryan would use the lapped cars and his favorite bottom groove to drive into the lead on lap 15 with Weaver, Michael, Rando, Schneider and Clark following.
The caution would fly on lap 21 for Jeremy Duposki with the running order Ryan, Weaver, Michael, Rando, Schneider, Clark, Keckler and Kyle Capodice. Only one lap was completed with Griffith spun to set up a three lap shoot out.
Ryan was untouchable the final three circuits to take the win with Weaver, Michael, Rando and Schneider rounding out the top five.
Valenti and Matt Foos paced the field for the scheduled 15 lap Fremont Fence Dirt Truck feature. Valenti would grave the lead over fourth starter Cline with Foos, Dana Fry and Keith Sorg in pursuit. Cline immediately raced under Valenti as the pair ran side by side. Cline inched ahead on lap three but Valenti continued to battle up top with Foos running third.
Attica Raceway Park
Friday, April 10, 2015
Bazell Race Fuels Night
Foster Auto Body 305 Sprints –
Qualifying
1.22M-Dan McCarron, 13.880; 2.39-Jamie Miller, 13.977; 3.8-Bobby Clark, 14.017; 4.1W-Paul Weaver, 14.063; 5.5R-Jordan Ryan, 14.096; 6.12-Kyle Capodice, 14.099; 7.77I-John Ivy, 14.150; 8.3J-Trey Jacobs, 14.194; 9.2-Ricky Peterson, 14.211; 10.19R-Steve Rando, 14.237; 11.25-Jason Keckler, 14.244; 12.77X-Alex Hill, 14.372; 13.36-Seth Schneider, 14.393; 14.7M-Brandon Moore, 14.409; 15.18-TJ Michaels, 14.416; 16.13-Jeremy Duposki, 14.527; 17.11G-Luke Griffith, 14.615; 18.2L-Landon LaLonde, 14.751; 19.87-Brian Gibbs, 14.790; 20.18N-Frank Neill, 14.875; 21.4*-Tyler Street, 14.969; 22.75-Jerry Dahms, 15.531;
Nitro Black Performance by Engine Pro Heat 1, Group A – (8 Laps)
1. 5R-Jordan Ryan[1] ; 2. 1W-Paul Weaver[2] ; 3. 8-Bobby Clark[3] ; 4. 18-TJ Michaels[6] ; 5. 39-Jamie Miller[4] ; 6. 3J-Trey Jacobs[5] ; 7. 11G-Luke Griffith[7] ; 8. 2L-Landon LaLonde[8]
Summit Racing Equipment Heat 2, Group B – (8 Laps)
1. 77I-John Ivy[2] ; 2. 25-Jason Keckler[1] ; 3. 22M-Dan McCarron[4] ; 4. 12-Kyle Capodice[3] ; 5. 13-Jeremy Duposki[5] ; 6. 87-Brian Gibbs[6] ; 7. 75-Jerry Dahms[7]
Ultra Shield Race Products Heat 3, Group C – (8 Laps)
1. 36-Seth Schneider[1] ; 2. 19R-Steve Rando[3] ; 3. 2-Ricky Peterson[4] ; 4. 77X-Alex Hill[2] ; 5. 7M-Brandon Moore[5] ; 6. 18N-Frank Neill[6] ; 7. 4*-Tyler Street[7]
A-Main 1 – (25 Laps)
1. 5R-Jordan Ryan[4] ; 2. 1W-Paul Weaver[1] ; 3. 18-TJ Michaels[10] ; 4. 19R-Steve Rando[5] ; 5. 36-Seth Schneider[3] ; 6. 12-Kyle Capodice[11] ; 7. 8-Bobby Clark[9] ; 8. 25-Jason Keckler[2] ; 9. 2-Ricky Peterson[6] ; 10. 77I-John Ivy[7] ; 11. 22M-Dan McCarron[8] ; 12. 7M-Brandon Moore[15] ; 13. 3J-Trey Jacobs[16] ; 14. 75-Jerry Dahms[18] ; 15. 11G-Luke Griffith[19] ; 16. 39-Jamie Miller[13] ; 17. 13-Jeremy Duposki[14] ; 18. 77X-Alex Hill[12] ; 19. 2L-Landon LaLonde[20] ; 20. 4*-Tyler Street[21] ; 21. 87-Brian Gibbs[17]