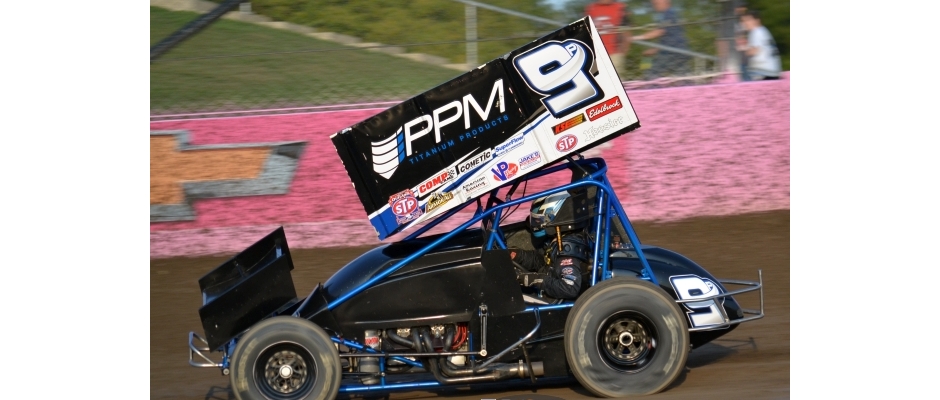 By Bob Buffenbarger
Fremont, OH — (April 11, 2015) — Many, many years ago hall of fame driver Rick Ferkel scored the first of hundreds of his career sprint car wins at Fremont Speedway. On Saturday, a young protégé from Kokomo, Indiana – Parker Price Miller, 16 years-old – would take the lead from Byron Reed with just nine laps to go and drove to his first career 410 sprint car victory.
It was the 65th season opener for "The Track That Action Built" on Tanks Meats Night and Price Miller became the 407th different feature winner in the track's long, storied history.
"There's no other track I'd rather get my first 410 win at than Fremont. They say this place is tricky and it definitely is. Turn one and two had me for awhile…I figured it out. I got some help from some lapped traffic but that's why you run 30 laps," said Price Miller beside his PPM Titanium Products/Triple X Racing/Indy Race Parts backed #9P.
"Rick Ferkel, Jim Roby, my Dad and Mom, Kathy Ferkel all worked hard for me. I can't thank Rick Ferkel enough. He does everything for us. Me and him are bonding together and I love him to death. It's pretty awesome to get my first win at the track where he got his," added Price Miller who said Ferkel's advice before the feature – drive it hard.
In a crash-filled 305 feature Steve Rando of Lindsey, Ohio, would survive to score his sixth career Fremont win.
"I saw Jamie (Miller) drive by me…he was running lower than me and I tried going down there…there's no way I could keep the car down there or I was going to flip like he did. So I went back up top and waited for him to make a mistake…too bad he ended up flipping but we got it done," said Rando beside his Davis Fabricators/Westway Farms/North Coast Sealing/North Coast Asphalt/Attitudes Hair Salon/Thorbann Woodworking backed machine.
Defending Fremont champion Byron Reed and Max Stambaugh would bring the field of 20 to the green for the 30-lap feature in the Fort Ball Pizza Palace 410 Sprint Division. Reed would bolt into a big lead as third start Price Miller would drive into second with Stambaugh, Broc Martin, Dean Jacobs, Chris Andrews, T.J. Michael and Lee Jacobs in tow.
Reed would set a wicked pace and would drive into lapped traffic by the sixth lap as Price Miller closed. The action would grind to a half on lap eight when fast qualifier Stuart Brubaker flipped in turn two. He was okay.
On the restart Reed had his hands full with Price Miller as Stambaugh, Martin, Dean Jacobs and Jac Haudenschild gave chase. While Reed and Price Miller ran nose to tail the battle for third was entertaining between Martin, Stambaugh, Dean Jacobs and Haudenschild. Dean Jacobs would take the third spot on lap 11.
The leaders would encounter lapped traffic again by the 15th circuit with Reed leading Price Miller, Jacobs and a three wide battle for fourth between Haudenschild, Martin and Stambaugh. With 10 laps to go Reed would slip over the cushion in turn one and Price Miller was there to pounce as he drove under for the lead with Haudenschild moving into third.
Price Miller would pick his way through traffic to continue to lead over Reed, Haudenschild, Dean Jacobs, Martin and 18th starter Cap Henry when the caution flew with five laps to go. With a clear track, Price Miller drove away while the battle behind him was ferocious as Dean Jacobs got around Reed for second.
Price Miller would drive to the checkered over Dean Jacobs, Reed, Henry and Michael.
Seth Schneider and Rando paced the field in the Fremont Federal Credit Union 305 Sprint Division 25-lap feature. Rando would grab the early lead over Schneider, Brandon Moore, Alvin Roepke, Paul Weaver and Jordan Ryan. The first caution would fly after a lap was completed when Ricky Peterson came to a rest after hitting the front stretch wall.
On the restart Rando pulled away as Moore moved into second. Mike Burkin would stop after 3 laps were scored to bring out the second caution. Again when the green flew so did Rando, pulling away from Moore as Schneider, Weaver, Ryan, Roepke, Michael, Jamie Miller and Bobby Clark gave chase.
The leaders raced into traffic by the eighth circuit when the caution flew for Brian Gibbs. On the restart second place runner Moore got upside down in turn one with Bobby Clark and Trey Jacobs getting together on the front stretch sending Clark tumbling. All drivers were okay. On the next attempt at a green second place running Schneider lost a right front wheel.
The third try at a restart was the charm as Rando lead Weaver, Ryan, Miller, Roepke and 15th starter John Ivy. On lap 11 Miller would move into third and earned second when Weaver spun in turn two on lap 12.
On the restart Miller executed a perfect slider on Rando in turns three and four for the lead. But, it was short-lived. On the next lap Miller caught the cushion in turn two and rolled his sprinter. The restart order was now Rando, Ryan, Ivy, Jason Keckler, Kyle Capodice and Roepke.
Rando would pull away as Ryan had his hands full with Ivy. Ivy would take second on lap 18 but Ryan drove back by five laps later and closed on Rando. But, it was too late as Rando took the win over Ryan, Ivy, Keckler and Capodice.
Fremont Speedway will be back in action Saturday, April 18 for Level Performance/Gressman Powersports "Bring a Friend to Autism Action Night." There will be lots of activities throughout the night to raise funds for kids with autism who reside in Sandusky County. Gates will open an hour early at 3 p.m. for families to come early and get their picture taken with sprint car driver Kirk Jefferies and his Make It Fit Foundation Sprint Car.
The night kicks off the $10,000 to win Kistler Racing Products FAST (Fremont Attica Sprint Title) Championship series for the 410 sprints at Fremont and the JLH General Contractor FAST Championship series for the 305 sprints. The 602 late models and dirt trucks will also be in competition.
For more information go to www.fremontohspeedway.com or follow the track on Twitter @FremontSpeedway.
Fremont Speedway – 4/11/2015
Tanks Meats Night
Fort Ball Pizza Palace 410 Sprints (29 Cars)
[#]-Starting Position
Qualifying – Fricker's Restaurant/Callie's Performance
1. 16-Stuart Brubaker, 12.707; 2. 19-Chris Andrews, 12.838; 3. 97-Dean Jacobs, 12.873; 4. 83M-Broc Martin, 12.948; 5. 9H-Jac Haudenschild, 12.982; 6. 9P-Parker Price-Miller, 13.051; 7. 6M-Max Stambaugh, 13.110; 8. 5R-Byron Reed, 13.124; 9. 81-Lee Jacobs, 13.140; 10. 8M-TJ Michael, 13.154; 11. 77-Dain Naida, 13.184; 12. 9-Jimmy Colvin, 13.235; 13. 60-Jody Keegan, 13.247; 14. 40DD-Nate Dussel, 13.318; 15. 16X-Ryan Ruhl, 13.347; 16. 68G-Tyler Gunn, 13.393; 17. 9Z-Duane Zablocki, 13.401; 18. 45L-Brian Lay, 13.425; 19. 2+-Brian Smith, 13.472; 20. 53-Cap Henry, 13.565; 21. 55F-Taylor Ferns, 13.645; 22. 22-Brandon Spithaler, 13.797; 23. 21-Kody Swanson, 13.929; 24. 33K-Kyle Patrick, 13.943; 25. 8J-Jess Stiger, 13.973; 26. 7-Troy Kingan, 14.156; 27. 11-Shawn Hubler, 14.238; 28. 50B-Mike Burns, 14.575; 29. 77X-Bryan Sebetto, 16.484
Heat 1 – American Power Sports (8 Laps – Top 5 finishers transfer to the A-feature)
1. 83M-Broc Martin[5] ; 2. 60-Jody Keegan[2] ; 3. 6M-Max Stambaugh[4] ; 4. 8M-TJ Michael[3] ; 5. 22-Brandon Spithaler[8] ; 6. 16-Stuart Brubaker[6] ; 7. 2+-Brian Smith[7] ; 8. 50B-Mike Burns[10] ; 9. 68G-Tyler Gunn[1] ; 10. 8J-Jess Stiger[9]
Heat 2 – Kistler Racing Products (8 Laps – Top 5 finishers transfer to the A-feature)
1. 40DD-Nate Dussel[2] ; 2. 5R-Byron Reed[4] ; 3. 9Z-Duane Zablocki[1] ; 4. 19-Chris Andrews[6] ; 5. 53-Cap Henry[7] ; 6. 77-Dain Naida[3] ; 7. 77X-Bryan Sebetto[10] ; 8. 9H-Jac Haudenschild[5] ; 9. 7-Troy Kingan[9] ; 10. 21-Kody Swanson[8]
Heat 3 – Hoosier Racing Tires (8 Laps – Top 5 finishers transfer to the A-feature)
1. 45L-Brian Lay[1] ; 2. 97-Dean Jacobs[6] ; 3. 16X-Ryan Ruhl[2] ; 4. 81-Lee Jacobs[4] ; 5. 9P-Parker Price-Miller[5] ; 6. 55F-Taylor Ferns[7] ; 7. 33K-Kyle Patrick[8] ; 8. 9-Jimmy Colvin[3] ; 9. 11-Shawn Hubler[9]
Dash – Borer Glass & Mirror (6 Laps, finishing order determined first 6 starting positions of A-feature
1. 5R-Byron Reed[1] ; 2. 6M-Max Stambaugh[2] ; 3. 9P-Parker Price-Miller[3] ; 4. 83M-Broc Martin[4] ; 5. 97-Dean Jacobs[5] ; 6. 19-Chris Andrews[6]
B-Main – Computer Man Inc. (10 Laps – Top 5 finishers transfer to the A-feature)
1. 16-Stuart Brubaker[1] ; 2. 9H-Jac Haudenschild[2] ; 3. 77-Dain Naida[3] ; 4. 77X-Bryan Sebetto[14] ; 5. 2+-Brian Smith[6] ; 6. 9-Jimmy Colvin[4] ; 7. 33K-Kyle Patrick[9] ; 8. 55F-Taylor Ferns[7] ; 9. 8J-Jess Stiger[10] ; 10. 11-Shawn Hubler[12] ; 11. 50B-Mike Burns[13] ; 12. 7-Troy Kingan[11]
A-Main – (30 Laps)
1. 9P-Parker Price-Miller[3]; 2. 97-Dean Jacobs[5]; 3. 5R-Byron Reed[1]; 4. 53-Cap Henry[18]; 5. 8M-TJ Michael[8]; 6. 9H-Jac Haudenschild[12]; 7. 83M-Broc Martin[4]; 8. 77X-Bryan Sebetto[20]; 9. 6M-Max Stambaugh[2]; 10. 16X-Ryan Ruhl[14]; 11. 60-Jody Keegan[9]; 12. 40DD-Nate Dussel[10]; 13. 45L-Brian Lay[16]; 14. 81-Lee Jacobs[7]; 15. 19-Chris Andrews[6]; 16. 16-Stuart Brubaker[11]; 17. 2+-Brian Smith[17]; 18. 22-Brandon Spithaler[19]; 19. 9Z-Duane Zablocki[15]; 20. 77-Dain Naida[13]
Hard Charger: 53-Cap Henry[+14]
Fremont Federal Credit Untion 305 Sprints (25 Cars)
[#]-Starting Position
Heat 1 – American Power Sports (8 Laps – Top 5 finishers transfer to the A-feature)
1. 5R-Jordan Ryan[1] ; 2. 39-Jamie Miller[3] ; 3. 99-Alvin Roepke[2] ; 4. 18-TJ Michael[7] ; 5. 3J-Trey Jacobs[6] ; 6. 11G-Luke Griffith[8] ; 7. 48-Mike Burkin[5] ; 8. 20I-Kelsey Ivy[4] ; 9. 6-Tyler Bearden[9]
Heat 2 – Kistler Racing Products (8 Laps – Top 5 finishers transfer to the A-feature)
1. 8-Bobby Clark[5] ; 2. 7M-Brandon Moore[7] ; 3. 36-Seth Schneider[8] ; 4. 87- Brian Gibbs[1] ; 5. 37-Austin Ream[4] ; 6. 18N-Frank Neill[2] ; 7. 22M-Dan McCarron[3] ; 8. 10-Josh Harrison[6]
Heat 3 – Hoosier Racing Tires (8 Laps – Top 5 finishers transfer to the A-feature)
1. 1W-Paul Weaver[1] ; 2. 19R-Steve Rando[2] ; 3. 12-Kyle Capodice[4] ; 4. 2-Ricky Peterson[5] ; 5. 77I-John Ivy[7] ; 6. 25-Jason Keckler[6] ; 7. 75-Jerry Dahms[8] ; 8. 44-Kyle Farmer[3]
B-Main – Computer Man Inc. (10 Laps – Top 5 finishers transfer to the A-feature)
1. 11G-Luke Griffith[1] ; 2. 25-Jason Keckler[3] ; 3. 48-Mike Burkin[4] ; 4. 18N-Frank Neill[2] ; 5. 10-Josh Harrison[8] ; 6. 22M-Dan McCarron[5] ; 7. 20I-Kelsey Ivy[7] ; 8. 75-Jerry Dahms[6] ; 9. 44-Kyle Farmer[9]
A-Main – (25 Laps)
1. 19R-Steve Rando[2]; 2. 5R-Jordan Ryan[8]; 3. 77I-John Ivy[15]; 4. 25-Jason Keckler[17]; 5. 12-Kyle Capodice[7]; 6. 48-Mike Burkin[18]; 7. 99-Alvin Roepke[4]; 8. 18N-Frank Neill[19]; 9. 39-Jamie Miller[9]; 10. 1W-Paul Weaver[6]; 11. 10-Josh Harrison[20]; 12. 7M-Brandon Moore[3]; 13. 36-Seth Schneider[1]; 14. 18-TJ Michael[5]; 15. 8-Bobby Clark[10]; 16. 3J-Trey Jacobs[13]; 17. 37-Austin Ream[14]; 18. 87- Brian Gibbs[12]; 19. 11G-Luke Griffith[16]; 20. 2-Ricky Peterson[11]
Hard Charger: 25-Jason Keckler[+13]