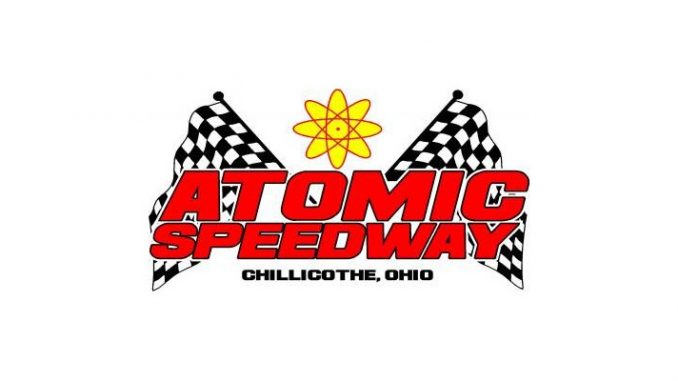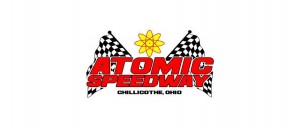 From Scott Wolfe
Chillicothe, OH — (April 18, 2015) — Jimmy Stinson from Vandalia, Ohio picked up the sprint car victory Saturday night at Atomic Speedway. Tennessee driver Sean Hosey grabbed the 305 RaceSaver A-main in just his second-ever start in a full-sized sprinter.
Hunter Schuerenberg, Driver/Owner of the 20N Roof Bolt Express/Nolen Racing sprint car from Sikeston, Missouri and local ace Jimmy Stinson paced the 20-car field to the starting grid where Stinson immediately blitzed into the lead. From there it was clear sailing as Stinson dominated in the flag-to-flag win. The race was completed in just over 15 minutes despite cautions for Taylor Ferns on lap 8, and Nathan Skaggs a couple laps later. Ferns slammed the turn four wall and Skaggs suffered mechanical woes that gave him an early exit.
Stinson dominated. The only glimmer of a challenge came early from Todd Kane, who like Stinson pulled away from the rest of the pack. Constant position swaps came among the cars of Crabtree, Broughton, Skaggs, Courtney, and Schuerenberg. Broughton won the race-long fight for third.
On the 15th lap, Adam Strausser slammed the turn three wall and took a gyrating flip nearly into turn number four. Strausser was shaken, but surprisingly unscathed while the McCreary Motorsports 9J suffered severe damage.
Aboard a ten-year old chassis, Stinson barn-stormed on to the victory.
Rounding out the top ten were Jimmy Stinson, Todd Kane, Ryan Broughton, Kory Crabtree, Tyler Courtney, Hunter Schuerenberg, Ronnie Blair, Sam Ashworth, Ryan Myers, and Brandy Bower. Bower started scratch and raced her way into the top ten for hard charger honors.
At one point Dave Dickson had stormed from 19th to 10th, but never-the-less ended a good run in 12th.
Stinson dedicated his win to the late Brian Karshner, saying "This win is for Brian. I wanted to do something special in his memory and what better way to do it than right here in victory lane."
Stinson added, "I knew the car was fast, but when you're out front you just keep thinking someone might be back there. The car really hooked up tonight. I'd like to thank Adam (Tippett) my car owner and Billy Jarrell for getting this car into shape. It drove like a dream."
This was the second win of the year in three outings for Stinson with each win coming in different car. The first came aboard Eddie Slone's 4x, while Saturday's win came in a 2005 J & J Chassis powered by a Charlie Fisher engine. "Not bad for a 10-year old chassis," proclaimed Stinson.
Hosey, Clarksville, Tennessee claimed the 305 RaceSaver Sprint heat and main event over Dustin Hammond, Andy Hill, and Mike Downs. Hosey only completed the car Friday morning before venturing to Jackson, Ohio for the win, then doubling up with a win at Atomic Saturday.
OVSCA Sprint Cars (30)
Heat One-Jimmy Stinson, Nathan Skaggs, Brian Benson, Beau Stewart, Taylor Ferns, Josh Davis, Nate Reeser, Brandy Bower, Jimmy Light, Bob Tucker
Heat Two-Hunter Schuerenberg, Ryan Myers, Kory Crabtree, Sam Ashworth, Mark Imler, Adam Strausser, Eddie Slone, Randy Fink, R.J. Perkins, Brandon Conkle
Heat Three-Ryan Broughton, Todd Kane, Tyler Courtney, Ronnie Blair, Jimmy Nier, Dave Dickson, Mark Coleman, Mike Terry, Jr., George Hawkins, Eric Martin
B-Main: Nate Reeser, Adam Strausser, Dave Dickson, Eddie Slone, Brandy Bower, Bob Tucker, Mike Terry, Jr., R.J. Perkins, Randy Fink, Brandon Conkle, Eric Martin, Josh Davis, George Hawkins, Mark Coleman, Jimmy Light
Feature: Jimmy Stinson, Todd Kane, Ryan Broughton, Kory Crabtree, Tyler Courtney, Hunter Schuerenberg, Ronnie Blair, Sam Ashworth, Ryan Myers, Brandy Bower, Beau Stewart, Dave Dickson, Mark Imler, Eddie Slone, Brian Benson, Nate Reeser, Adam Strausser, Nathan Skaggs, Jimmy Nier, Taylor Ferns
Hard Charger: Brandy Bower 20th to 10th