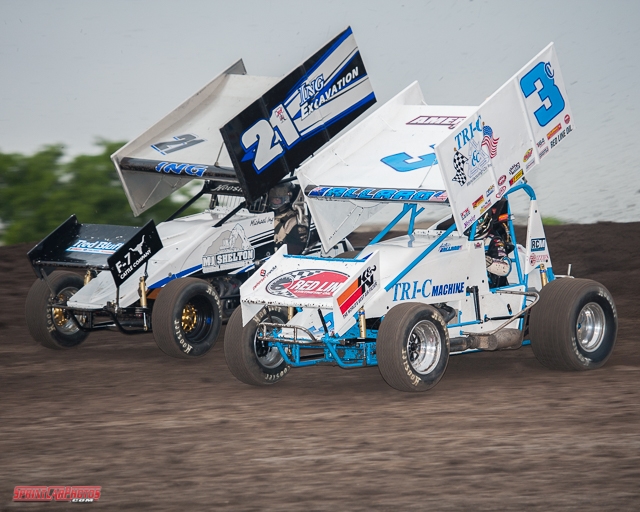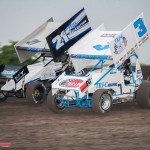 From Troy Hennig
Chico, CA — (April 29, 2015) — Sprint car fans rejoice because one of the most anticipated Friday and Saturday night shows at Silver Dollar Speedway will take place this weekend. On Friday night, Fry's Metals will present point race #5 featuring four divisions led by the 410 winged sprints. On Saturday night the Speedway will host the 25th annual Dave Bradway Jr. Memorial featuring the King of the West 410 sprint cars and wingless sprints.
Friday night the pit gate for the competitors will open at 4 PM. The front gate for the fans will open at 6 PM. Racing is slated to start at 7 PM. On Saturday the pit gate opens at 3 PM and the front gate 5 PM. Pricing for each event is available on line at www.silverdollarspeedway.com
Chico's Jonathan comes into this Friday night as the 410 sprint car point leader. Allard holds a five point edge over four-time track champion Sean Becker of Roseville. Princeton's Mason Moore, Anderson's Keith Bloom and Chico's Brad Bumgarner all sit within the top five of points. Bumgarner and his team should be commended for their efforts this week. On Friday night Bumgarner was involved in an accident that destroyed his car. Over the weekend the team put together a whole new race car and will be in action this weekend.
Quite frankly the driver to beat is Colby Copeland. The Roseville driver has won two 410 winged sprint car main events within the past eight days and is riding high with confidence. Copeland now has eight career sprint car wins between winged 410 and 360 sprint cars along with three non-wing sprint car triumphs. The wild card is always Auburn's Andy Forsberg. The veteran driver seems to be hot or cold in 2015. If he can regain the confidence in himself and his car this Friday night, Forsberg could be the hero. Over 20 cars are expected to compete in the Friday night portion of the 410 sprint car event.
The wingless sprints have a unique opportunity to race two times in Chico this weekend. On Friday night, it will mark their second point race of the season. On Saturday night, the division will serve as the support division for the King of the West. This gives the non-wing drivers a chance to showcase their talents in front of a big sprint car fan base. It would make sense for a team to compete at both events for the chance to gain exposure and the chance to win some good money.
Olivehurst's Ryan McDaniel is two for two while driving a limited late model in Chico. McDaniel has used those two wins to catapult into a six-point advantage over local driver David Newquist. Duane Cleveland, Jeff Olschowka and Ray Trimble have all shown flashes of speed and will look to dethrone McDaniel this Friday night.
Chris Warner and Phil Marino are building a great rivalry in the street stock division. Warner sits atop the point standings; however, Marino is just two markers back. Each driver has a main event win. The one difference is Warner has a heat race win while Marino does not. With a battle this tight every point on the track can make a difference. Clinton Earl, Richard Workman and Eddie Hammett are drivers who could take advantage of a slip up by either Marino or Warner.
The Saturday night Dave Bradway Jr. event is being covered by Gary Thomas. We will post and share all the necessary information provided by Thomas at our website and FACEBOOK page.