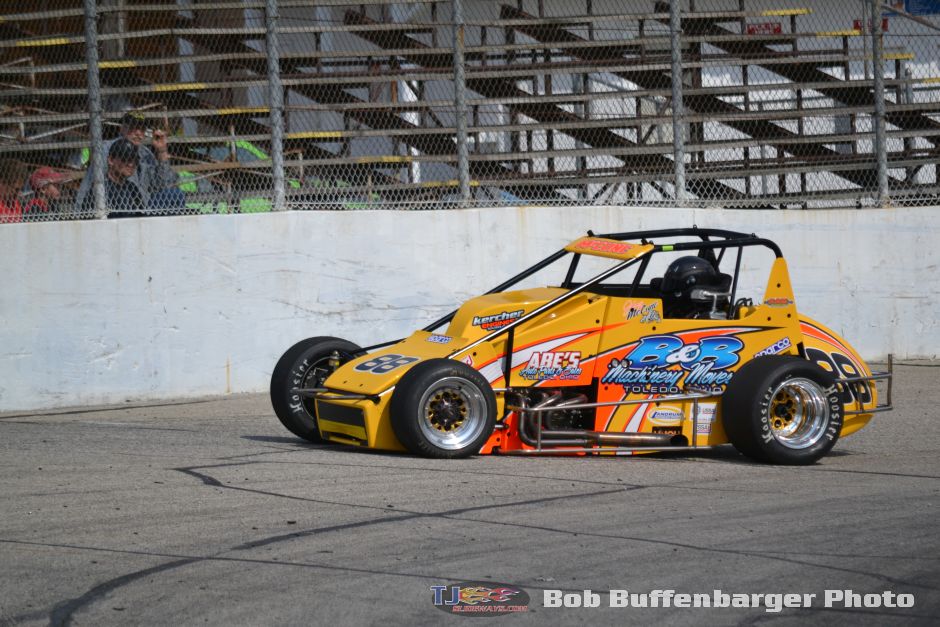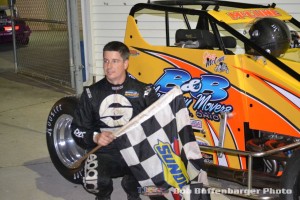 By Bob Buffenbarger
Mason, MI — (May 15, 2015) Jimmy McCune took the lead on lap 16 and went on to capture the 30 lap sprint car feature at Spartan Speedway Friday night during a night of wild action. Jim Heeney and Gary Sherman would start on the front row and Sherman quickly took control with Doug Dietsch falling in behind.
McCune started 6th next to his nephew Anthony McCune and the duo was racing hard for 3rd on lap six when they made contact, sending Anthony hard into the first turn wall bringing out the red. He was okay but finished for the night.
When the green appeared again the running order was Sherman, Dietsch, Jimmy McCune, John Turnbull and Jim Heeney. The next several laps saw terrific racing between the top four cars with Sherman still leading. McCune pulled even with Sherman on lap 14 and completed the pass two laps later on the high side for the top spot.
The 0 of Dietsch was not letting McCune out of his sights after passing Sherman who was hanging in with the three cars running nose to tail. Lap 24 saw Dietsch look under McCune but the 88 of McCune would have none of it as the top duo pulled away from the rest of the field in the closing laps.
At the checkers it was McCune, Dietsch, Sherman, John Turnbull, Jim Heeney, Mike Stutsman, Mark Irwin and Joe Irwin.
Heats went to Gary Sherman and Jim Heeney. The 2nd heat saw a spectacular flip by Don Hamilton on the front stretch after contact with Mike Stutsman. Hamilton was not injured but his car suffered heavy damage.