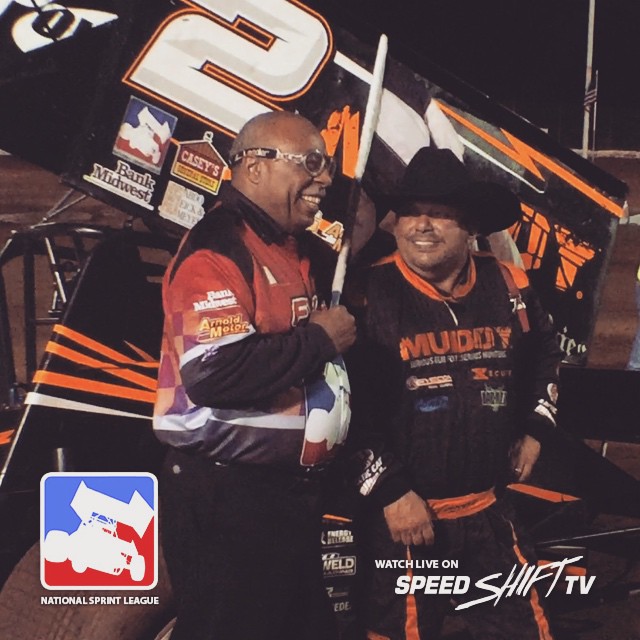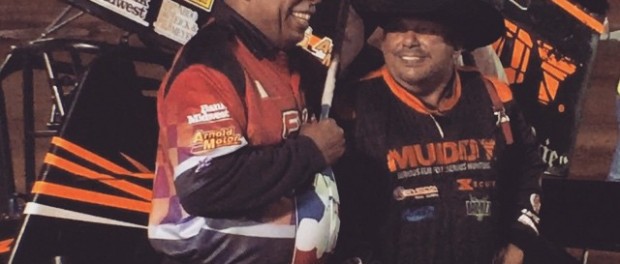 From Shawn Miller
Farmington, MO — (June 1, 2015) — Big Game Motorsports reached Victory Lane for the second time this season as Danny Lasoski guided the Muddy sponsored sprint car to the FVP National Sprint League victory last Thursday at Saint Francois County Speedway.
"We expect to run up front and compete for wins everywhere we race," Lasoski said. "Tod Quiring has provided us with the tools to win and I have a great team that provides a winning race car so our expectation is to win."
Lasoski kicked off the event by setting quick time and establishing a new track record on the unique 3/8-mile track.
"We got a really good draw and it was important to take advantage of that," he said. "We put down a good lap and that set us up for the remainder of the night."
Lasoski advanced from sixth to fifth place in a heat race, which locked the Muddy backed team into the feature redraw for the 30-lap main event. A child in the stands chose the No. 4 for Lasoski during the random feature redraw, which lined him up on the outside of the second row.
"We've started in the third or fourth row most of the time this year so it was a good draw for us," he said. "The goal for any redraw is to start in the first two rows. When you can see the lead right there for the taking it makes it easier than having to navigate through a bunch of cars."
Lasoski maneuvered into third place on the second lap of the race and he ran in that position for the first third of the feature before moving up to second place. He then stalked Jerrod Hull for the top spot before taking the lead in traffic on Lap 18.
"Our car got better throughout the race," he said. "I took it easy for the first half of the race until some of the fuel burned off and then decided to go after the win."
Once the Muddy sponsored sprint car was in front it stayed there as Lasoski became the first career repeat winner with the FVP National Sprint League. The win also propelled him back into the lead of the championship standings.
Friday's FVP National Sprint League event at Randolph County Raceway in Moberly, Mo., was rained out along with a race at Knoxville Raceway in Knoxville, Iowa, on Saturday, when Lasoski qualified third quickest before weather washed out the remainder of the event.
Big Game Motorsports is slated to compete at I-80 Speedway in Greenwood, Neb., on Friday with the World of Outlaws Sprint Car Series before returning to Knoxville Raceway on Saturday.