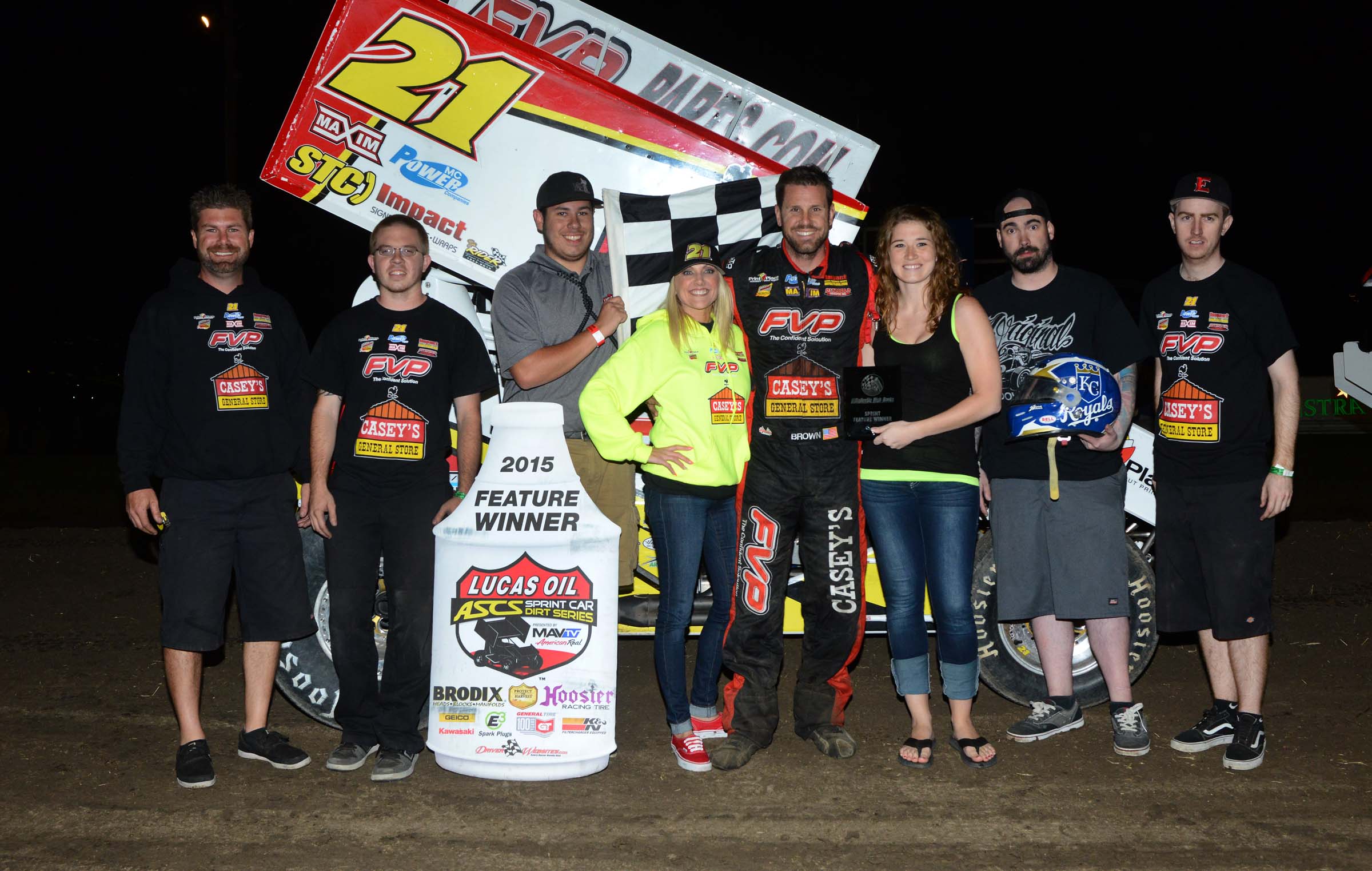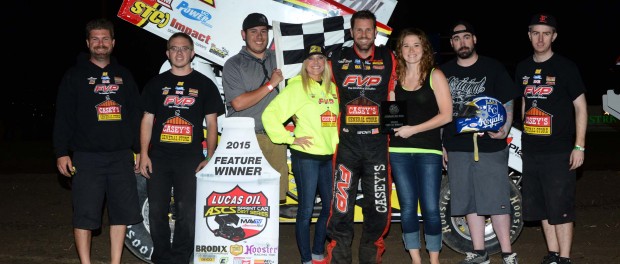 From Bill Wright
June 1, 2015 – When qualifying didn't go the best at the Knoxville Raceway Saturday night, Brian Brown and the Casey's General Stores/FVP #21 team felt that their recent run of bad luck may be changing when the rains came. They proved that it might, by winning the Lucas Oil ASCS National Series event Sunday at the Belleville (KS) High Banks. This weekend will see the Grain Valley, Missouri driver competing with the World of Outlaws at I-80 Speedway near Greenwood, Nebraska Friday and at Lakeside Speedway in Kansas City, Kansas on Saturday.
The weekend started for you with a tough qualifying effort on Thursday at Saint Francois County Raceway near Farmington, Missouri with the NSL.
We've been qualifying so well, and then to go and lay an egg with 15th quick really wasn't what we hoped for. We just didn't have the balance of our car where it needed to be. It shows you the quality of cars with the NSL and the Farmington regulars. We were off a little bit and that's where we were. The cool thing with the NSL is it doesn't ruin your night. You can battle back if you have the speed.
You seemed to get faster as the night went on. You went from third to second in the heat.
I felt like we needed to win the heat to have a chance at the redraw. We weren't quite able to get there.
You started the feature outside of row seven.
We kind of chugged along and got up to ninth or tenth. I was maintaining, and trying to make a decision to make something happen. I ended up losing some spots moving around. I was able to work back to eighth.
Did it take you a while to get going?
I think Bill Balog was behind us before we started moving around and he got up to sixth. It was the same thing at Jackson. Maybe we're being too aggressive instead of being patient a little longer. That's lost us five or six spots the last couple weeks. It's something for the notebook and memory book when the situation arises again.
It turned into a great event in Farmington.
NSL is off to a strong start. We haven't been anywhere where there's less than 30 cars. The fans really came out on a Thursday night. I think it's pretty cool that a lot of those fans don't get to see the NSL guys race a lot, and they still came out to support it.
After getting rained out Friday and Saturday at Moberly and Knoxville, you headed to Belleville Sunday with ASCS. You started your heat third.
We pushed off for the heat and had a really bad vibration. We didn't really know what was going on. Imagine going 140 miles per hour and having a tire shake. That's what it felt like. We were lucky enough to finish second.
What was the issue?
We checked the balance of the tires when we came in, and they were fine. The next move was to go into the engine. We changed u-joints and didn't see anything there. We went back to the tires and found out one of them was off. Hoosier makes a great tire, but that was one in a million that's off a bit. It was a good job by Chad (Morgan) and Josh (Hembe) and we have Neal Kelly here from Australia. To pull a motor out and change a u-joint between the heat and the feature…they did a good job. That kept me away from the track too, and maybe overanalyzing it.
You would start tenth in the feature.
The ASCS National guys are very tough. Guys like Aaron Reutzel…Billy Alley and Jack Dover were up there too, the list goes on and on. They are really good racecar drivers. I felt if we got to third or fourth, it would be a solid night.
You were able to do that right away.
I was able to get to third pretty quickly. I was able to sneak by Dover right before we had a yellow. After I did that, we thought there may be a little bit of rubber being laid down coming off of four on the bottom. They put me back behind him on the yellow, and we were able to get back by him on the restart.
Was it laying rubber?
I went back to the bottom and found there wasn't any rubber. I got back in line and we had a yellow with seven laps to go. There was a lapped car between (leader) Aaron and me. I was able to get around the lapped car pretty quick. From my vantage point, Aaron was searching a little bit, and he wasn't sure whether the top was the place to be.
…but you knew the top was the place to be.
Once we were in our own air and had that Charlie Garrett singing, it was just a matter of time. We were able to pass him on the high side with five laps to go. I didn't know how close it was, but they said we got out by three seconds. It shows how strong we are if we can get out in our own air. That's just a heck of a motor.
This was a big win for you, maybe the luck has changed.
We've won four races, but in my opinion, we've had a rough start. It's been for a number of reasons, driver error, and things that have happened that usually don't happen to us. We needed this win more than ever. After we got rained out at Knoxville, on the ride home, I just told the guys we need to get back to having fun. That's what we did Sunday, and it was a good time. One of my good friends, Scott Rider, lost his battle with cancer last week. It was a bad deal, but that win was for him. We're thinking about him and his family. They gave him 18 months to live and he was around nine years, so I'm not sure who won the battle.
The Outlaws are up next this weekend!
We're looking forward to I-80. We've had success there. We didn't run as well with the Outlaws there as we hoped last year. I feel maybe we've learned some things that will help us out this time around. Lakeside will be a home game for us, being only 30 minutes from the shop. Having the FVP customers and employees there this weekend is always a good thing. It will add some fans cheering for us to the stands.