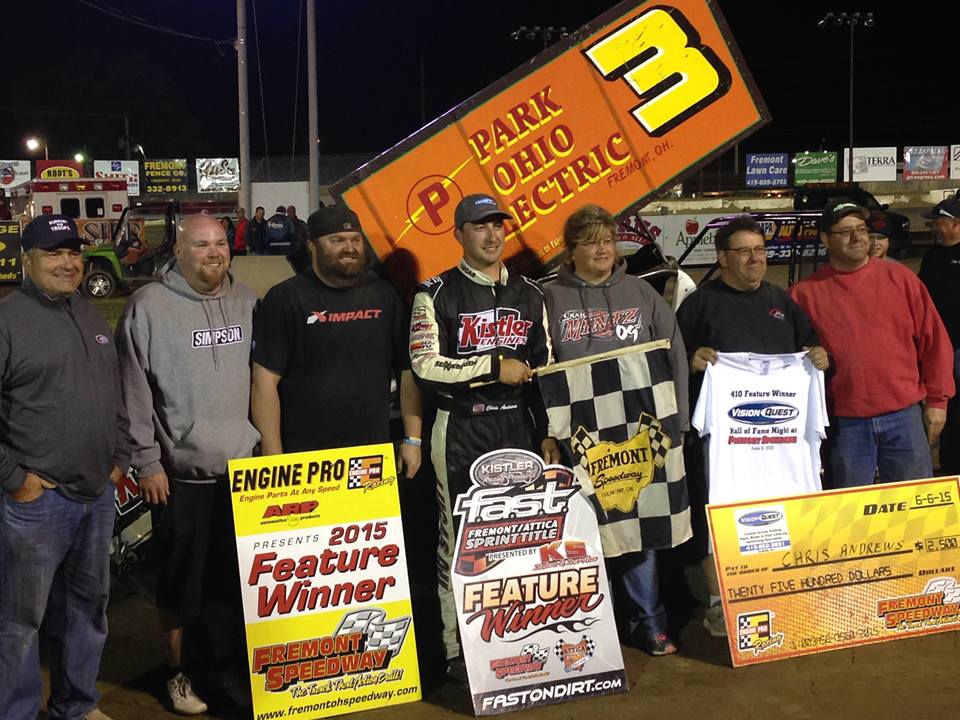 From Brian Liskai
Fremont, OH — (June 6, 2015) — The Fremont Speedway Hall of Fame Inductions and Second Annual Race of Legends was an emotional, fun and exciting night. Not only was all the pomp and circumstance great, but the night's racing was worthy of the speedway's moniker "The Track That Action Built" on Vision Quest Night.
Sandusky, Ohio's Chris Andrews, who moved to the Mintz Racing team this year in the Fort Ball Pizza Palace 410 Sprints, had struggled as of late. After coming out of the blocks with a win at Fremont on April 18, things hadn't gone according to plan. But, a new chassis and great communication turned things around Saturday.
Andrews became the third different feature leader of the race on lap 21 and sliced his way through traffic to claim his second win of the season. It was his ninth career win at Fremont.
"It's been a pretty rough few weeks for us. We got a new GF1 car and it's rocking and rolling pretty good. Steven and Michael (Linder) have this thing locked down and Andrew (Barman)…they gave me an awesome car. Les Mintz (car owner)…he's got some patience. We haven't been running too good here lately and I appreciate everything he's done for me. Sonnebogen, Real Geese, Lucas Oil, K and N Filters…hates off to them," said Andrews.
"I started to move around…the middle of the race track was actually pretty good surprisingly. Frankie Kerr was back there helping us…he was there yelling at me for everything I did wrong, but it worked," added Andrews.
The win keeps Andrews in the hunt for the Kistler Racing Products Fremont Attica Sprint Title (FAST) Championship Series Presented by KS Sales and Service title and its $10,000 payday. But, two time FAST Champion Byron Reed would storm from his 15th starting spot to a third place finish to maintain the point lead.
The day started with the 7th Annual Fremont Speedway Hall of Fame induction ceremonies where 11 individuals were enshrined. Later, 16 drivers – a few who were just inducted into the hall of fame and others who haven't drive a sprint car in decades, competed in 305 sprint cars in the 2nd Annual Race of Legends.
And what a feature it was. The 25-laps went green to checker and in the end, David Harrison, whose late father Daryl is in the hall of fame, would hold off hall-of-famer and inaugural Race of Legends winner Mark Keegan for the popular and emotional win.
"I couldn't do anything without the Lord's help on this thing. He's blessed me here today. I got some people here I want to dedicate this race to. Alex Burkett, my father (Daryl) and Mike Holman. They've been very special people in my life. It's great to come here and win a race in front of all these awesome people at Fremont Speedway. This is my favorite track in the world to be at," said Harrison.
In the Fort Ball Pizza Palace 410 Sprint feature, Dean Jacobs and Australian Jamie Veal would bring the field to green. Jacobs would grab the lead with Veal challenging while Andrews, Todd Heller, Stuart Brubaker and T.J. Michael in tow. Kody Kinser and Dain Naida would bring out the feature's only caution after a lap was complete.
On the restart Jacobs and Veal would battle for the lead while Heller and Andrews were locked in a similar tussle for third. Jacobs would start to pull away slightly from Veal with Heller doing the same over Andrews for third.
With 12 laps scored, Veal had closed on Jacobs while Heller and Andrews resumed their battle for third with Brubaker, Brock Martin, Reed, Caleb Griffith and Brian Smith in pursuit. On lap 14 as the leaders prepared to enter lapped traffic, Veal would drive around Jacobs for the lead with Andrews grabbing third a circuit later.
Lapped traffic would come into play on lap 16 with Veal leading Jacobs, a closing Andrews, Heller, Brubaker, Reed and Griffith. Andrews would vault into second on lap 17 and methodically closed the game on Veal. Meanwhile Brubaker would drive into third on lap 20.
With 10 laps to go the top five were nose to tail as they entered heavy lapped traffic. Andrews would use two lapped cars that were side-by-side to drive into the lead on lap 21 as Brubaker would use the same to grab second on lap 22. Meanwhile Reed was making up a lot of ground as he drove into fourth on lap 23.
Andrews would pick his way trough the traffic over the final seven laps for the win while Brubaker, Reed – who took third on lap 26 – Veal and Heller would round out the top five.
In the 25 lap non-stop Race of Legends, Harrison and Charlie Fisher would pace the field. Harrison would grab the lead over Fisher, Joe Keegan, Kenny Clark Jr., Benny bowman, John Naida and Eric Rankine. Clark would take third on lap 3 with Rankin moving into the fifth spot on lap 3.
All eyes were on Mark Keegan who took the challenge to start last. The multi-time track champion and hall of fame member started 16th and was up to sixth by lap five.
As the leaders hit lapped traffic by the eighth circuit, Fisher closed on Harrison with Clark, Rankine, Bowman and Mark Keegan in tow. Rankine, another hall of fame driver, would take third on lap 11 and take the runner-up slot on lap 13 with Mark Keegan driving into third…
With 10 laps to go Mark Keegan drove into second and started to close on Harrison with Rankine Fisher, Clark, Joey Keegan and Naida in pursuit.
Harrison picked his way trough the traffic with Mark Keegan continuing to close while Rankine, Fisher and Clark gave chase. As they took the white flag Mark Keegan was within a car length of Harrison. Harrison would slice his way through the lapped cars to take the win over Keegan, Rankine, Fisher and Joey Keegan.
Fremont Speedway – 6/6/2015
Vision Quest Night
Fort Ball Pizza Palace 410 Sprints (31 Cars)
[#]-Starting Position
Qualifying – Fricker's Restaurant/Callie's Performance
1. 91-Cale Thomas, 12.690; 2. 19-Chris Andrews, 12.713; 3. 35AU-Jamie Veal, 12.749; 4. 45L-Brian Lay, 12.766; 5. 33M-Caleb Griffith, 12.870; 6. 12-Craig Mintz, 12.883; 7. 16-Stuart Brubaker, 12.892; 8. 14H-Todd Heller, 12.904; 9. 8M-TJ Michael, 12.912; 10. 9Z-Duane Zablocki, 12.922; 11. 97-Dean Jacobs, 12.930; 12. 5AU-Danny Reidy, 12.933; 13. 83M-Broc Martin, 12.955; 14. 2+-Brian Smith, 13.004; 15. 60-Jody Keegan, 13.046; 16. 21-DJ Foos, 13.047; 17. 1ST-Gary Taylor, 13.067; 18. 5-Byron Reed, 13.079; 19. 53-Cap Henry, 13.118; 20. 4K-kody Kinser, 13.137; 21. 77-Dain Naida, 13.234; 22. 40DD-Nate Dussel, 13.300; 23. 20N-Hunter Schuerenberg, 13.323; 24. 68G-Tyler Gunn, 13.500; 25. 9-John Ivy, 13.588; 26. 55F-Taylor Ferns, 13.841; 27. 96AU-Bruce White, 14.092; 28. 0-Steve Irwin, 14.206; 29. 3T-Tony Beaber, 14.275; 30. 50B-Mike Burns, 99.010; 31. 33K-Kyle Patrick, 132.268
Heat 1 – American Power Sports (8 Laps – Top 4 finishers transfer to the A-feature)
1. 1ST-Gary Taylor[2] ; 2. 77-Dain Naida[1] ; 3. 83M-Broc Martin[3] ; 4. 8M-TJ Michael[4] ; 5. 9-John Ivy[7] ; 6. 91-Cale Thomas[6] ; 7. 33M-Caleb Griffith[5] ; 8. 3T-Tony Beaber[8]
Heat 2 – Kistler Racing Products (8 Laps – Top 4 finishers transfer to the A-feature)
1. 5-Byron Reed[2] ; 2. 40DD-Nate Dussel[1] ; 3. 2+-Brian Smith[3] ; 4. 19-Chris Andrews[6] ; 5. 9Z-Duane Zablocki[4] ; 6. 55F-Taylor Ferns[7] ; 7. 12-Craig Mintz[5] ; 8. 50B-Mike Burns[8]
Heat 3 – Hoosier Racing Tires (8 Laps – Top 4 finishers transfer to the A-feature)
1. 53-Cap Henry[2] ; 2. 35AU-Jamie Veal[6] ; 3. 16-Stuart Brubaker[5] ; 4. 97-Dean Jacobs[4] ; 5. 20N-Hunter Schuerenberg[1] ; 6. 33K-Kyle Patrick[8] ; 7. 96AU-Bruce White[7] ; 8. 60-Jody Keegan[3]
Heat 4 – The Computer Man (8 Laps – Top 4 finishers transfer to the A-feature)
1. 68G-Tyler Gunn[1] ; 2. 4K-kody Kinser[2] ; 3. 21-DJ Foos[3] ; 4. 14H-Todd Heller[5] ; 5. 45L-Brian Lay[6] ; 6. 5AU-Danny Reidy[4] ; 7. 0-Steve Irwin[7]
Dash – Borer Glass & Mirror (6 Laps, finishing order determined first 6 starting positions of A-feature
1. 97-Dean Jacobs[1] ; 2. 35AU-Jamie Veal[6] ; 3. 19-Chris Andrews[4] ; 4. 8M-TJ Michael[2] ; 5. 16-Stuart Brubaker[5] ; 6. 14H-Todd Heller[3]
B-Main – Computer Man Inc. (12 Laps – Top 4 finishers transfer to the A-feature)
1. 91-Cale Thomas[1] ; 2. 45L-Brian Lay[2] ; 3. 33M-Caleb Griffith[3] ; 4. 12-Craig Mintz[4] ; 5. 9Z-Duane Zablocki[5] ; 6. 5AU-Danny Reidy[6] ; 7. 9-John Ivy[9] ; 8. 20N-Hunter Schuerenberg[8] ; 9. 60-Jody Keegan[7] ; 10. 33K-Kyle Patrick[15] ; 11. 55F-Taylor Ferns[10] ; 12. 0-Steve Irwin[12] ; 13. 50B-Mike Burns[14] ; 14. 96AU-Bruce White[11] ; 15. 3T-Tony Beaber[13]
A-Main – (30 Laps)
1. 19-Chris Andrews[3]; 2. 16-Stuart Brubaker[5]; 3. 5-Byron Reed[15]; 4. 35AU-Jamie Veal[2]; 5. 33M-Caleb Griffith[13]; 6. 14H-Todd Heller[6]; 7. 53-Cap Henry[16]; 8. 97-Dean Jacobs[1]; 9. 83M-Broc Martin[7]; 10. 21-DJ Foos[9]; 11. 12-Craig Mintz[14]; 12. 2+-Brian Smith[8]; 13. 40DD-Nate Dussel[19]; 14. 1ST-Gary Taylor[10]; 15. 91-Cale Thomas[11]; 16. 45L-Brian Lay[12]; 17. 8M-TJ Michael[4]; 18. 68G-Tyler Gunn[20]; 19. 4K-kody Kinser[17]; 20. 77-Dain Naida[18]
Hard Charger: 5-Byron Reed[+12]
Race of Legends 305 Sprints (16 Cars)
[#]-Starting Position
Heat 1 – American Power Sports (8 Laps – Top 10 finishers transfer to the A-feature)
1. 10-David Harrison[2] ; 2. 48-Rick Ungar[6] ; 3. 9-John Naida[1] ; 4. 48F-Charlie Fisher[3] ; 5. 6-Steve Liskai[5] ; 6. 32H-Al Liskai[8] ; 7. 77I-Jim Sipe[7] ; 8. 99-Eric Rankine[4]
Heat 2 – Kistler Racing Products (8 Laps – Top 10 finishers transfer to the A-feature)
1. X-Mark Keegan [4] ; 2. 8-Kenny Clark[2] ; 3. 1X-Benny Bowman [3] ; 4. K5-Joe Keegan[5] ; 5. 20I-Lee Potter[6] ; 6. 2N-Brian Neeb[8] ; 7. 16-Jerry Nemire[7] ; 8. 39-Skip Miller[1]
A-Main – (25 Laps)
1. 10-David Harrison[1]; 2. X-Mark Keegan [16]; 3. 99-Eric Rankin3[8]; 4. 48F-Charlie Fisher[2]; 5. K5-Joe Keegan[3]; 6. 48-Rick Ungar[7]; 7. 9-John Naida[4]; 8. 20I-Lee Potter[11]; 9. 1X-Benny Bowman [6]; 10. 8-Kenny Clark[5]; 11. 6-Steve Liskai[10]; 12. 16-Jerry Nemire[13]; 13. 39-Skip Miller[9]; 14. 2N-Brian Neeb[15]; 15. 32H-Al Liskai[14]; 16. 77I-Jim Sipe[12]
Hard Charger: X-Mark Keegan [+14]