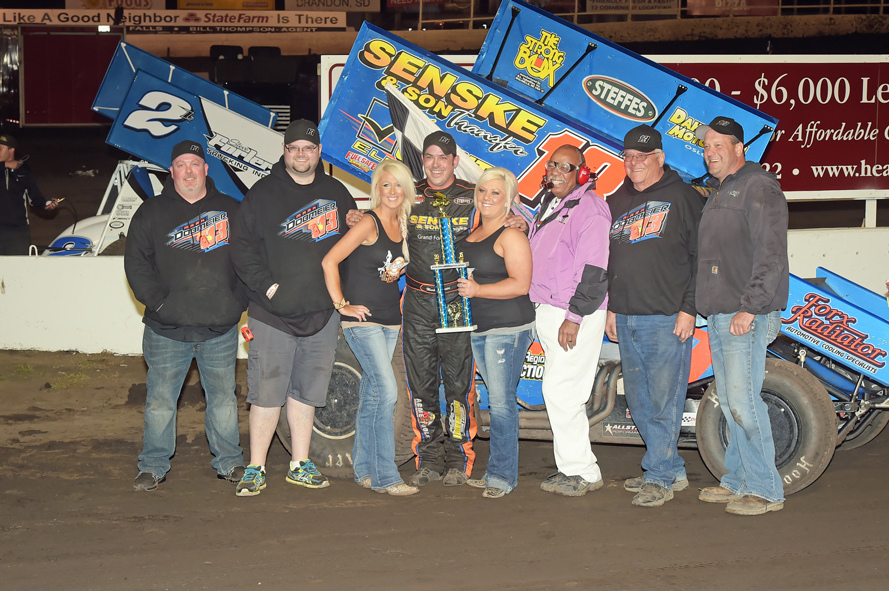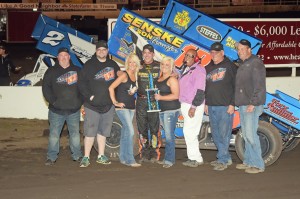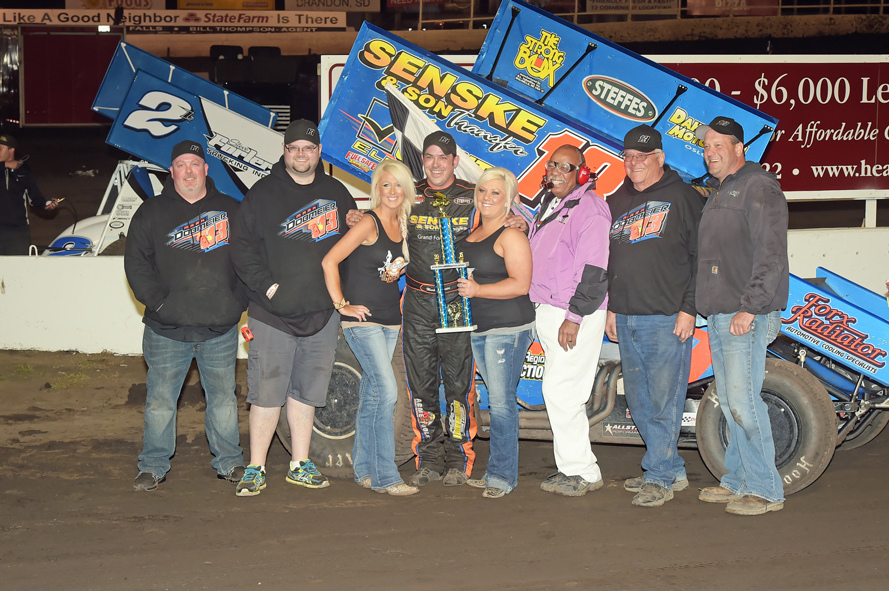 By Bill W
June 8, 2015 – On Friday night, "Dynamite" Mark Dobmeier registered career win #109 at his hometown track, the River Cities Speedway in Grand Forks, North Dakota. After taking the rest of the weekend off at the lake, he is ready for this weekend, which includes a showdown with the World of Outlaws on Sunday at Huset's Speedway near Brandon, South Dakota. Mark is looking for his third win with the WoO at Huset's.
Mark would start towards the tail of his heat race as a 32-car field assembled at River Cities on Friday. "They started the heats on point average, so I started towards the back of the heat," he says. "I was able to work my way up. The track was pretty dry in the heats, with a small strip of moisture on the top. It was kind of a race to the cushion and everyone ripped around it. We did a few slide jobs and ended up winning the heat."
The track was in great shape come feature time. "The track did a great job," says Mark. "They're changing up what they're doing to make a better track for everyone. They skipped hot laps for all the 'bodied' cars, and saved the track that way. They have all their equipment working. They were tilling the track and got a good surface for the feature."
The Jimco Motorsports #13 team would start eighth in the main event. "We misjudged it a little bit to be honest," says Mark of the car's setup. "We expected the track to dry out more. We were a little bit tight. We were able to work around that though."
Mark had some company in his run towards the front. "We were running pretty hard with Dusty Zomer in the Buffalo Wild Wings car," he says. "He was up here again. We were shifting through the field together. We were able to get the lead about ten laps in. Once we were in the lead, the car took off pretty good."
The track lent to multiple grooves on Friday. "On both ends of the track, there was a top and bottom groove," says Mark. "It was a great track surface. They've been working really hard lately."
Friday and Sunday appear to be locks on the racing calendar for Mark, but the team will decide later about Saturday. Last year, Mark drove from the tenth starting spot to beat the Outlaws at Huset's. He also beat them there in 2012. "This weekend we're not quite sure about Saturday," he says. "We're going to race here in Grand Forks on Friday. Maybe Knoxville on Saturday, but we'll definitely be at Huset's on Sunday with the Outlaws."
Jimco Motorsports would like to thank Senske & Son Transfer, Big Trucks by Jimco, Right Choice Electric, Acme Tools, X-treme Polishing, Interstate Towing & Recovery, B/L Strong Box, Steffes, Dahlstrom Motors, GLB Transport, Tireboss, Forx Radiator, Anderson Auto Body, Gary Gruhot Farms, Willow Ridge, Rose Creek, Great Plains Plumbing & Heating, Ironman Welding, DAV, Rendezvous Region Construction, High Mark Snowmobile Rentals, Boss Signs & Graphics and Dobmeier Bonding for all their help!