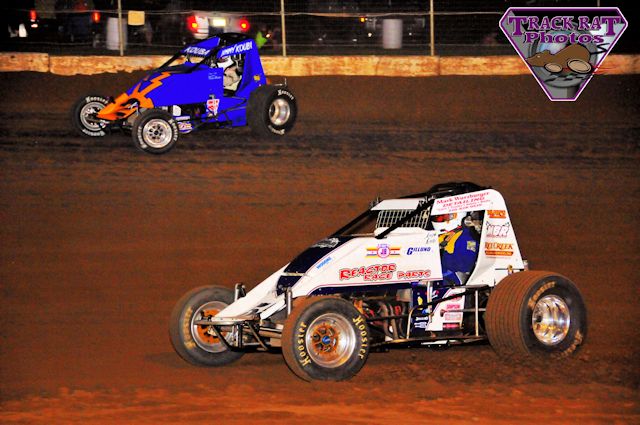 From Nicole Lehnertz and Sari Lehnertz
St. Croix Falls, WI — (June 12, 2015) — Summer finally arrived to St. Croix Valley Raceway on Friday, and the weather, the racing surface and the action filled races – were all just about perfect. A short session to groom the clay at the quarter-mile speed plant just west of Centuria, Wisconsin, gave The Valley racers the multi-groove surface they needed to provide thrills galore come feature time on Friday.
Family allegiances were tested in the UMSS Traditional Sprints, featuring a fifteen lap duel for the checkers between Jimmy and Joseph Kouba. After picking up the win in the third heat race, Jimmy Kouba started the feature on the pole inside of second heat race winner Mike Mueller. The opening laps were frenzied and frantic with the 2k of Jimmy Kouba a half heartbeat in front of gaggle of racers that included Mueller, Cam Schafer, Neal Matuska, Rob Caho Jr., Chase Viebrock, Johhny Parsons III and Joseph Kouba. Finding speed down low, it was Joseph Kouba emerging from that all-star group to challenge his uncle Jimmy, who had set up shop in the high groove. Leaving the others to tussle for third in a tremendous five-car melee, Kouba and Kouba set off on their high-low, thrill-a-lap barn-burner. With less than ten laps remaining, Joseph Kouba found some faster clay lower at the exit of turn two and reduced Jimmy's advantage from small to microscopic. By lap nineteen of the twenty-five lap affair, Joseph had eked a nose to the stripe first to officially take over the lead, but Jimmy reclaimed the top spot on the very next lap. The last five laps played out the same as the previous ten, with the two Koubas battling neck and neck, about a half-straightaway in front of that epic battle for third. On the final lap, Joseph pushed a little high in turns three and four, and drifted a car length back, increasing the winning margin to perhaps the largest differential of the race. It was Kouba's first ever win in a Traditional Sprint car, his last win coming back in 2010 while sporting a win atop his sprinter. It was also the same car that his Jimmy's son, Jake, piloted to his first win last summer. Cam Schafer hustled Tommy Kamrath's car to a third place finish in his first appearance of the summer ahead of last week's winner, Parsons, with Caho rounding out the top five.
UMSS Traditional Sprints Feature: Jimmy Kouba, Joseph Kouba, Cam Schafer, Johnny Parsons, Rob Caho Jr., Chase Viebrock, Neal Matuska, Mike Mueller, Sye Anderson, Rick Kobs, Scott Brandt, Anna Kouba, Jon Lewerer, Kevin Bradwell, Jori Hughes, Jake Kouba (DNF), Mike Walters (DNF), James Giossi (DNF), Brian VanMeveren (DNF)
Heat 1: Caho, Schafer, Lewerer, Parsons, Bradwell, VanMeveren
Heat 2: Mueller, Viebrock, Anderson, Joseph Kouba, Walters, Brandt
Heat 3: Jimmy Kouba, Kobs, Matuska, Giossi, Jake Kouba, Anna Kouba