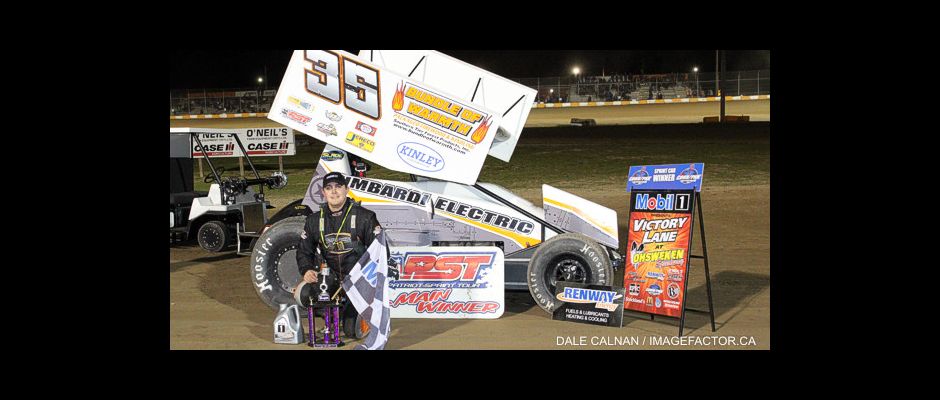 From Rich Vleck
Ohsweken, ON — (June 19, 2015) — Jared Zimbardi proved at Ohsweken that he is rounding in to form this season, refusing to allow adversity to throw him off his path.
A week after wrecking a chassis that he drove to 11 wins, Zimbardi, of Bradford, PA, scored his third PST win of the year in the PST-Ohsweken Challenge. It is the second-straight year Zimbardi won this event and the third time in the last four years.
After only managing a fourth-place finish in his heat, the defending PST America and PST Canada Champion started fifth in the 25-lap A-Main and came up through the pack with current Ohsweken Point Leader Todd Hoddick.
Dain Naida and Keith Dempster drew front row starting positions for the 25 lap 360 Sprint Car feature, and both led portions of the race. Several contenders fell by the wayside, as Glenn Styres dropped out of the race due to mechanical problems after just 3 laps, while Naida got off track while leading on lap 12, and later crashed.
Hoddick and Zimbardi raced for the lead after the halfway mark of the race, and Hoddick briefly took the top spot on lap 16 before "The Juice" squeezed back around him,
The race would get slowed once again on lap 20 but Zimbardi was not be denied after the restart as he drove away to win by over a second.
It was still a quality performance for Todd Hoddick, who won his heat and finished runner-up to Zimbardi for his second consecutive PST appearance.
Bryan Howland was able to drive forward to finish in third, getting back by PST Canada Point Leader Jason Barney after the final restart. Barney won the B-Main and drove up 16 positions to place in fourth. Steve Collins, who won the Evingham Site Excavation Dash4Cash for the third time this season, drove up to round out the top five.
Shane Ross was an impressive sixth, while early leader Dempster faded back to seventh. Chris Steele, Cory Turner and Jamie Turner completed a talented top 10.
For more information, visit www.PatriotSprintTour.com.
Patriot Sprint Tour Canada Series Results: 6/19/2015, Ohsweken Speedway, Ohsweken, Onatrio, CANADA.
A-Main (25 Laps)- 1. Jared Zimbardi (35), 2. Todd Hoddick (49), 3. Bryan Howland (51), 4. Jason Barney (87), 5. Steve Collins (67), 6. Shane Ross (3R), 7. Keith Dempster (5), 8. Chris Steele (80), 9. Cory Turner (19), 10. Jamie Turner (11), 11. Mitch Brown (10), 12. Conor Mahoney (5c), 13. Tyler Hendricks (38), 14. Ryan Turner (91), 15. Alain Bergeron (8B), 16. Dale Gosselin (3), 17. Lee Winger (2), 18. Kyle Fraser (01), 19. Dain Naida (77), 20. Justin Martin (7m), 21. Jesse Costa (52), 22. Derek Jonathan (81), 23. Jim Huppunen (14H), 24. Glenn Styres (0).
Lap Leaders- Naida 1, Dempster 2-4, Naida 5-11, Zimbardi 12-15, Hoddick 16, Zimbardi 17-25.
Provisional Starters- Hendricks, R. Turner.
Did Not Qualify (4)- Curtis Gartley (6), Zach Zumpe (11z), Stan Zanchin (94z), John Burbridge (21J).
Evingham Site Excavation Dash4Cash (4 Laps)- 1. Steve Collins (67), 2. Derek Jonathan (81), 3. Shane Ross (3R), 4. Jamie Turner (11), 5. Kyle Fraser (01), 6. Justin Martin (7m).
Heats (8 Laps Each, Top 6 Transfer to A-Main)-
Race 1: Styres, Naida, Martin, Zimbardi, Winger, C. Turner, Huppunen, Gosselin, R. Turner, Zanchin.
Race 2: Hoddick, Dempster, Bergeron, Collins, Ross, Brown, Barney, Gartley, Burridge.
Race 3: Steele, Howland, Fraser, J. Turner, Costa, Jonathan, Mahoney, Hendricks, Zumpe.
B-Main (8 Laps, Top 4 Transfer to A-Main)- Barney, Costa, Huppunen, Gosselin, Hendricks, Gartley, Zumpe, Zanchin, Burbridge, Turner.
Hoosier Tire Canada/ Mike Emhof Motorsports Recipient: Hoddick
Pole Position Raceway Pole Winner: Naida
Patriot Sprint Tour Canada Series Point Standings (Top 10)- Barney 288, Zimbardi 285, Brown 261, C. Turner 255, Hoddick 252, J. Turner 246, Styres and Dempster 244, Huppunen 239, R. Turner 238.
Evingham Site Excavation Four Laps of Fame Dash Series Standings (Top Five)- Collins 19, Kreutter 16, Zimbardi 12, Brown 11, Drum 10.
Patriot Tank Lines Hard Charger of the Season Standings (Top Five)- Zimbardi 50, Barney 26, D. Just and Suprick 25, T. Wickham 24.
Danny Willmes Enterprises Lap Leader Standings (Top Five)- Zimbardi 54, Reakes 37, Howland 28, S. Just 19, Barney and Stillwaggon 16.