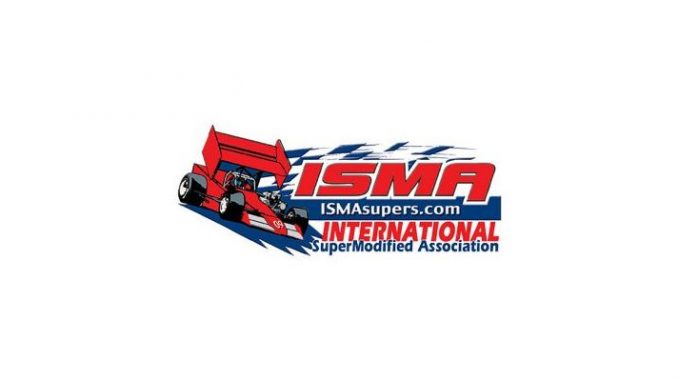 From Jarrett Thomas Emmerich
South Amherst, OH — (June 26, 2015) — Mike McVetta has had some of the worst luck imaginable in his brief supermodified career, not finishing during many of his career starts. The trend seemed to be broken as he dominated the fifty lap feature event for the International SuperModified Association Friday night. Then came the fiery finish after the checkered flag fell as the driveshaft on McVetta's #22 Perfection Fabricators machine broke, sending McVetta up in flames just seconds after grabbing his first career supermodified victory.
During qualifying, Mike Lichty and DJ Shullick mimicked their recent time trial battles from the famed Oswego Speedway. This time, Lichty would come out on top with a new track record of 11.798 seconds as Shullick took second with a time of 11.827 seconds. Dan Bowes in the #25 Northeast Metals Technologies machine would win heat race #1 with McVetta claiming victory in heat two and Danny Shirey in the Kasper Auto Group #49 winning heat number three.
As the full field of twenty-five lightning-quick ISMA supermodifieds flooded the racing surface, it would be Mike McVetta and Dave McKnight on the front row for the fifty lap grind. McKnight earned the fine starting position the hard way, passing ISMA point leader DJ Shullick on the start of heat race #2 for the final transfer position. Even so, McKnight had nothing for McVetta as the #22 took the lead and stretched out a lengthy margin until Jeff Locke spun in turns three and four on lap four. The restart order would see McVetta, McKnight, Trent Stephens, Robbie Summers, and Jon McKennedy hold the top five positions.
Trent Stephens, the four time Midwest Supermodified Association champion, would take the runnerup position from 2001 ISMA champion Dave McKnight on the lap four restart. A spin on lap thirteen by the #11 Shea Concrete Products winged roadster piloted by Moe Lilje would normally give Stephens a chance to demonstrate his prowess, but McVetta's restart mastery proved to be enough to keep Stephens at bay and even pull away during the ensuing seventeen lap green flag run. That surprisingly long green flag run would be cut short on lap thirty as Alison Cumens spun her #39 machine in turn three. Again, McVetta would need to hold off Stephens, McKnight, Summers and McKennedy. However, "Hollywood" would get another caution after skillfully playing the throttle on the restart as Danny Shirey spun from the sixth position.
McVetta would still take off when the race finally got back to green flag action. However, ISMA point leader DJ Shullick was beginning to pick up ground as he passed McKennedy to bump himself into the top five on the lap thirty restart. Robbie Summers also began a steady ascent up the scoreboard as he passed McKnight for fourth on lap thirty-four. Alison Cumens would again stir trouble on lap thirty-five as she spun in turn four.
What would be the final caution of the race would come on lap thirty-seven as AJ Lesiecki spun the Outdoor Option/Frank May Garage #77 in turn four. This would set up a fourteen lap brawl to the finish with McVetta leading over Trent Stephens, Robbie Summers, DJ Shullick and Dave McKnight. Shullick nearly ended up in the backstretch wall on lap thirty-seven as he tried desperately to pass Robbie Summers on the outside. Meanwhile, Summers was fighting for the runner-up position with Trent Stephens, which he took on lap forty while also allowing Shullick to follow him through around Stephens' #19 ACME Racing car.
McVetta would experience some lap traffic with five laps to go in the form of the Gillingham #5 driven by Kevin Jaycox Jr. However, McVetta would hold off a hard-charging Robbie Summers in order to win night #1 of the 2015 ISMA Summercade presented by MJ Griffith Paving. Summers, DJ Shullick, Otto Sitterly and Jon McKennedy finished in positions second through fifth while Trent Stephens, Ben Seitz, Eddie Witkum Jr., Timmy Jedrzejek and Mike Lichty rounded out the top ten. Ryan Coniam, Danny Shirey, Mark Sammut, Dan Bowes, Jim Paller, AJ Lesiecki, Alison Cumens and Jaycox filled out the finishing order.
While McVetta Racing may have had to pull a long night in the garage overnight in order to get the #22 ready to defend their home turf for the second night in a row after the unfortunate mechanical failure after the checkered flag, the family race team still has much to celebrate after a heavy wreck in Oswego, New York two weeks ago left the Ketchup 'n' Mustard Special in very rough condition. The team's ability to come back out after overhauling the car all the way up until Thursday night and be able to collect McVetta his first career supermodified win cannot be overstated. "Hollywood" had to fend off Robbie Summers several times during the final few circuits around the three-eighths mile speedway, but due to impressive driving and Summers running out of racing room on the outside groove, McVetta prevailed.
ISMA point leader DJ Shullick extended his points lead as his nearest competitors, the #84 of Mike Lichty and the #78 of Mark Sammut, failed to finish in the top five. Shullick, on the other hand, started fourteenth due to Dave McKnight knocking him out of the inversion in the second heat race. However, due to restart mastery and blazing speed from the 2014 Bodnar chassis nicknamed "Ice", he worked his way up to third in order to pick up the Hard Charger Award presented by the 4th Turn Crazies. The Crazies are an Ohio-based group oriented towards having fun and supporting "the world's fastest short track racecars", the supermodifieds!