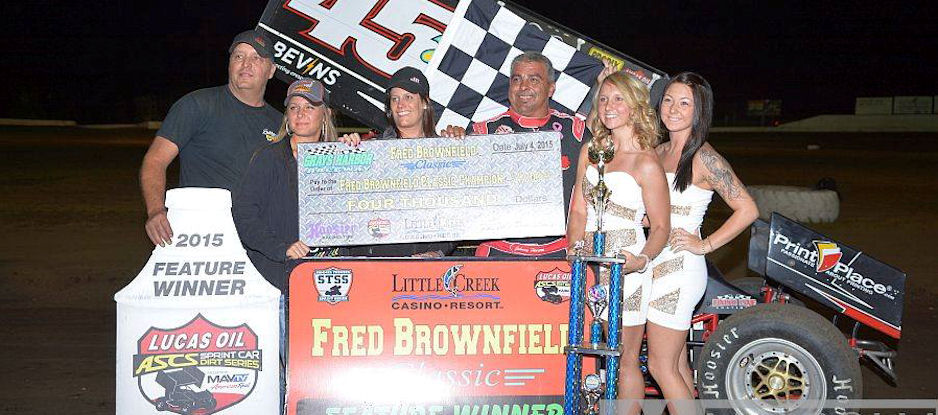 By Bryan Hulbert
ELMA, Wash. (July 4, 2015) Johnny Herrera lived up to his nickname on Saturday night as on track fireworks were plenty. With the MAVTV cameras rolling at Grays Harbor Raceway, the man known as "Hollywood" picked up his first Lucas Oil American Sprint Car Series presented by the MAVTV Motorsports Network victory of the 2015 season.
Last topping the Lucas Oil ASCS at the Hockett/McMillin Memorial on September 28, 2013 at the Lucas Oil Speedway, Herrera snapped a 66 race steak without a National Tour win, coming from fifth to win the inaugural Fred Brownfield Classic presented by Little Creek Casino.
Working to second on Lap 5, Herrera commented on the start of the feature, "When we started the race, it's a deal where as a driver you never quite know where to go. The top was a lot further around in turns three and four so I tired running the bottom at the beginning and it wasn't working, so I thought heck, let's go to the top and try that and it actually played out and worked well for us. That's where the fast part of the racetrack was there at the end."
Working a great battle with J.J. Hickle to get the top spot, Herrera's pass came at the line on the seventh round. Not able to gain much breathing room, the top-five was a tight battle from the start.
Finding traffic by Lap 10, pressure began to mount as Hickle was chased by Jason Solwold and Jared Peterson with Seth Bergman and Wayne Johnson closing in fast.
Dicing through traffic, the race was anyone's to win as the leaders picked lapped cars at either end of the Grays Harbor Raceway. Putting a trio of lappers between himself and second place, the caution flew as the field worked on Lap 26 for Steve Reeves.
Reverting back to the last fully completed lap, Herrera pulled away as the race for the podium took everyone's attention. Restarting fifth, Oklahoma's Wayne Johnson worked two-for-one through the first two turns. Sticking low on the lead pack, the City Vending No. 77x was not done there, tearing through turns three and four with a five-car slide among lapped cars to take the runner-up spot.
"I just got frustrated. I felt like we got raced dirty there a couple times and figured, if they can do it, we can do it. I just threw the wing back and said the hell with them," commented Johnson on his final run to second. "You know, overall the racetrack was just beautiful. "Slim" did an awesome job. This thing had way more grip that it did last night with this sun and wind. He did a remarkable job to have two and three lanes…but I just started playing with that middle line and for some reason, I can always get my car to rotate through there and stick. Just need a little more drive on exit."
Bouncing around the top-five the entire race, Jason Solwold put the Mike Anderson No. 18 on the final podium step, his lowest finish with the National Tour in the series five races across Washington, "We just changed some gear and maybe changed it a little too much so we weren't quite as good as last night, but we'll take third. We had a good week so we'll hold our head high. Some days are good, some days are not so good. Today was mediocre."
Utilizing the final restart to charge from seventh, Colton Heath crossed fourth after starting 15th. J.J. Hickle ended up fifth after restarting second on Lap 25.
Jared Peterson was sixth with Seth Bergman slipping to seventh in the closing laps. The cause of the caution on the opening lap, Aaron Reutzel was a house of fire coming through the field from 23rd to eighth with Travis Jacobson and Henry Van Dam completing the top-ten.
With 32 drivers making the trip for night two of the Fred Brownfield Classic, four Heat Races went to Blake Hahn, Henry Van Dam, Eric Fisher, and Travis Jacobson. The night's B-Feature was won by Reece Goetz. A promoter's provisional was given to Jay Cole.
The Lucas Oil ASCS presented by the MAVTV Motorsports Network works next to the state of Montana with the Electric City Speedway on July 17 and Billings Motorsports Park on July 18.
For continued updates on the American Sprint Car Series, log onto http://www.ascsracing.com.
Race Results:
Lucas Oil ASCS National Tour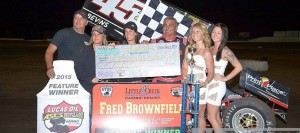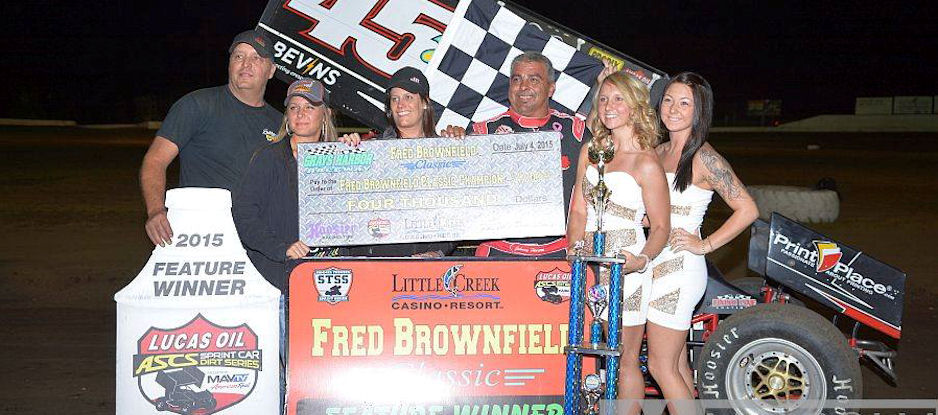 Fred Brownfield Classic – Night 2
Grays Harbor Raceway – Elma, Wash.
Friday, July 4, 2015
Car Count: 32
Heat Races: 8 Laps, taking the winner plus the next the next 8 highest in passing points to the A-Feature.
Heat 1 (8 Laps): 1. 52-Blake Hahn[1]; 2. 7N-Jared Peterson[4]; 3. 33X-Colton Heath[5]; 4. 5R-Steve Reeves[2]; 5. 3G-Garrett Johnson[6]; 6. (DNF) 17-Cameron (Cam) Smith[7]; 7. (DNF) 24-Tyler Anderson[3]
Heat 2 (8 Laps): 1. 33V-Henry Vandam[2]; 2. 23-Seth Bergman[3]; 3. 95-Matt Covington[6]; 4. 92-Jordan Weaver[1]; 5. 22B-Brock Lemley[4]; 6. 14K-Kyle Bellm[7]; 7. 0J-Jay Cole[5]
Heat 3 (8 Laps): 1. 59-Eric Fisher[4]; 2. 3-J.J. Hickle[5]; 3. 91-Chase Goetz[7]; 4. 9-Dan Dunlap[2]; 5. 62-Lawrance Kirkham[3]; 6. 22C-Trevor Cook[1]; 7. 94-Robbie Price[6]
Heat 4 (8 Laps): 1. 44H-Travis Jacobson[2]; 2. 33-Dustin Morgan[4]; 3. 50-Evan Margeson[3]; 4. 9R-Reece Goetz[5]; 5. 15-Jeff Dunlap[1]; 6. 97R-Jason Reed[6]; 7. 9A-Luke Didiuk[7]
B-Feature(s): 12 laps, taking the top 6 to the tail of the A-Feature.
B Feature 1 (12 Laps): 1. 9R-Reece Goetz[1]; 2. 14K-Kyle Bellm[8]; 3. 22B-Brock Lemley[6]; 4. 3G-Garrett Johnson[2]; 5. 92-Jordan Weaver[5]; 6. 5R-Steve Reeves[3]; 7. 0J-Jay Cole[15]; 8. 97R-Jason Reed[11]; 9. 9A-Luke Didiuk[12]; 10. 9-Dan Dunlap[4]; 11. 15-Jeff Dunlap[10]; 12. 94-Robbie Price[14]; 13. (DNF) 22C-Trevor Cook[13]; 14. (DNF) 62-Lawrance Kirkham[9]; 15. (DNF) 17-Cameron (Cam) Smith[7]; 16. (DNF) 24-Tyler Anderson[16]
A-Feature: 30 Laps (Friday Lock-ins: Jason Solwold, Johnny Herrera, Aaron Reutzel, and Wayne Johnson)
A Feature 1 (30 Laps): 1. 45X-Johnny Herrera[5]; 2. 77X-Wayne Johnson[7]; 3. 18-Jason Solwold[3]; 4. 33X-Colton Heath[15]; 5. 3-J.J. Hickle[2]; 6. 7N-Jared Peterson[10]; 7. 23-Seth Bergman[14]; 8. 87-Aaron Reutzel[6]; 9. 44H-Travis Jacobson[9]; 10. 33V-Henry Vandam[8]; 11. 33-Dustin Morgan[11]; 12. 14K-Kyle Bellm[18]; 13. 59-Eric Fisher[1]; 14. 50-Evan Margeson[16]; 15. 92-Jordan Weaver[21]; 16. 95-Matt Covington[12]; 17. 9R-Reece Goetz[17]; 18. 52-Blake Hahn[13]; 19. 0J-Jay Cole[23]; 20. 91-Chase Goetz[4]; 21. 5R-Steve Reeves[22]; 22. 3G-Garrett Johnson[20]; 23. (DNF) 22B-Brock Lemley[19]
Lap Leader(s): Eric Fisher 1-3; J.J. Hickle 4-6; Johnny Herrera 7-30
KSE Hard Charger: Colton Heath +11
FSR High Point: Eric Fisher
Provisional(s): Jay Cole (Promoter)