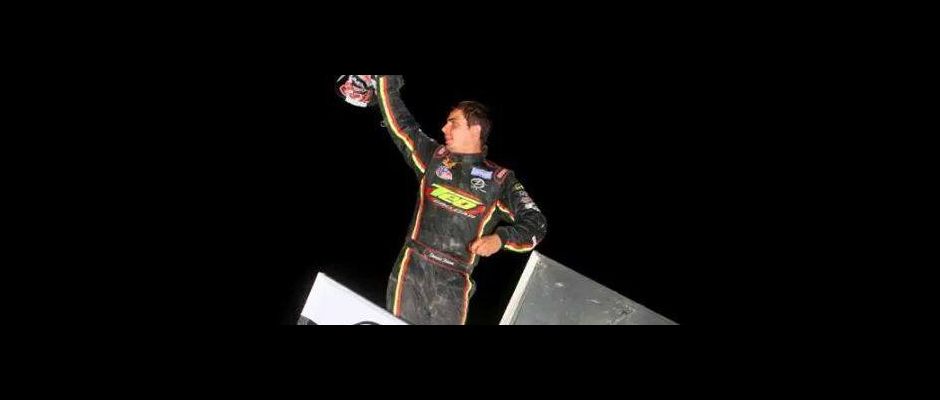 By Rich Vleck
ELBRIDGE, NY, (July 23, 2015)- From the first time he hit the track on Thursday Night, Stewart Friesen had a fast sprint car, with the benefit of front row starting positions in his heat races, the only thing that was going to hold him back was mechanical gremlins, which tried to grab him on a few occasions.
Friesen, originally from Niagara-on-the-Lake, Ontario and now residing in Sprakers, NY, led wire-to-wire to snag $2,500 in the 25-lap Patriot Sprint Tour A-Verdi A-Main at Rolling Wheels.  Pulling double duty on the night, Friesen consistently had the fast lane on the night to go with his quick car, but it was hardly a walk in the park.
"What a great team Jessica (Zemken) has set up right now," stated Friesen in Victory Lane.  "They nailed the setup tonight and had the car working really good."
As Friesen was dominating heat race one in his wife's No. 1z, he began to lay down significant amounts of oil, nearly drawing the caution.  He ran it to the win and the team diagnosed it as just filling up the oil too much.  After drawing the outside pole for the feature, Friesen once again jumped out to the lead but again the smoke began to emanate.
"I was worried for a while, we must have something going bad in the engine but I don't think it got in to a part that would slow us down because this car was flying."
After a while though it subsided and Friesen could focus on racing and he had to be solid to stay out front.
The first nine laps of the race were slowed by five cautions.  On the initial start, Chuck Hebing and Larry Wight came together, knocking two prerace favorites out.  On the next restart, Jason Barney and Paulie Colagiovanni came together in turn four and at the same time Danny Varin had pulled in to the infield in turn one as his cockpit had gone up in flames.  Varin would have to roll out the fire on his leg and would have to be taken for medical treatment after the event.
Each caution led to a successive restart, and for most of them, Auburn, NY's Bryan Howland was nipping at Friesen's tail tank, but was just a touch off compared to the setup of Friesen and would lose just enough distance over the long green flag run to fail to reel the leader back in during lapped traffic.
As the track slowed down in the closing stages, Friesen's car fell off less and he cruised to his fourth career Patriot win.  It was also the second win in a row for Friesen at Rolling Wheels.  He becomes the 12th different winner on tour this season.
Howland came home in second and reflected after the race that he knew Friesen's car was set up a little better than his as he was a bit free where he could see the 1z turning in comfortably.
Justin Barger completed the podium but had to work to hang on for that spot as he was hounded all race for the position.  Robbie Stillwaggon, who started back in 12th would chase him down but settle for fourth.
Perhaps the best battle in the feature was between Steve Poirier and Joe Trenca.  Trenca found a fast line up the track in turns three and four, passing Poirier on multiple occasions only to have Poirier take it back on the bottom off turn two.  Poirier would finish in fifth while Trenca would cross in sixth.
Tommy Wickham won his heat race and battled up front early on and would settle for seventh, while most-recent PST America winner Steve Collins would drive forward to finish in eighth.  Canadian Chris Steele came from the B-main to finish in ninth, as did George Suprick, who rounded out the top 10.
A total of 27 sprint cars were on hand for this special Thursday Night showcase. Along with Friesen and Wickham, Rob Dietrick would score a heat race win.  Jason Barney won the Evingham Site Excavation Dash4Cash while Mitch Brown collected the B-Main win.
For more information, visit www.PatriotSprintTour.com.
Patriot Sprint Tour America Series Results: 7/23/2015, Rolling Wheels Raceway Park, Elbridge, NY.
A-Verdi A-Main (25 Laps)- 1. Stewart Friesen (1z), 2. Bryan Howland (51), 3. Justin Barger (5), 4. Robbie Stillwaggon (89), 5. Steve Poirier (28FM), 6. Joe Trenca (98), 7. Tommy Wickham (75), 8. Steve Collins (67), 9. Chris Steele (80s), 10. George Suprick (87), 11. Davie Franek (28F), 12. Mitch Brown (10B), 13. Darryl Ruggles (48JR), 14. Paul Habeck (25H), 15. Jonathan Preston (22), 16. Rob Dietrick (10k), 17. Steve Glover (121), 18. Danny Varin (00), 19. Paulie Colagiovanni (10), 20. Jason Barney (87*), 21. Larry Wight (99L), 22. Chuck Hebing (45).
Lap Leaders- Friesen 1-25.
Evingham Site Excavation Four Laps of Fame (4 Laps)- 1. Jason Barney (87*), 2. Joe Trenca (98), 3. Steve Poirier (28FM), 4. Robbie Stillwaggon (89), 5. Paulie Colagiovanni (10), 6. Danny Varin (00).
Heats (8 Laps Each, Top 6 In Each Transferred to A-Main)-
Race 1: Friesen, D. Ruggles, Wight, Colagiovanni, Habeck, Preston, Peebles, Azzi, D. Wickham.
Race 2: T. Wickham, Howland, Trenca, Poirier, Barney, Stillwaggon, Steele, Glover, Suprick.
Race 3: Dietrick, Hebing, Barger, Varin, Collins, Franek, Brown, Stelter, A. Ruggles.
Hoosier Tire Canada/ Mike Emhof Motorsports Recipient: T. Wickham.
Pole Position Raceway Pole Winner: Trenca.
Patriot Sprint Tour America Series Point Standings (Top 10)- Reakes 1630, Drum 1565, Collins 1447, Zimbardi 1424, Hutchinson 1405, D. Just 1392, S. Just 1390, Suprick 1387, Graves 1195.
Evingham Site Excavation Four Laps of Fame Dash Series Standings (Top Five)- Kreutter 20, Collins 19, Zimbardi 18, Durand 15, Habeck S. Just and Reakes 12.
Patriot Tank Lines Hard Charger of the Season Standings (Top Five)- Zimbardi 64, Suprick 41, Barney 34, Brown 33, Reakes and Hutchinson 32.
Danny Willmes Enterprises Lap Leader Standings (Top Five)- Zimbardi 79, Poirier 43, Reakes 37, Howland 28, Collins and Friesen 25.