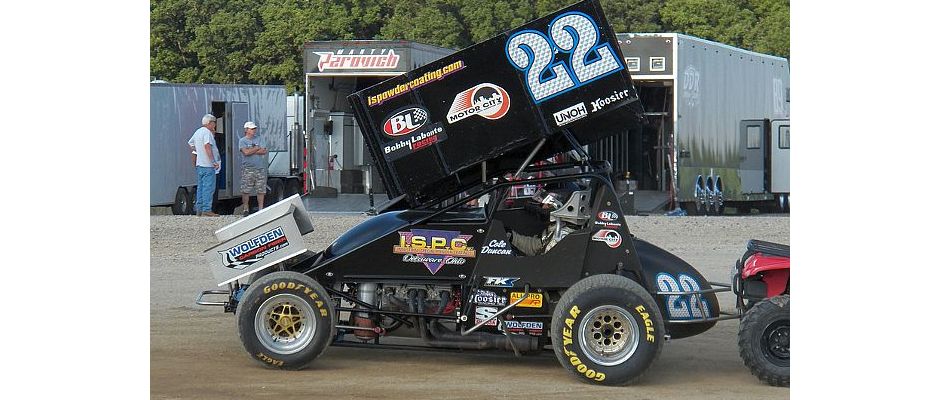 From Scott Wolfe
Chillicothe, OH — (July 25, 2015) — Cole Duncan won the Ohio Valley Sprint Car Association feature Saturday night at Atomic Speedway.
Brandon Wimmer, Fairmount, Indiana has led as many laps as anyone in the sprint car division at Atomic in 2015. But once again the Hoosier driver had to settle for second as Cole Duncan made a late race pass for the $2,000 win.
Wimmer was dominate for half the race, then engaged in a torrid dual with Duncan. Slide jobs and multiple lead changes highlighted the latter part the race, allowing Kevin Swindell to make it a three-way battle.
Rounding out the top ten were Cole Duncan, Brandon Wimmer, Kevin Swindell, Ron Blair, Kory Crabtree, Cale Thomas, Ryan Broughton, Kody Kinser, Todd Kane, and Nathan Skaggs. Kody Kinser was the hard charger of the race.
PINE TREE TOWING AND RECOVERY 410 Sprints (27)
Ohio Valley Sprint Car Association (OVSCA)
Fast Time: Cole Duncan 11:828
Heat One-Brandon Wimmer, Cole Duncan, Beau Stewart, Nathan Skaggs, Kody Kinser, George Hawkins, Jimmy Light, Brian Benson, Dustin Webber
Heat Two-Cale Thomas, Todd Kane, Ron Blair, Ryan Broughton, Dave Dickson, Nate Reeser, Randy Fink, R.J. Perkins, Eric Martin
Heat Three-Kory Crabtree, Kevin Swindell, Caleb Armstrong, Mike Terry Josh Davis, Eddie Slone, Brandon Conkle, Mark Coleman, Mark Imler
B-Main:Nate Reeser, George Hawkins, Eddie Slone, Jimmy Light, Brian Benson, Brandon Conkle, Randy Fink, Mark Coleman, Dustin Webber, Eric Martin, R.J. Perkins, Mark Imler
Feature: Cole Duncan, Brandon Wimmer, Kevin Swindell, Ron Blair, Kory Crabtree, Cale Thomas, Ryan Broughton, Kody Kinser, Todd Kane, Nathan Skaggs, Josh Davis, Caleb Armstrong, Beau Stewart, Nate Reeser, Dave Dickson, Jimmy Light, George Hawkins, Eddie Slone, Mike Terry, Brian Benson.
Hard Charger: Kody Kinser 13th to 8th