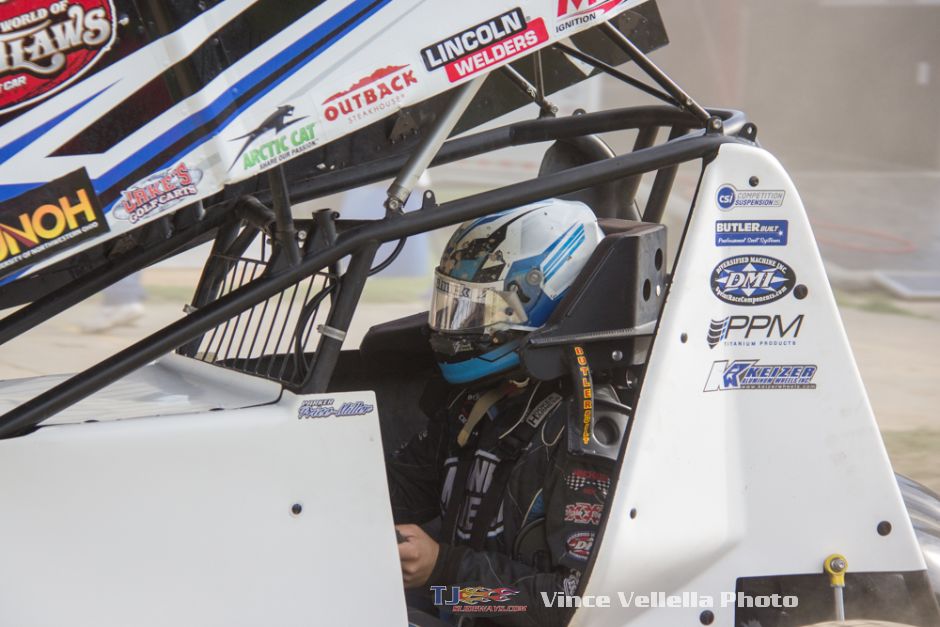 From Tommy Goudge
Ohsweken, ON — (July 27, 2015) — 81 drivers signed in to race in the Burger Barn Northern Summer Nationals at Ohsweken Speedway on Monday. Parker Price-Miller, Mat Williamson, Josh Shantz, and Mark Bazuin visited Mobil 1 Victory Lane.
Shane Ross got the better of polesitter Parker Price-Miller at the start of the 360 Sprint Car feature, and led the first 5 laps before Price-Miller made what turned out to be the feature-winning move. Mark Smith, Glenn Styres, and Mitch Brown raced hard for the third position before Smith got clear of them and passed Ross for the second position on lap 7. Ross had an issue with his safety equipment and drove through the pit area two laps later, losing a lap in the process and handing the third position to Styres.
Price-Miller and Smith pulled away from the rest of the field, with Smith occasionally closing the gap as they worked through slower traffic. Tyler Hendricks brought out the only yellow flag of the race on lap 16 when he spun off the track in turn 2. Smith wasn't able to do make a move on the leader when the race restarted, and Price-Miller went on to claim his second Ohsweken Speedway victory in as many attempts. Smith closed the gap at the end, but settled for the runner-up spot by a margin of 0.924 seconds, followed by Styres, Brown, and Jason Barney.
The win was worth $3,000 to Price-Miller, and guaranteed that he will start no worse than 8th in the Canadian Sprint Car Nationals A-Feature in September.
Styres now has the lead in the championship standings, with Brown 2 points behind, and Todd Hoddick 8 points further back.
Josh Shantz won the Crate Sprint Car feature.
Ohsweken Speedway
Ohsweken, ON
Monday July 27, 2015
Corr / Pak Merchandising Sprint Cars
Heat Race #1:
1. 87 – Jason Barney
2. 38 – Tyler Hendricks*
3. 0 – Glenn Styres
4. 49 – Todd Hoddick
5. 67 – Parker Prince-Miller
6. 91 – Ryan Turner*
7. 94z – Stan ZanchinJosh
8. 11 – Jamie Turner
DNS. 77 – Dain Naida
Heat Race #2:
1. 3R – Shane Ross
2. 10 – Mitch Brown
3. 80 – Chris Steele
4. 19 – Cory Turner
5. 55 – Mark Smith
6. 67 – Steve Collins
7. 5 – Keith Dempster
8. 14H – Jim Huppunen
Feature:
1. 67 – Parker Prince-Miller
2. 55 – Mark Smith
3. 0 – Glenn Styres
4. 10 – Mitch Brown
5. 87 – Jason Barney
6. 80 – Chris Steele
7. 19 – Cory Turner
8. 67C – Steve Collins
9. 49 – Todd Hoddick
10. 5 – Keith Dempster
11. 11 – Jamie Turner
12. 14H – Jim Huppunen
13. 3R – Shane Ross
14. 91 – Ryan Turner*
15. 38 – Tyler Hendricks*
16. 94z – Stan Zanchin
Strickland's GMC Crate Sprint Cars
Heat Race #1:
1. 68 – Aaron Turkey
2. 77x – Alex Hill
3. 54 – Ed Green
4. 18 – Josh Shantz
5. 55 – Mike Thorne
6. 12 – Brad Herron
7. 4 – Mack DeMan
Heat Race #2:
1. 47x – Dylan Westbrook
2. 1 – Holly Porter
3. 10-Jan – Jake Brown
4. 0 – Mark Czuba
5. 9 – Steve Lyons
6. 7H – Ryan Hunsinger
Feature:
1. 18 – Josh Shantz
2. 47x – Dylan Westbrook
3. 10-Jan – Jake Brown
4. 54 – Ed Green
5. 68 – Aaron Turkey
6. 0 – Mark Czuba
7. 4 – Mack DeMan
8. 9 – Steve Lyons
9. 12 – Brad Herron
10. 55 – Mike Thorne
11. 1 – Holly Porter
12. 7H – Ryan Hunsinger
13. 77x – Alex Hill