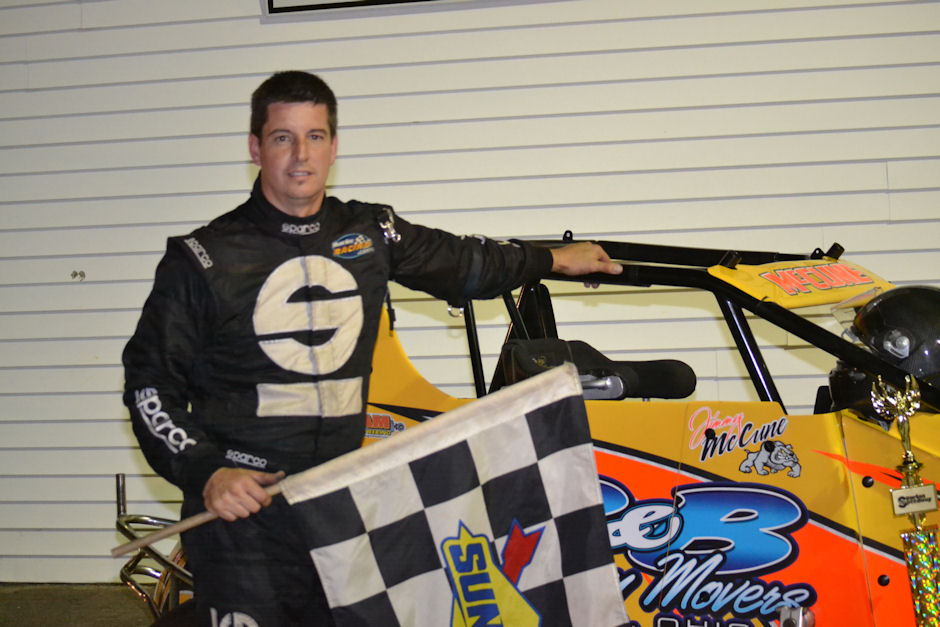 Mason, Mi.- August 7,2015- Jimmy McCune overcame several cautions and a slippery surface, took the lead on lap 19 and went on to win the 30 lap feature at Spartan Speedway Friday night.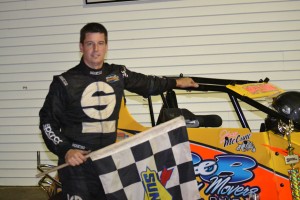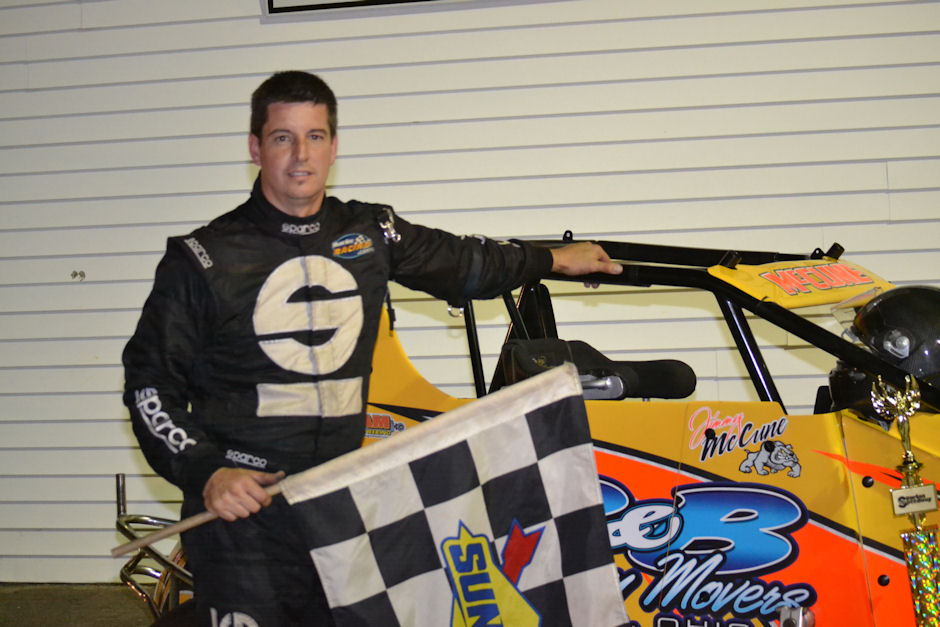 Brad Wyatt started on the pole of the main with Gary Sherman along side. At the green, several cars scattered to avoid the cars of Randy Neal and Kyle Stepke after they made contact going into turn one. Stepke went to the pits but was unable to make repairs and was finished for the night.
A complete re-start was needed and Wyatt charged to the lead with a pack right on his bumper. Sherman and Anthony McCune were side by side and right on Wyatt's bumper when McCune touched Wyatt, sending him around, bringing out another yellow with two laps in.
After another green, Sherman was leading Anthony McCune, Jimmy McCune, Doug Dietsch and John Turnbull Jr.. At the eight lap mark, Jimmy McCune and nephew Anthony made contact resulting in Anthony spinning in turn four bringing out the caution once more.
With ten laps in, the order was Sherman, Jimmy McCune, Doug Dietsch, Turnbull and South African Quintin Saayman. The top four were in a tight pack at this point and began to put distance between themselves and the rest of the field. McCune now had closed on Sherman and was trying to pass on the high side.
As the leaders approached lapped traffic, McCune made his move running side by side with Sherman for two laps and took the point on lap 19. Now Turnbull had made his way around Dietsch and was running 3rd but pressuring Sherman for 2nd. The laps were now clicking off quickly with McCune driving to a larger advantage over Sherman who was still holding off Turnbull with Dietsch 4th. This was the order the top four crossed the stripe at the checkers.
Jimmy McCune stated in victory lane "That was a tough one tonight as the track was tricky and slippery".
John Turnbull Jr. set quick time after injuring his hand requiring some stitches exiting his car after hot laps. Heats were won by Gary Sherman and Brad Wyatt.
Official results coming soon.