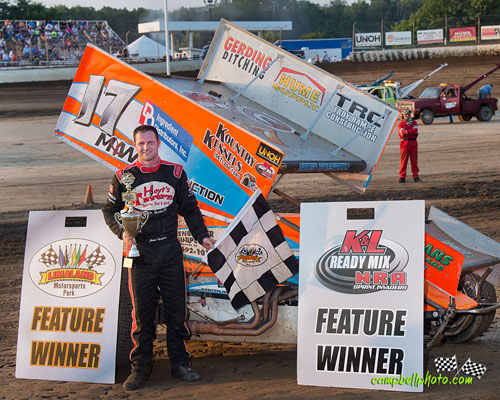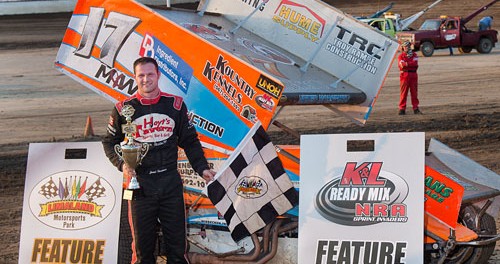 Lima, OH — (Augst 14, 2015) — Jared Horstman won the season finale for the K&L Ready Mix National Racing Alliance at Limaland Motorsports Park. Kyle Sauder won the King of the Quarter Mile event.
NRA Sprint Invaders champion Jared Horstman won his division's 25-lap feature, although his Horstman Motorsports running mate Hud Horton and Shawn Dancer both at times held the lead during the opening 15 circuits of the race. Horton topped the field from his post starting position for the first five laps before fellow front row starter Shawn Dancer took his turn with the lead.
It was the first action on the track for the evening as there were no heat races with the unusual final night format. Horstman used a rare for him middle racing groove to push to the front after starting in row number four. Horton suffered a mechanical problem while Dancer and Devon Dobie collided in turn number two effectively ending their hopes for the win.
Jared Horstman took over race leadership on lap fifteen and never looked back on the way to his fourth NRA feature win of the season. "I was kinda nervous without knowing what the track was gonna do so we just threw a heat race setup at it," said Horstman afterward. "It was really different seeing me on the bottom, but we did it and put this thing in victory lane."
The Reineke Family of Dealerships King of the Quarter mile races produced popular winners and few surprises. Kyle Sauder took the lead on lap number six with the Sprints King race as Max Stambaugh made contact with the backside wall ending what looked like a probable conquest after leading from the start.
Sauder claimed the $3,000 prize and said after the race that his team was intent on doing well. "My car owner said I was either going to win it or we would carry this car into the trailer. This for my 10-year old buddy Jace. I wish we would race for about two more months as this thing is really just going good for us. We'll come back next year and be ready."
Track officials proceeded to made traditional banquet trophy presentations to the season's top point's finishers with ceremonies in front of the main grandstands. From there the competitors and fans alike moved to the pit area for a post event party. It was a new end of season format concluding the 18th year of ownership and operation of the facility for the University of Northwestern Ohio and proved quite popular.
All the latest news and information about America's premier quarter-mile dirt track can be found at www.limaland.com.
Limaland Motorsports Park – 8/14/2015
Reineke Night
NRA Sprint Invaders
A-Main – (25 Laps) [#]-Starting Position
1. 17-Jared Horstman[8]; 2. 11-Tim Allison[4]; 3. 83-Kyle Sauder[6];
4. 6M-Max Stambaugh[7]; 5. 12J-Tyler Moore[12]; 6. 35-Ron Blair[16];
7. 8J-Jess Stiger[10]; 8. 6S-Jr Stewart[5]; 9. 12R-Nick Roberts[14];
10. 23-Devon Dobie[3]; 11. 49-Shawn Dancer[2]; 12. 5W-Jeff Williams[20]; 13. 57-Mike Dunlap[18]; 14. 17H-Hud Horton[1]
King of the Quarter Mile
Sprints (10 Laps)
1. 83-Kyle Sauder; 2. 6S-J.R. Stewart; 3. 11-Tim Allison;
4. 23-Devon Dobie: 5. 17-Jared Horstman; 6. 6M-Max Stambaugh