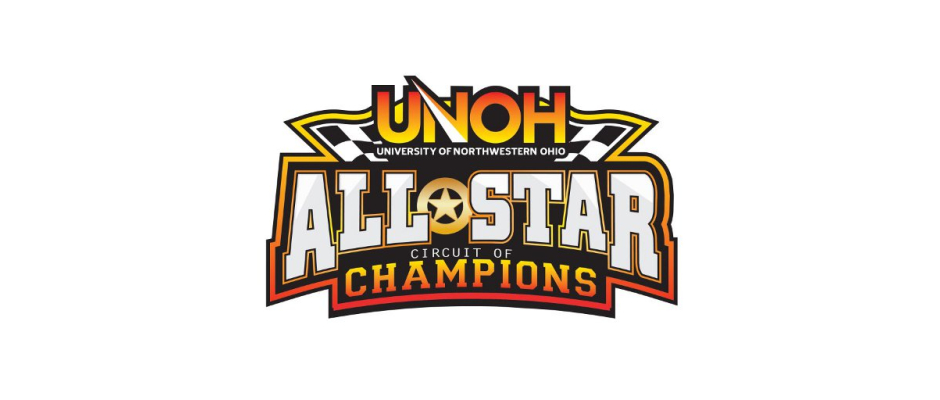 By Tyler Altmeyer
Quincy, MI (August 22, 2015) – Steve Kinser was a half-turn away from celebrating a UNOH All Star Circuit of Champions Michigan sweep on Saturday night, August 22, at the Butler Speedway near Quincy, Michigan, but was halted just before the celebration could begin. Caleb Griffith, a Castalia, Ohio native and former Attica Raceway Park track champion, ended Steve Kinser's brief Michigan reign with a last corner pass to earn a second-career UNOH All Star Circuit of Champions victory. It was Griffith's first UNOH All Star main event win of the 2015 season. The pilot of the Marshall Motorsports #33M collected $5,000 for his efforts at Butler Speedway.
"I love coming here" said Caleb Griffith, "When the race started, I felt like we were a little too free. We backed up a little bit and got passed by a few guys. As the race went on, I started to find an area to race on above the groove where the cushion used to be. I started to get better and figured out it wasn't as hard on my tires. I thought I was going to get Greg (Wilson) before that caution came out. He got away from me a little bit after we went back to green, but I ended up getting a great run off of turn two on the white flag lap to pass him. I figured it was time to go for it and try to get around Steve (Kinser), also."
Caleb Griffith started third on the main event grid and raced inside the top-five during the entire 30-lap distance. After dropping as far back as fifth in the running order, Griffith worked his way back into third by lap 22; just before the event's first and only caution on lap 26. Griffith would advance two more positions during the remaining four circuits; eventually working under the #W20 of Greg Wilson for second with a diamond move off of turn one on the white flag lap.
The winning move occurred in the final corner when Griffith drove low into turn three and successfully worked under Steve Kinser. Griffith out-raced the 20-time World of Outlaws champion toward the checkers; becoming the third different UNOH All Star winner at Butler Speedway in the last three starts. Kinser, who led the first 29 laps of the 30-lap main event, would settle for second, followed by fourth starting Greg Wilson. The top-three finishers would face periods of heavy lapped traffic throughout the entire contest.
"I've been watching Steve Kinser race since I was five or six years old" said Caleb Griffith, "To get around him like that for the win is pretty big. I think I've only been here (Butler Speedway) twice. We ran second the first time and we won here tonight. I love coming here."
Cody Darrah would improve two positions to finish fourth on Saturday night after starting on the outside of row three. It was a second consecutive fourth place finish for the Red Lion, Pennsylvania native in the state of Michigan.  The "Steel City Outlaw" Tim Shaffer rounded out the evening's top-five finishers after starting eighth. Like Darrah, it was a second consecutive fifth place finish for the Aliquippa, Pennsylvania native in the "Wolverine State."
The UNOH All Star Circuit of Champions will conclude their three-race swing through Michigan and Ohio on Sunday evening, August 23, at the Millstream Speedway near Findlay, Ohio. The traditional Sunday night program will feature a $5,000-to-win main event, concluding a $15,000 swing for the UNOH All Star Circuit of Champions. Cody Darrah is the most recent winner at the newly reopened half-mile dirt oval; conquering competition back on Sunday, July 5, 2015. The UNOH All Stars will make a third and final Millstream Speedway appearance of 2015 later this season on Sunday, September 27.
Pit gates are scheduled to open no later than 1:00PM on Sunday afternoon, August 23. The UNOH All Star drivers meeting is slated for 5:00PM; sprint car warm ups will hit the racing surface at approximately 5:30PM. For more details, please visit Millstream Speedway live on the web at www.millstreamspeedway.net.
Contingency Awards/Results – Butler Speedway – Saturday, August 22, 2015:
Entrants: 33
Lincoln Electric Fast Qualifier: Cody Darrah – 12.080 seconds
Kistler Racing Products Heat #1: Parker Price-Miller
All Pro Aluminum Cylinder Heads Heat #2: Jared Horstman
Hunt Brothers Pizza Heat #3: Sheldon Haudenschild
Kistler Engines Heat #4: Tim Shaffer
JE Pistons Dash: Steve Kinser
Daido Engine Bearings Main Event Winner:  Steve Kinser (2nd)
MSD A-Main 3rd Place Finisher: Greg Wilson
Outback Steakhouse A-Main 10th Place Finisher: Danny Holtgraver
Outback Steakhouse A-Main 15th Place Finisher: Danny Smith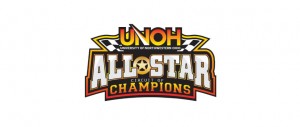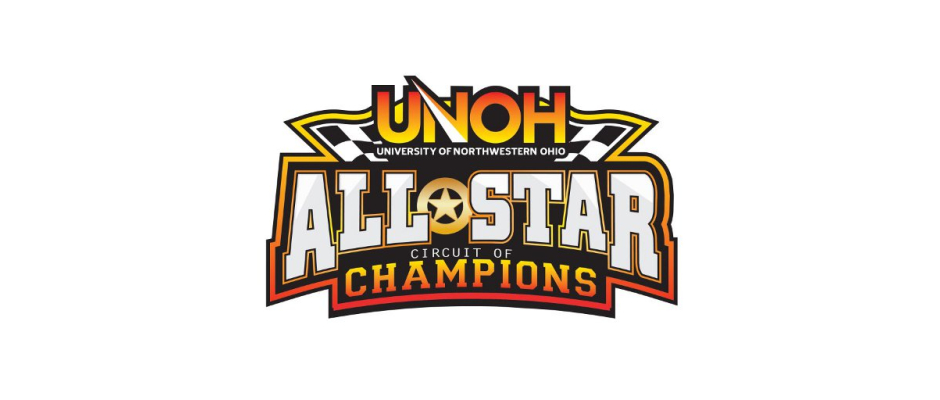 8/22/2015 at Butler Speedway
410 Sprints – Winged | All Star Circuit of Champions
A Feature 1 (30 Laps): 1. 33M-Caleb Griffith[3]; 2. 11-Steve Kinser[1]; 3. W20-Greg Wilson[4]; 4. 89-Cody Darrah[6]; 5. 9P-Parker Price-Miller[2]; 6. 45-Tim Shaffer[8]; 7. 16X-Ryan Ruhl[7]; 8. 22-Cole Duncan[10]; 9. 1-Dale Blaney[11]; 10. 59-Danny Holtgraver[13]; 11. 57X-Andrew Palker[15]; 12. 5T-Travis Philo[12]; 13. 94-Ryan Smith[17]; 14. 7C-Caleb Armstrong[21]; 15. 4-Danny Smith[18]; 16. 12J-Tyler Moore[16]; 17. 35R-Ron Blair[22]; 18. 93-Sheldon Haudenschild[9]; 19. 10H-Chad Kemenah[14]; 20. 51-Roger Campbell Jr[20]; 21. 4K-Kody Kinser[19]; 22. 49-Tanner Thorson[23]; 23. 6M-Max Stambaugh[24]; 24. 38-Jared Horstman[5]
B Feature 1 (12 Laps): 1. 7C-Caleb Armstrong[1]; 2. 35R-Ron Blair[2]; 3. 49-Tanner Thorson[4]; 4. 6M-Max Stambaugh[6]; 5. 19-Joe Kubiniec[10]; 6. 27-Shelby Bilton[9]; 7. 7-Nic Rogers[8]; 8. 5QB-Quentin Blonde[3]; 9. 4H-Tracy Hines[5]; 10. 27K-Ryan Kirkendall[12]; 11. 35-Stuart Brubaker[7]; 12. 25M-Ken Mackey[11]; 13. 2L-Logan Forler[13]
Dash 1 (6 Laps): 1. 11-Steve Kinser[1]; 2. 9P-Parker Price-Miller[2]; 3. 33M-Caleb Griffith[4]; 4. W20-Greg Wilson[6]; 5. 38-Jared Horstman[8]; 6. 89-Cody Darrah[3]; 7. 16X-Ryan Ruhl[5]; 8. 45-Tim Shaffer[10]; 9. 93-Sheldon Haudenschild[9]; 10. 22-Cole Duncan[7]
Heat 1 (8 Laps): 1. 9P-Parker Price-Miller[2]; 2. 22-Cole Duncan[4]; 3. 1-Dale Blaney[3]; 4. 57X-Andrew Palker[5]; 5. 4-Danny Smith[7]; 6. 7-Nic Rogers[8]; 7. 5QB-Quentin Blonde[1]; 8. 19-Joe Kubiniec[9]; 9. 6M-Max Stambaugh[6]
Heat 2 (8 Laps): 1. 38-Jared Horstman[2]; 2. 16X-Ryan Ruhl[1]; 3. 5T-Travis Philo[3]; 4. 12J-Tyler Moore[8]; 5. 4K-Kody Kinser[5]; 6. 7C-Caleb Armstrong[4]; 7. 49-Tanner Thorson[6]; 8. 4H-Tracy Hines[7]
Heat 3 (8 Laps): 1. 93-Sheldon Haudenschild[1]; 2. 89-Cody Darrah[4]; 3. 59-Danny Holtgraver[6]; 4. W20-Greg Wilson[3]; 5. 33M-Caleb Griffith[2]; 6. 35R-Ron Blair[5]; 7. 27-Shelby Bilton[8]
Heat 4 (8 Laps): 1. 45-Tim Shaffer[2]; 2. 11-Steve Kinser[4]; 3. 10H-Chad Kemenah[3]; 4. 94-Ryan Smith[5]; 5. 51-Roger Campbell Jr[6]; 6. 25M-Ken Mackey[7]; 7. 35-Stuart Brubaker[1]; 8. 27K-Ryan Kirkendall[8]
Qualifying 1 (2 Laps): 1. 89-Cody Darrah, 12.080; 2. 7C-Caleb Armstrong, 12.175; 3. 11-Steve Kinser, 12.247; 4. 22-Cole Duncan, 12.303; 5. W20-Greg Wilson, 12.379; 6. 33M-Caleb Griffith, 12.417; 7. 93-Sheldon Haudenschild, 12.430; 8. 5T-Travis Philo, 12.440; 9. 1-Dale Blaney, 12.465; 10. 10H-Chad Kemenah, 12.474; 11. 38-Jared Horstman, 12.530; 12. 9P-Parker Price-Miller, 12.546; 13. 35R-Ron Blair, 12.549; 14. 45-Tim Shaffer, 12.560; 15. 16X-Ryan Ruhl, 12.562; 16. 59-Danny Holtgraver, 12.696; 17. 5QB-Quentin Blonde, 12.734; 18. 4K-Kody Kinser, 12.768; 19. 57X-Andrew Palker, 12.777; 20. 49-Tanner Thorson, 12.811; 21. 4H-Tracy Hines, 12.817; 22. 6M-Max Stambaugh, 12.868; 23. 35-Stuart Brubaker, 12.869; 24. 4-Danny Smith, 12.932; 25. 94-Ryan Smith, 12.944; 26. 2L-Logan Forler, 13.029; 27. 7-Nic Rogers, 13.196; 28. 27-Shelby Bilton, 13.213; 29. 12J-Tyler Moore, 13.369; 30. 19-Joe Kubiniec, 13.552; 31. 51-Roger Campbell Jr, 13.651; 32. 25M-Ken Mackey, 13.818; 33. 27K-Ryan Kirkendall, 13.921