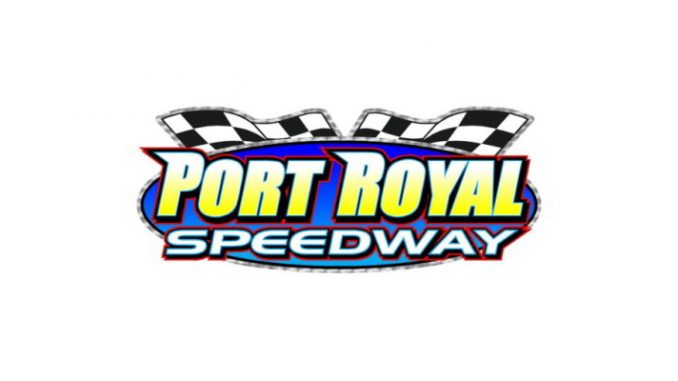 From Port Royal Speedway
Port Royal, PA — (August 22, 2015) — Doug Esh held off Greg Hodnett to win the 410 sprint car feature at Port Royal Speedway on Saturday night, taking home $4,000 for the victory in honor of late speedway push truck driver Bill Long.
The 22-lap super late model main went to Coleby Frye, who outraced Dylan Yoder for the checkers.
And Tyler Reeser held off point leader Jeff Miller for the win in the 305 sprint main.
Mike Erdley took the lead in the 410 sprint main from the pole over Esh.
Erdley would lead the first three laps before a high flying Esh of Lancaster took the lead on the backstretch after getting a good run off of the second corner cushion.
Esh then went to work trying to open up some distance between himself and Erdley and entered traffic on the sixth tour.
Greg Hodnett started fifth in the field and got by Lance Dewease for third on the 11th lap as his pace quickened as the race wore on.
With 10 laps to go, Hodnett got around Erdley for second but was a few seconds behind leader Esh at that point.
However with five laps to go in the 25 lapper he had driven down most of the advantage to make a run for the win in the final stages.
But Esh performed well in traffic and although Hodnett closed dramatically during the final two laps, it wasn't quick enough to be able to take a swipe at the lead before the checkers came out.
Esh's margin of victory over Hodnett was .843 seconds at the finish.
Erdley drove home third followed by Californian Rico Abreu and Dewease.
Sixth through 10th went to Lucas Wolfe, Logan Wagner, Blane Heimbach, Mike Wagner and Brock Zearfoss.
Heats went to Hodnett, Esh and Davey Sammons.
Wolfe set quick time in qualifying with a lap of 16.124 seconds.
Frye of Dover would lead all 22 laps of the super late model main but not before Dylan Yoder pressured for the win.
When Frye entered the backmarkers on the eighth lap, Yoder erased his lead as the pair worked traffic and appeared poised to make a bid for the lead when the races first caution flag unfurled with 10 laps to go.
Open track aided Frye's pace at the front and although Yoder kept him in sight during the final 10 laps, he was never able to again make as strong of a bid as had been the case before the yellow flag appeared.
A final yellow with one lap to go set up a dash to the finish but Frye took the win by .260 seconds.
Yoder was second followed by sixth starter Tim Wilson, Andy Haus and Tim Smith Jr.
Sixth through 10th went to Matt Parks, Mitch Hack, Jason Schmidt, Andrew Yoder and Mike Lupfer.
Heats went to Hack, Parks and Wilson.
Dylan Yoder set quick time with a lap of 19.219 seconds.
Derrick Bowersox started on the pole of the 18-lap 305 sprint feature and lead until lap 12 when Tyler Reeser went by for the lead.
Point leader Jeff Miller started ninth in the field and worked through the pack to take over second with three laps to go.
Miller then closed up on Reeser into the final turns but a move by Reeser to protect the bottom lane in the final pair of turns spared him a pass and set up his win with a thwarted Miller settling for second place.
Drew Ritchie was a Port Royal career best third followed by Bowersox and Jake Waters.
Heats went to Bowersox, Miller and Scott Ellerman.
Race Results:
Feature Finishes
8/22/15
410 sprints, 25 laps: 1. Mike Erdley, 2. Greg Hodnett, 3. Mike Erdley, 4. Rico Abreu, 5. Lance Dewease, 6. Lucas Wolfe, 7. Logan Wagner, 8. Blane Heimbach, 9. Mike Wagner, 10. Brock Zearfoss, 11. Dylan Cisney, 12. Ryan Taylor, 13. Davey Sammons, 14. Trenton Sheaffer, 15. Curt Stroup, 16. Dave Hahn, 17. Scott Wilson, 18. Rick Lafferty, 19. Joey Hershey, 20. Mike Wagner II., 21. Wayne Dadetto, 22. Vince Snyder, 23. Dave Ey
Late models, 22 laps: 1. Coleby Frye, 2. Dylan Yoder, 3. Tim Wilson, 4. Andy Haus, 5. Tim Smith Jr., 6. Matt Parks, 7. Mitch Hack, 8. Jason Schmidt, 9. Andrew Yoder, 10. Mike Lupfer, 11. Justin Kann, 12. Steve Axtell Jr., 13. Trent Brenneman, 14. Mike Altobelli, 15. Scott Flickinger, 16. Eric Zembower, 17. Cole Amsden, 18. Tim Fedder, 19. Steve Bailor, 20. Patrick Bryner, 21. Andy Fries, 22. Mike Mort, 23. Chuck Haydt Jr., 24. Larry Baer
305 sprints, 18 laps: 1. Tyler Reeser, 2. Jeff Miller, 3. Drew Ritchie, 4. Derrick Bowersox, 5. Jake Waters. 6. Nathan Gramley, 7. Bill Jones Jr.., 8. Scott Ellerman, 9. Ken Duke, 10. John Martin, 11. Reed Thompson, 12. Colby Dice, 13. Cale Reigle, 14. Jason Bergstresser, 15. Mike Alleman, 16. James Pryde, 17. Cory Thornton, 18. Tom Worrick, 19. Eliah Omwake, 20. Dave Guss Jr., 21. Tylor Cochran, 22. Cody Hackenberry, 23. John Bordelmay
DNQ: Sean Kirkpatrick, Erin Statler