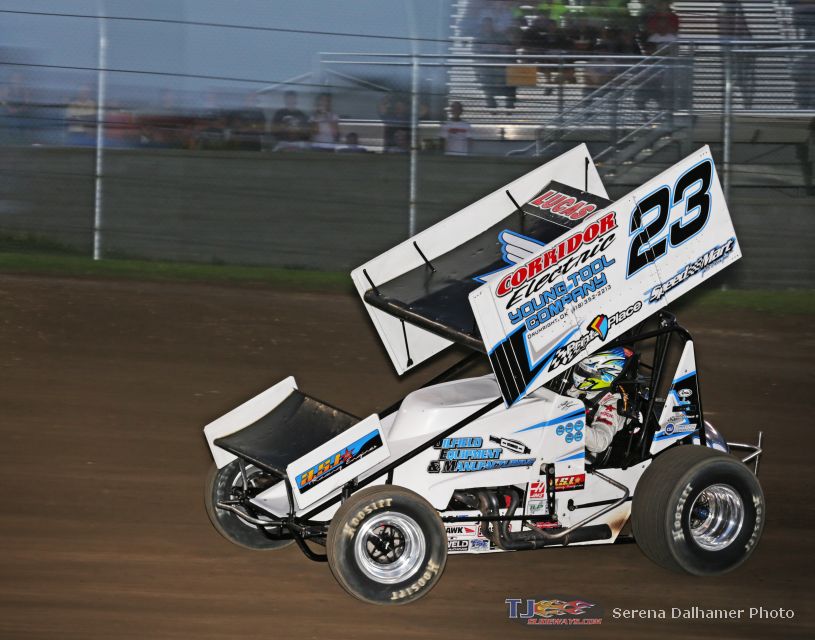 From Bryan Hulbert
Paige, TX — (August 22, 2015) — Picking up win No. 11 on the season, Seth Bergman completed the weekend sweep of the Southern Trailer Works ASCS Gulf South Region presented by Griffith Truck and Equipment, earning his third career Gulf South win, and first at the Cotton Bowl Speedway in Paige, Texas.
The second driver of the season to sweep a weekend with the Gulf South Region, Seth pocketed a $1,000 bonus courtesy of Challenger Drilling, Griffith Truck and Equipment, and Cooper Motorsports to bring his weekend winnings to $7,000.
Bergman drove to victory from seventh with Jordon Mallett crossing runner-up. Ray Allen Kulhanek grabbed third with Michael McNeil from eight to fourth. Jacob Lucas completed the top-five.
Klint Angelette was sixth with Tommy Bryant seventh. Channin Tankersley was eighth followed by Kevin Ramey and Tyson Hall to complete the top-ten.
With Kulhanek's third to Ramey's ninth, the five time ASCS Gulf South Champion has gone from 11 behind to 11 ahead, taking over the point from Kevin Ramey with Channin Tankersley slipping to a 47 point disadvantage with two nights to go at the Battleground Speedway on Friday, September 4 and Saturday, September 5 in Highlands, Texas.
For continued updates on the ASCS Gulf South Region, log onto http://www.ascsracing.com.
Race Results:
ASCS Gulf South Region
Cotton Bowl Speedway – Paige, Texas
Saturday, August 22, 2015
Car Count: 24
Heat 1 (8 Laps): 1. 84-Brandon Hanks; 2. 14M-Jordon Mallett; 3. 28-Tommy Bryant; 4. 1A-Kevin Ramey; 5. 76-Zane Lawrence; 6. 17T-Dustin Gates; 7. 1-Randy Allen; 8. F13-Cody Barksdale
Heat 2 (8 Laps): 1. 23-Seth Bergman; 2. 21T-Ray Allen Kulhanek; 3. 51-Caleb Martin; 4. 36-John Pate; 5. (DNF) 17-Larry Howery; 6. (DNF) 30-Brandon Corn; 7. (DNF) 14L-Michael Lang; DNS 17G-Bruce Griffith Jr
Heat 3 (8 Laps): 1. 57-Jacob Lucas; 2. 25M-Michael McNeil; 3. 19-Klint Angelette; 4. 14-Channin Tankersley; 5. 55-A.J. Weaver; 6. 85-Justin Fifield; 7. 5X-Tyson Hall; DNS 02-Harry Yerrington
A Feature 1 (25 Laps): 1. 23-Seth Bergman[7]; 2. 14M-Jordon Mallett[4]; 3. 21T-Ray Allen Kulhanek[1]; 4. 25M-Michael McNeil[8]; 5. 57-Jacob Lucas[2]; 6. 19-Klint Angelette[5]; 7. 28-Tommy Bryant[11]; 8. 14-Channin Tankersley[10]; 9. 1A-Kevin Ramey[12]; 10. 5X-Tyson Hall[19]; 11. 36-John Pate[3]; 12. 51-Caleb Martin[9]; 13. 76-Zane Lawrence[13]; 14. 85-Justin Fifield[15]; 15. 1-Randy Allen[18]; 16. 17-Larry Howery[16]; 17. (DNF) 55-A.J. Weaver[17]; 18. (DNF) 84-Brandon Hanks[6]; 19. (DNF) F13-Cody Barksdale[20]; 20. (DNF) 17T-Dustin Gates[14]