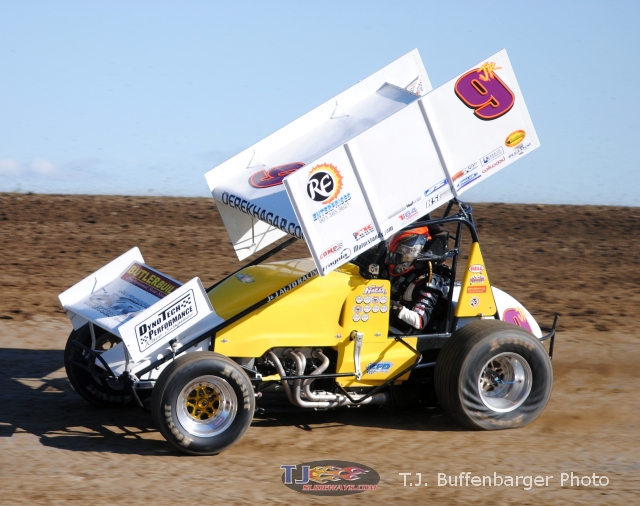 From Inside Line Promotions
Eastaboga, AL — (October 13, 2015) — A new track was no problem for Derek Hagar last Saturday at Talladega Short Track.
Hagar won during his debut at the track, which gives him 15 podium finishes in his last 16 races. It also marked his 12th victory of the season.
"We had a real good weekend," he said. "We got the lead on the start of the heat race and led the whole thing. It was a slick race track. It was kind of hard to see the top because the dirt blends in so good with everything else. It was hard to judge where the shelf was so you had to watch yourself."
The USCS heat race win ranked Hagar fifth in points following the heat races. Since the feature inversion was a zero, Hagar started the 30-lap main event on the inside of the third row.
"We started on the bottom and got a real good start in a little bit of moisture," he said. "I jumped up to fourth going into turn one. We had a caution as soon as we completed Lap 1. I took over third within a couple of laps after the restart and was riding around in third for a while. First and second place got out on us. I was trying to search around the race track. I got to lapped traffic and was forced to go the top and it was working pretty good."
Hagar picked up second place shortly after another restart and then closed to the bumper of the leader for a caution just after the midpoint of the feature.
"I was running second and decided on the last restart to roll the bottom real hard," he said. "The leader was running middle to high on the track so I knew I wasn't going to get a good run. I drove it hard into turn one and it stuck. We raced side by side for five or six laps before I took the lead."
Hagar held onto the top spot to score his 36th career USCS triumph.
"The track had several grooves of racing and was slick from top to bottom," he said. "It was a big confidence boost to go out there and charge from the third row to the front."
Hagar is slated to drive for Danny King this Friday and Saturday at Devil's Bowl Speedway in Mesquite, Texas, for the 42nd annual Winter Nationals with the Lucas Oil ASCS National Tour.