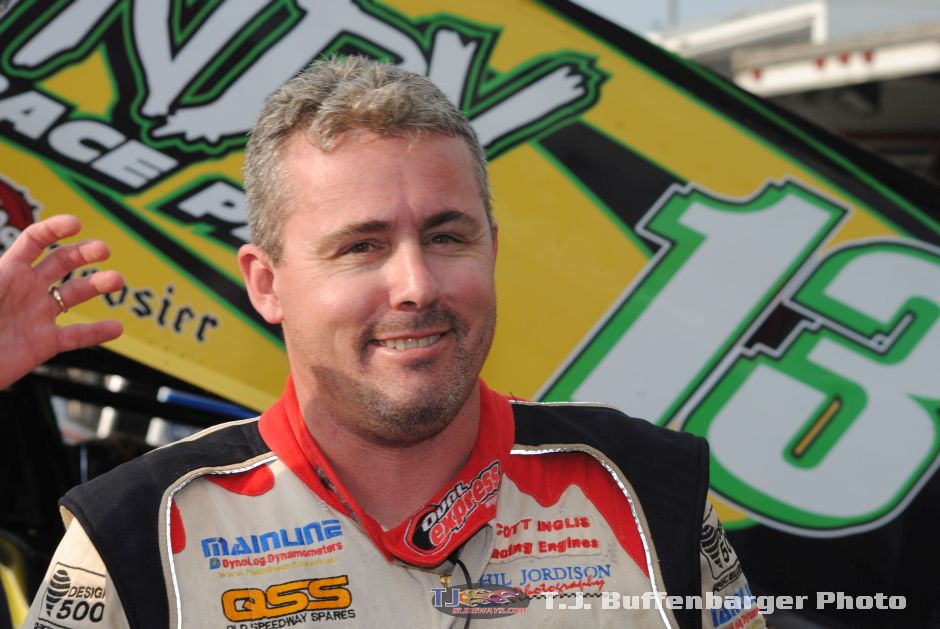 From WSS
Warrnambol, AU — (January 2, 2016) — Current Australian Champion Dave Murcott claimed his first Enzed World Series Sprintcars A-Main of the 2015/16 season in Round 6 of the series at Warrnambool's Sungold Stadium but it was local Jamie Veal who walked away the big winner as he was declared the overall USC Speedweek Champion.
It was almost a clean sweep on the night for the Warrnambool native as led all but the final three laps after a late race caution bunched the field.
"Following the restart I knew I had a good car and I knew it would stick if I put it in under Jamie so I just drove it in there. I recall starting on the front row with Jamie on the New Year's Day race here last year and we had a good go and lost out so I guess it's good to get one over him tonight" added Dave on the podium.
Despite winning the Speedweek Championship Veal was still slightly dejected not to get the round win. "I guess Dave was a little smarter than I was after that restart so I will just have to work on a few things next time. But to win the overall Speedweek Championship is a credit to my Team, my sponsors and my Family so I can't thank them enough".
Veal also collected the bonus from South West Conveyancing as the highest point scorer during Revolution Racegear Time Trials over the five nights.
Third across the line was Brooke Tatnell who finished second in the Speedweek points. Despite his two round wins Tatnell fell just 7 points short.
The top five in Round 6 was completed by a couple of local domestic racers who were outstanding all night. Fourth place went to Jack Lee, who ended the heats as the top qualifier, while fifth place went to Jye O'Keeffe, who was second fastest in his qualifying group.
Multiple SRA Champion John Vogels completed a strong week with sixth with South Australian Jake Tranter, Corey McCullagh, Steven Lines and Randy Hannagan completing the top 10.
A number of the WSS Contracted drivers took a big hit in their overall Championship points chase with the likes of Ryan Jones, Daniel Harding and Jason Pryde failing to progress out of the C Main while James McFadden failed to take the green in the main event while Luke Dillon was cause of the only stoppage in the A-Main after his left rear tyre let go.
Earlier in the night Jamie Veal once again set Revolution Racegear Quick Time in his flight while Mount Gambier's Ash Scott was quickest in the other flight. Scott was quick to point out it was a definitely a career highlight.
The heat winners were Craig Vanderstelt, Tim Hutchins (2), Jake Tranter, James McFadden, Brad Keller, Ricky Maiolo and John Vogels.
Jamie Veal won the Gold Shootout, Kerry Madsen the C-Main while Tim Rankin, Matt Egel, McFadden, Shaun Dobson, Lines and American Thomas Meseraull transferred to the final via the last chance qualifier.
Top 10 in USC Speedweek: Jamie Veal 1467, Brooke Tatnell 1460, James McFadden 1280, Dave Murcott 1252, Luke Dillon 1203, Steven Lines 1173, Kyle Hirst 1148, Brad Keller 1078, Randy Hannagan 1030, Jake Tranter 938.
Heading into Round 7 in Brisbane this Friday and Saturday night Jamie Veal leads the Enzed World Series Sprintcars on 1806 with Tatnell on 1734, Lines 1480, Murcott1475 and McFadden 1456.
World Series Sprintcars
Premier Speedway
Warrnambol, AU
Saturday January 2, 2016
Feature:
1. A 1 – David Murcott
2. V 35 – Jamie Veal
3. W 2 – Brooke Tatnell
4. V 25 – Jack Lee
5. V 42 – Jye OKeeffe
6. V 70 – John Vogels
7. S 45 – Jake Tranter
8. V 90 – Corey McCullagh
9. W 3 – Steven Lines
10. US 55 – Randy Hannagan
11. S 97 – Matt Egel
12. V 98 – Peter Doukas
13. W 17 – Kyle Hirst
14. AC 21 – Shaun Dobson
15. T 29 – Thomas Meseraull
16. V 55 – Ashley Scott
17. AC 66 – Tim Rankin
18. W 26 – Luke Dillon
19. S 22 – Chad Ely
20. NQ 25 – James McFadden