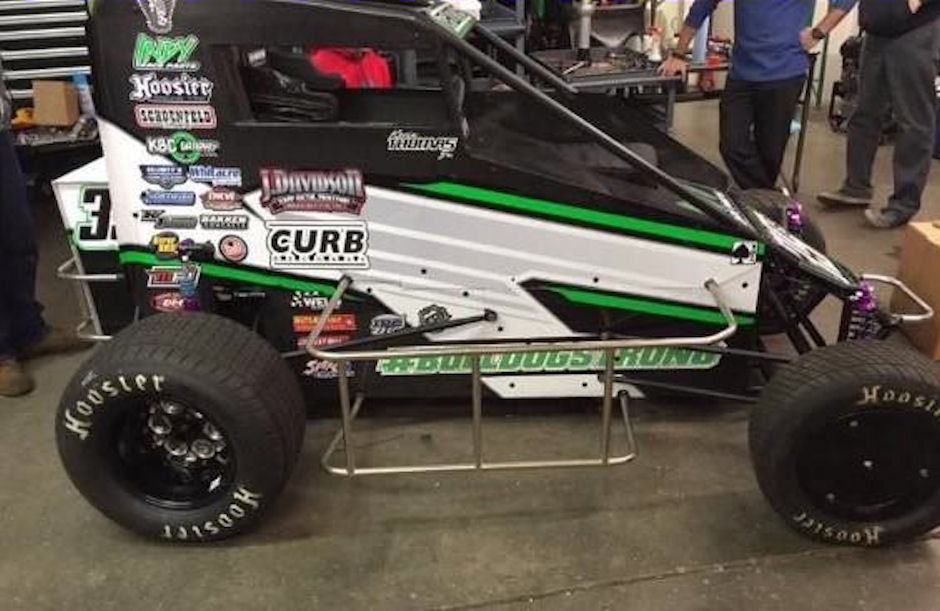 Inside Line Promotions
– GERMANTOWN, Tenn. (Jan. 11, 2016) – Kevin Swindell's new role as a car owner begins this week at the 30th annual Chili Bowl Nationals Presented by General Tire.
Swindell and Bernie Stuebgen of Indy Race Parts recently joined forces to own a midget, which will be driven by Kevin Thomas Jr. this week at the premier midget event in the country. The team is scheduled to practice on Monday before preliminary competition on Tuesday at Tulsa Expo Raceway in Tulsa, Okla.
"This is an exciting venture for me to be a part of and I think we'll have a lot of success out of the box," Swindell said. "Bernie and I have worked together with his sprint car stuff for a few years and KT has continued to progress as a driver so I feel like we have all the pieces in place for a great week."
To be clear, the newly formed team is not the same No. 39 Swindell Motorsports midget that Swindell has driven to a top-two finish each of the last six years at the Chili Bowl.
"A lot of people have asked if this is one of our family cars and it isn't," he said. "This is a separate car that Bernie and I own. For now the focus is on the Chili Bowl and maybe in the future we'll be able to do other events as well."
Swindell, who is a four-time Chili Bowl winner, has high expectations for the team and Thomas Jr., who placed third in the USAC National Midget Series championship standings in 2015.
"Our expectation is to be competitive during our preliminary night and to set ourselves up to be I contention for the final night on Saturday," he said. "There's a certain amount of luck that's always involved when you race 300-plus other drivers at the Chili Bowl so hopefully it falls in our favor this year."
UP NEXT –
Tuesday and Saturday at Tulsa Expo Raceway in Tulsa, Okla., for the 30th annual Lucas Oil Chili Bowl Nationals Presented by General Tire
MEDIA LINKS –
Website: http://www.KevinSwindellRacing.com
Twitter: https://twitter.com/KevinSwindell
Facebook: https://www.facebook.com/KevinSwindellRacing
SPONSOR SPOTLIGHT – John Christner Trucking
Established in 1986, John Christner Trucking has grown into a giant in the trucking industry. For more information, visit http://www.JohnChristner.com.
"John Christner Trucking has been an integral part of our program at the Chili Bowl for a long time," Swindell said. "We appreciate the support and partnership that John and his team bring to our program."
Swindell would also like to thank Mike Curb and Curb Records, MPI Steering Wheels, ButlerBuilt Professional Seat Systems, Arai Helmets and Racing Optics for their continued support.
INSIDE LINE PROMOTIONS –
Inside Line Promotions specializes in affordable public relations and media management for motor sports drivers, teams, sponsors, tracks, series, events, organizations and manufacturers. ILP Founder Shawn Miller leverages professional journalism with new media technologies and social networking to improve your exposure and the return on investment for your sponsors.
To meet the media relations needs of your program by joining Team ILP, contact Shawn at 541-510-3663 or Shawn@InsideLinePromotions.com. For more information on Inside Line Promotions, visit http://www.InsideLinePromotions.com.