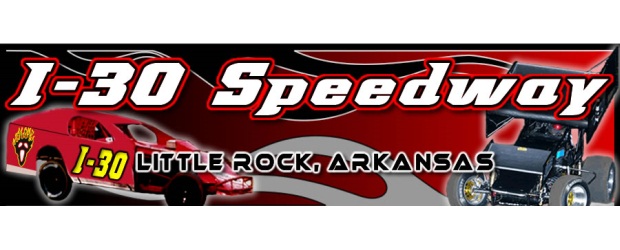 From Lonnie Wheatley
Little Rock, AR — (February 1, 2016) — A $15,000 winner's share up for grabs! What a way to kick off the 2016 season at Little Rock's I-30 Speedway.
Recircle the dates on your calendar, as I-30 Speedway will make-up the 28th Annual COMP Cams Short Track Nationals presented by Hoosier Tires on March 10-12. The event postponed by inclement weather last October offers up a $15,000 winner's share with $2,000 just to start the Saturday night finale.
Entry forms for the event are now available at http://www.i-30speedway.com/flyers/STNFlyer_March2016.pdf. Entries are just $150 is postmarked by March 4, with entries after that $250.
March's STN makeup will be the first of two Short Track Nationals events at I-30 Speedway in 2016, with the regularly scheduled 29th edition set for November 2-5.
This March's edition will feature two full qualifying nights of action on Thursday and Friday preceded by an open practice session on Wednesday night. The top three from the Thursday and Friday features will lock into the $15,000-to-win, $2,000-to-start STN finale.
The original attempt at the 28th Short Track Nationals in October was reduced from four nights to just one due to inclement weather. That card on the final Thursday of October did more than live up to billing though, with Aaron Reutzel rallying from seven rows deep to make a late move on the high side around Jac Haudenschild for the win. Reutzel and Haudenschild earned provisional starting positions in the March 12 STN finale by virtue of finishing first and second.
Christopher Bell still stands as the most recent STN champion with his drive to victory lane in October of 2014 after runner-up finishes in each of his previous pair of attempts. Bell became the 17th different winner of the event and youngest thus far on a star-studded list that includes Sammy Swindell, Paul McMahan, Brad Sweet, Tony Bruce, Jr., Jason Meyers, Jason Johnson, Tim Montgomery, Gary Wright, Jason Sides, Mike Ward, Tim Crawley, Wayne Johnson, Pete Butler, Terry Gray, John Gerloff and Steve Kinser.
For more information regarding I-30 Speedway's Short Track Nationals, check at www.i-30speedway.com or call the track at 501-455-4567.