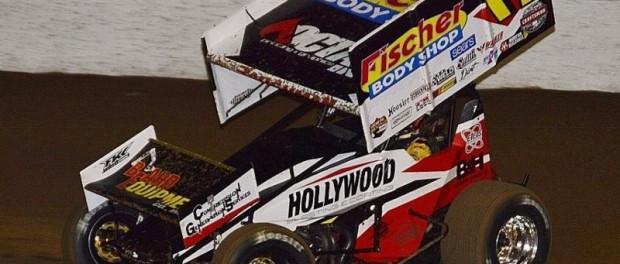 From Bryan Hulbert
Cleveland, TX — (March 26, 2016) — Mark Saturday night's A-Feature down as retribution, as Odessa's Josh Baughman was the class of the field at the Bronco Raceway Park; leading start to finish for his first Lucas Oil American Sprint Car Series presented by the MAVTV Motorsports Network National Tour victory.
In Baughman's 41st career Lucas Oil ASCS National Tour A-Feature start, the Texas driver becomes the 131st different winner in Lucas Oil ASCS National competition, and is the second first time winner in as many races, joining Brandon Hanks on a first winner's weekend.
"Man you know, we've busted our butts for this one. I feel like it's been a long time coming and the saying is 'you must lose one, before you can win one' and I felt like we lost last night on my part, and all we can do is redeem ourselves," said Baughman of the victory. "My guys busted their butts today rebuilding this car. This is the same car we wrecked last night going for the win there in Paige. I just can't say enough about the sponsors that help get us here, just everybody on this car plus today is my Dad's Birthday, so this one's for my Dad. Without him, we wouldn't be here. He's never given up on us not matter what."
Losing the drag race to Aaron Reutzel on the initial start, the caution brought the field to a complete restart with Baughman taking advantage to lead the way.
Finding traffic on Lap 5, the field ran all grooves, allowing Reutzel's No. 87 to close a straightaway gap to a handful of car lengths. Able to keep the defending Lucas Oil ASCS Champion at bay, Josh put a trio of lapped cars between himself and Aaron before the caution flew on Lap 13 for Jacob Lucas.
Going red on Lap 16, it was very little time after the race resumed that Josh was again mired in traffic. Finding relief on Lap 24 as the caution lights blinked on, Josh was untouchable on the restart winning by well over a straightaway. The win moved Josh to ninth in driver points.
Despite some post-race fireworks, Aaron Reutzel garnered his first podium finish of the season, and in doing so moved the Dissolvalloy No. 87 to eighth in tour standings. After a tumultuous start to his season, Reutzel commented on his runner up finish saying, "That was definitely a win for us there. I had that red and I kind of messed myself up a little and I just needed one or two laps to get going and I had two lapped cars that I think forgot they were lapped – I don't know what the deal was there, but I can't thank by guys enough."
The highest finishing driver with the Griffith Truck and Equipment ASCS Gulf South Region presented by Southern Trailer Works, Channin Tankersley parked the G3 Boats No. 14 on the final podium step.
"We really needed it," said Tankersley of his run from ninth to third. "We had a bad crash last week, and then last night didn't go real great. I was really bummed out, but this definitely turns our weekend around. We had good momentum all night, we went forward, and I can't think this team enough for sticking with me."
After biking the car on the opening laps, and nearly tagging the wall, New Mexico's Johnny Herrera came back to finish fourth and in doing so, moved the MVT No. 45x back to second in tour standings, only seven points away from new leader, Matt Covington, who completed the top-five in the A-Rock Materials No. 95.
Ray Allen Kulhanek came from 14th to sixth with Scottie McDonald seventh. Tommy Bryant was the night's Hard Charger coming from 22nd to eighth with J.J. Simmons ninth. Logan Forler rounded out the top-ten.
Seeing a field of 34 drivers for the Lucas Oil ASCS National Tour's first visit to the Bronco Raceway Park, four Heat Races went to J.J. Simmons, Dustin Gates, Scottie McDonald, and Johnny Herrera. The night's B-Feature was won by Blake Hahn. A regional provisional was awarded to John Pate.
The ASCS Gulf South Region saw high points going to Channin Tankersley. Ray Allen Kulhanek earned second place points and is tied with Scottie McDonald for the series lead. McDonald earned third place points with Tommy Bryan and J.J. Simmons competing the list of top-five point earners.
The Lucas Oil American Sprint Car Series presented by the MAVTV Motorsports Network is scheduled to see action again at the Riverside International Speedway in West Memphis, Ark. on Saturday, April 2 for the Eagle Motorsports Rock N' Roll 50 presented by TBJ Promotions. Tickets are on sale at http://www.tbjpromotions.com.
For continued updates on the American Sprint Car Series, from the National Tour to any of the seven regional tours, log onto http://www.ascsracing.com.
Race Results:
Lucas Oil ASCS presented by the MAVTV Motorsports Network
Griffith Truck and Equipment ASCS Gulf South Region
Bronco Raceway Park – Cleveland, Texas
Saturday, March 26, 2016
Car Count: 34
ButlerBuilt Safety Seating Heat Races (8 Laps, winners plus the next 12 highest in Passing Points to the A-Feature.)
Heat 1 (8 Laps): 1. 66-J.J. Simmons[2]; 2. 57-Jacob Lucas[1]; 3. 2X-Tucker Doughty[3]; 4. 10-Terry Gray[4]; 5. 23-Seth Bergman[5]; 6. 15H-Sam Hafertepe Jr[6]; 7. 28-Tommy Bryant[8]; 8. 51-Caleb Martin[9]; 9. 84-Brandon Hanks[7]
Heat 2 (8 Laps): 1. 17G-Dustin Gates[3]; 2. 14K-Kyle Bellm[5]; 3. 8-Bruce Crockett[1]; 4. 87-Aaron Reutzel[9]; 5. 76-Zane Lawrence[7]; 6. 2C-Wayne Johnson[8]; 7. 10M-Morgan Turpen[6]; 8. 48-Cody Stacy[2]; 9. 77X-Alex Hill[4]
Heat 3 (8 Laps): 1. 88-Scottie McDonald[2]; 2. 14-Channin Tankersley[3]; 3. 95-Matt Covington[7]; 4. 05-Brad Loyet[6]; 5. 25M-Michael McNeil[4]; 6. 91-Steven Russell[5]; 7. 18M-Bobby Middleton[8]; 8. (DNF) 30-Johnnie Wasson[1]
Heat 4 (8 Laps): 1. 45X-Johnny Herrera[1]; 2. 17-Josh Baughman[5]; 3. 21T-Ray Allen Kulhanek[2]; 4. 52-Blake Hahn[4]; 5. 2L-Logan Forler[8]; 6. 29-Travis Rilat[7]; 7. 36-John Pate[3]; 8. 02-Harry Yerrington[6]
BMRS B-Features (Top 6 advance to the A-Feature)
B Feature 1 (15 Laps): 1. 52-Blake Hahn[2]; 2. 2C-Wayne Johnson[3]; 3. 23-Seth Bergman[4]; 4. 29-Travis Rilat[6]; 5. 15H-Sam Hafertepe Jr[7]; 6. 28-Tommy Bryant[9]; 7. 10-Terry Gray[1]; 8. 84-Brandon Hanks[16]; 9. 10M-Morgan Turpen[11]; 10. 36-John Pate[13]; 11. 48-Cody Stacy[15]; 12. 02-Harry Yerrington[14]; 13. (DNF) 25M-Michael McNeil[5]; 14. (DNF) 91-Steven Russell[8]; 15. (DNF) 51-Caleb Martin[12]; 16. (DNF) 18M-Bobby Middleton[10]; 17. (DNF) 30-Johnnie Wasson[17]; 18. (DNF) 77X-Alex Hill[18]
Protect the Harvest A-Feature (30 Laps)
A Feature (30 Laps): 1. 17-Josh Baughman[1]; 2. 87-Aaron Reutzel[2]; 3. 14-Channin Tankersley[9]; 4. 45X-Johnny Herrera[6]; 5. 95-Matt Covington[4]; 6. 21T-Ray Allen Kulhanek[14]; 7. 88-Scottie McDonald[8]; 8. 28-Tommy Bryant[22]; 9. 66-J.J. Simmons[5]; 10. 2L-Logan Forler[12]; 11. 29-Travis Rilat[20]; 12. 14K-Kyle Bellm[3]; 13. 2X-Tucker Doughty[13]; 14. 52-Blake Hahn[17]; 15. 15H-Sam Hafertepe Jr[21]; 16. 05-Brad Loyet[11]; 17. 23-Seth Bergman[19]; 18. (DNF) 76-Zane Lawrence[16]; 19. (DNF) 17G-Dustin Gates[7]; 20. (DNF) 2C-Wayne Johnson[18]; 21. (DNF) 8-Bruce Crockett[15]; 22. (DNF) 57-Jacob Lucas[10]; 23. (DNF) 36-John Pate[23]
Lap Leaders: Josh Baughman 1-30