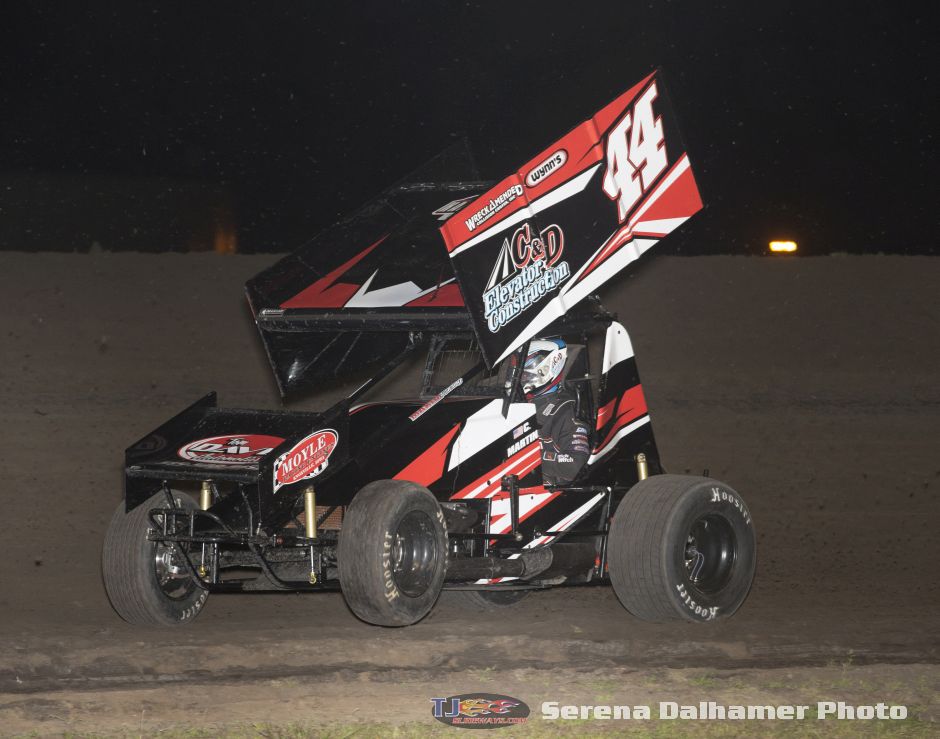 By Bill W
April 3, 2016 – Eighteen-year-old Chris Martin picked up his second career Shottenkirk.com Sprint Invaders event Sunday night at the 34 Raceway in West Burlington, Iowa. The Ankeny, Iowa driver led all 25 laps on his way to his first career victory at the 3/8-mile oval.
While Martin shot out to an early lead from his starting spot on the pole of the main event, there was plenty of action behind him. Harold Pohren ran a strong second the first five circuits. At that point, Cody Wehrle would spin inside of turn two bringing the caution flag. On the restart, John Schulz shot from fourth to the runner-up position and began his pursuit of Martin.
Martin pulled away, however, and was in dense traffic when Josh Schneiderman came to a stop with ten laps down. The restart saw Martin leading Schulz, Jake Blackhurst and Pohren back to green.
Martin was smooth on both ends and shot away from the field when the green flew again. He avoided disaster after contact with the lapped car of Ryan Jamison at one point. Dave Getchell would tag the wall with six laps to go, bringing a final caution. Martin was masterful, while the lead four would stay the same the last six laps, with Jamie Ball completing the top five. Jordan Goldesberry, Jarrod Schneiderman, Wehrle, Nate Van Haaften and Jon Agan would round out the top ten.
"Dennis (Moore Jr.) and Brett really had me hooked up," said Martin of his win. "They worked their butts off all night. The had the car perfect for me. It was on rails on night. Traffic got tricky at times. It was dusty and hard to see at times. There were cars racing each other, so I had to make my moves as clean as possible."
The Shottenkirk.com Sprint Invaders next event will be held in conjunction with the NSL Show-Me Region at Lee County Speedway in Donnellson, Iowa on Friday, April 8. For more information on the Shottenkirk.com Sprint Invaders, visit www.SprintInvaders.com!
Results
Shottenkirk.com A main (started), 25 laps: 1. 44, Chris Martin, Ankeny, IA (1) 2. 99, John Schulz, West Burlington, IA (6) 3. 25, Jake Blackhurst, Hanna City, IL (8) 4. 50P, Harold Pohren, Lowell, IA (2) 5. 5J, Jamie Ball, Knoxville, IA (3) 6. 14P, Jordan Goldesberry, Springfield, IL (10) 7. 3G, Jarrod Schneiderman, West Burlington, IA (7) 8. 40c, Cody Wehrle, Burlington, IA (14) 9. 33, Nate Van Haaften, Otley, IA (5) 10. 4, Jon Agan, Knoxville, IA (18) 11. 69, Justin Buchholz, Davenport, IA (11) 12. 83x, Damian Getchell, Sperry, IA (12) 13. 59, Jacob Glasgow, West Burlington, IA (13) 14. 51J, Ryan Jamison, Mediapolis, IA (20) 15. 75, Broc Elliott, California, MO (15) 16. 10T, Tim Moore, Rock Island, IL (16) 17. 83, Dave Getchell, Sperry, IA (4) 18. 49, Josh Scheiderman, West Burlington, IA (9) 19. 19, Rob Weuve, Oakland Acres, IA (17) 20. 17, Shane Quam, Gladstone, IL (19) 21. 58, Andy Krieger, Burlington, IA (21) 22. 09, Andrew Genkinger, Mt. Pleasant, IA (22). Lap Leader: Martin 1-25. KSE Hard-charger: Agan.
Randall's Performance Heat one (started), 8 laps, top two to Dash: 1. Nate Van Haaften (2) 2. Harold Pohren (6) 3. Jarrod Schneiderman (8) 4. Jordan Goldesberry (3) 5. Jacob Glasgow (1) 6. Tim Moore (7) 7. Shane Quam (5) 8. Ryan Jamison (4)
CenPeCo Lubricants Heat two (started), 8 laps, top two to Dash: 1. Jamie Ball (4) 2. Dave Getchell (2) 3. Jake Blackhurst (6) 4. Justin Buchholz (3) 5. Cody Wehrle (5) 6. Rob Weuve (7) 7. Jon Agan (1)
Fraise Mowersports Heat three (started), 8 laps, top two to Dash: 1. Chris Martin (6) 2. John Schulz (5) 3. Josh Schneiderman (1) 4. Damian Getchell (4) 5. Broc Elliott (3) 6. Andrew Genkinger (5) DNS – Andy Krieger
Budweiser King of Beers – Golden Eagle Distributors Shake-up Dash (started), 6 laps: 1. John Schulz (2) 2. Chris Martin (1) 3. Harold Pohren (3) 4. Jamie Ball (4) 5. Dave Getchell (5) DNS – Nate Van Haaften
Contingencies
Weld – Josh Schneiderman
Saldana Racing Products – Jacob Glasgow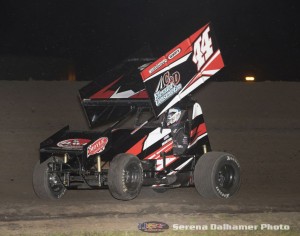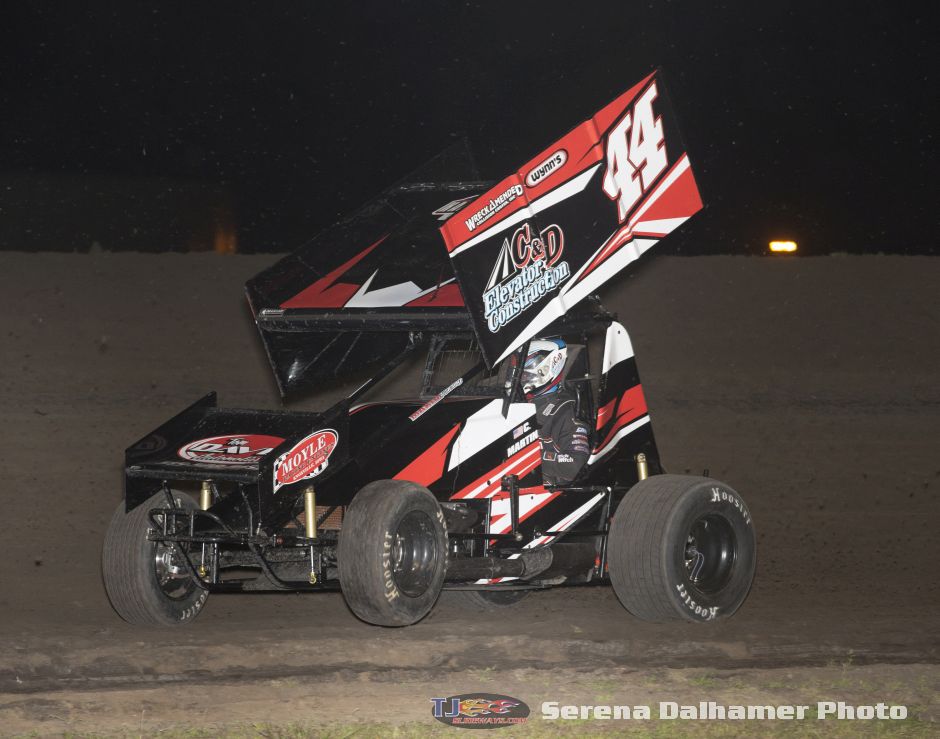 Kreitz Oval Track Parts – Andy Krieger