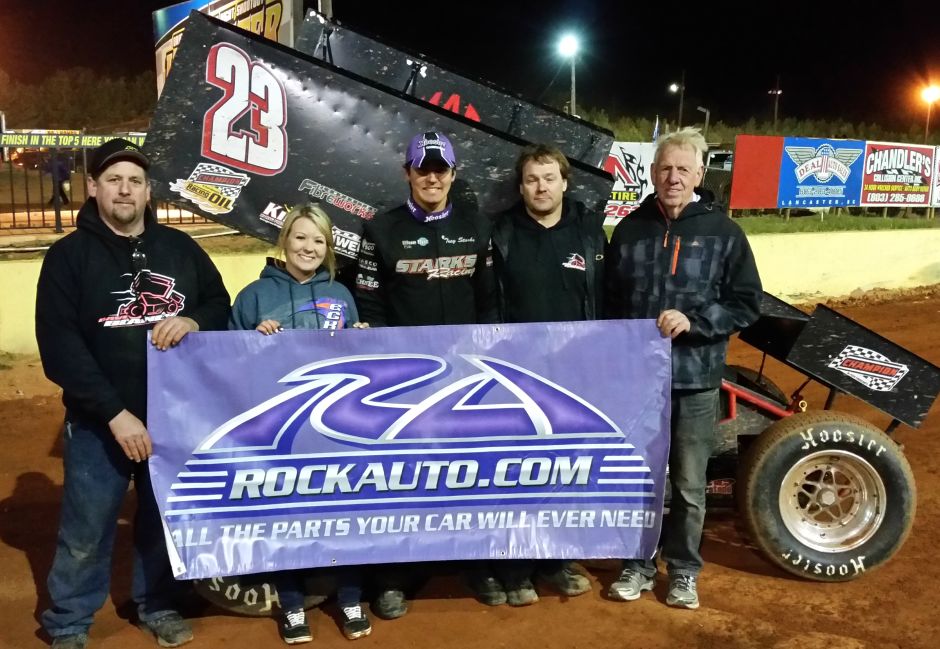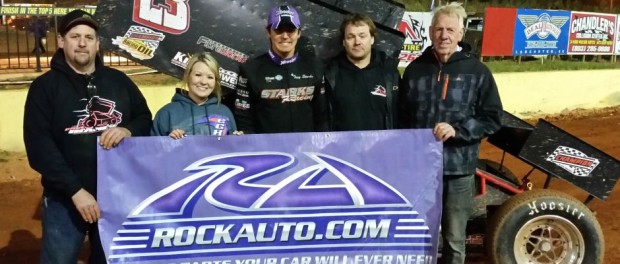 From USCS
Lancaster, SC — (April 9, 2016) — Puyallup, Washington young gun Trey Starks made his first visit to the Lancaster Super Speedway's super-fast half mile a memorable one. Starks raced past 2015 USCS Rookie of the Year, Nick Snyder who hails from Marco Island, Florida on lap ten and then parked Jeff McCall's #23 J&J Auto Racing sprint car in the www.rockauto.com USCS Victory Lane at the end of the United Sprint Car Series Outlaw Thunder Tour presented by K&N Filters 25-lap main event on Saturday night at Lancaster Super Speedway. The win was Starks' career third USCS victory, all accumulated over six races since last October.
Starks who earlier won the Brown and Miller Racing Solutions Second Heat, started sixth on the grid, then moved into third position by the end of lap one. It took nine more laps for Starks to run down Nick Snyder who had plans of his own for a victory lane celebration. Starks got past Snyder on that tenth circuit, then pulled away from the Florida young gun and the rest of the field of all star drivers from seven states and Canada
Several times the field, with Snyder in the number two spot, bunched behind Starks for re-starts after caution periods on laps two, thirteen and sixteen. The Washington state drver (Starks) was not to be denied on this night after losing an engine on the previous night while leading with 5 laps to go in the USCS Thunder Nationals Round #1 event at Carolina Speedway in Gastonia, North Carolina..
Nick Snyder, who won once during his rookie season title run in 2015, chased Starks across the finish line in the runner-up spot. Engler Machine and Tool First Heat winner, Mitch Brown from Brantford, Ontario, Canada challenged Snyder for the runner-up spot over the final 15 laps of the main event, but the 2015 Southern Ontario Sprints series Champion had to settle for the K&N Filters Podium Award third place.
The evening's Hoosier Speed Dash winner Johnny Bridges from Cherryville, North Carolina followed Brown across the line in fourth place. Justin Barger from Montrose, New York who finished in the runner-up spot on Friday night at Carolina Speedway completed the top five finishers.
The previous night's feature winner, veteran Danny Smith from Chillicothe, Ohio, topped the next group of drivers with a sixth-place finish. Eleven-time USCS National Champion, Terry Gray from Bartlett, Tennessee followed his original "Outlaw" co-hart in seventh place. Past USCS Southern Thunder Tour regional series Rookie of the Year, Jake McLain from nearby Indian Trail, North Carolina finished in eighth place. The defending United Sprint Car Series National Champion, Morgan Turpen from Cordova, Tennessee followed in ninth place. 2014 USCS Rookie of the Year, Brandon McLain also from Indian Trail, North Carolina rounded out the top ten.
The only rollover of the night occurred when Brian Thomas from Pendergrass, Georgia flipped on the second lap of the main event. Fortunately he was uninjured.
Five-time 2015 USCS feature winner, Eric Riggins, Jr. from Charlotte, North Carolina who won this same event on April 11, 2015 started fourth, but, dropped out with mechanical issues on lap two, ending his chance to repeat as the event's Champion..
As previously mentioned, Johnny Bridges kicked off the evening's USCS racing action by winning the Hoosier Tire Speed Dash. Mitch Brown scored a win in the Engler Machine and Tools First Heat, and Trey Starks captured the win in the Brown and Miller Racing Solutions (BMRS) Second Heat.
Eric Riggins, Jr. was the provisional pole-starter after scoring the most passing points in heat race action, In the main event re-draw for the top six qualified cars, four was rolled on the K&N Inversion Die, Mitch Brown received the K&N Filters Pole Award. Brandon McLain passed the most cars in the A-main (six) to earn the Wilwood Disc Brakes Hard Charger Award.
The United Sprint Car Series presented by K&N continues their 2016 and 20th Anniversary schedule on Friday, April 22nd when the USCS Outlaw Thunder Tour winged sprint cars and the www.rockauto.com USCS 600 Sprint Car Series winged mini sprints invade the 1/4 red clay oval at I-75 Raceway in Sweetwater, Tennessee for the first time ever. On the following night the USCS sprint cars and mini sprints move less than an hour away to compete at the 4/10 mile clay oval at famed Smoky Mountain Speedway in Maryville, Tennessee in a three series triple-header racing card that also includes a Southern All Star Super Late Model Series sanctioned late model event.
For rules and updated schedule information about the United Sprint Car Series Outlaw Thunder Tour 20th season, please visit www.uscsracing.com or call the series office at 770-865-6097.
RESULTS: USCS Sprint Car Series; "Thunder in Carolina" 2016 Round Two at Lancaster Super Speedway on April 9, 2016:
Hoosier Tire Speed Dash: Johnny Bridges, Justin Barger, Danny Smith, Terry Gray, Eric Riggins, Jr. and Morgan Turpen.
Engler Machine and Tool First Heat: Mitch Brown, Eric Riggins, Jr., Justin Barger, Danny Smith, Brandon Taylor, Johnny Petrozelle, Brian Thomas, Tim Perry and Joe Larkin.
Brown and Miller Racing Solutions Second Heat: Trey Starks, Nick Snyder, Johnny Bridges, Morgan Turpen, . Jake McLain, Terry Gray, Tony Agin and Brandon McLain,
USCS Sprint Car Series presented by K&N Filters A-main at Lancaster Spuper Speedway: 30-laps
1. #23 Trey Starks, Puyallup, WA
2 #116 Nick Snyder, Marco Island, FL
3. #10B Mitch Brown, Brantford, Ont., Canada
4. #23b Johnny Bridges, Cherryville, NC
5. . #5 Justin Barger, Montrose, NY
6. #4 Danny Smith, Chillicothe, OH
7. #10 Terry Gray, Bartlett, TN
8. #67 Jake McLain, Indian Trail, NC
9. #10M Morgan Turpen, Cordova, TN
10. #21B Brandon McLain, Indian Trail, NC
11. #07T Brandon Taylor, Cumming, GA
12. #36 Tim Perry, Mooresville, NC
13 #38 Tony Agin, Ft. Myers, FL
14. #59III Johnny Petrozelle, Denton, NC
15. #47 Eric Riggins Jr., Charlotte, NC
16. #67T Brian Thomas, Pendergrass, GA
17. #33 Joe Larkin, Suwannee, GA