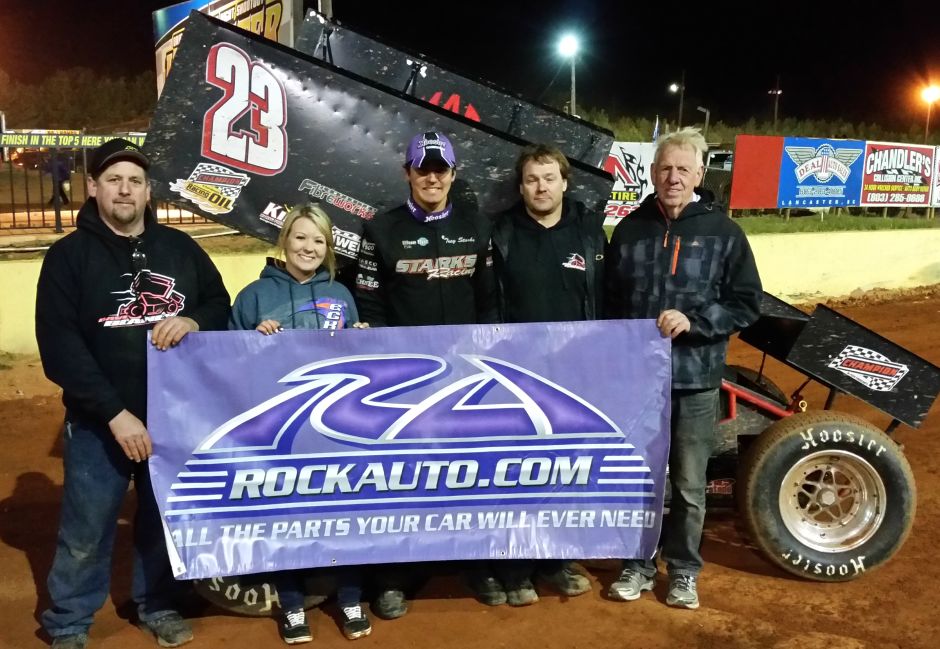 Inside Line Promotions
LANCASTER, S.C. (April 11, 2016) – Trey Starks earned a victory for the second straight weekend thanks to last Saturday's triumph at Lancaster Super Speedway.
Starks, who made his season debut driving for Jeff McCall last weekend during the USCS doubleheader, took the lead on Lap 10 and he cruised to a satisfying victory following a sour start to the weekend.
"We were really good every time we hit the track," he said. "We were really, really fast. We just had some bad luck on Friday. It's too bad it wasn't 2-for-2 on the weekend, but that's how it goes. Overall, we've got two wins before we had one last year so we're feeling really good right now."
Last weekend began on Friday with Starks charging from ninth to third place during a heat race at Carolina Speedway in Gastonia, N.C. That gave him the most heat race points and lined him up on the outside of the second row for the main event following a four-car inversion.
"On the initial start we got the lead coming out of turn two, but there was a wreck coming out of turn four so we didn't get across the line to complete the lap," he said. "We went back to a complete restart and I didn't get as good of a start. I got into second on the third or fourth lap and then passed (Johnny) Bridges for the lead on the fifth or sixth lap. I pretty much set sail after that. Lapped traffic got a little tricky because the track was technical, but we didn't have any problems until the end."
Starks was dominating the feature. His fastest lap was half a second quicker than any other competitor and he had lapped near 10th place when a mechanical failure with five laps remaining sent him pitside.
"Going into turn three I heard something come loose so I took it out of gear and pulled it in," he said after finishing 15th. "I knew something was really wrong. I got it shut off really quick. It bent a valve, but it was on its way to being a lot worse. I guess that's just how it goes. We knew we were the car to beat and that helped us carry over into Saturday."
Starks continued to show speed on Saturday at Lancaster Super Speedway, where he powered from fourth to win a heat race.
"It was a new track for me," he said. "It was a really unique track. I would compare it to Williams Grove. It had really long straightaways with tight corners. It was a fast place. I fell in love with it from hot laps."
Starks ranked second in points as the four was drawn again for the feature inversion, which started him on the inside of the second row for the main event.
"The track was a little bit narrow," he said. "We fell into third on the opening lap. I'd say we got into second on the fourth or fifth lap and we ended up racing with the leader for probably a good four or five laps before we secured the lead. Then I tried to just set sail and set a good pace. I knew I had to be smart in lapped traffic."
Starks took over the top spot on Lap 10 and he cruised to the victory, which was his second career in South Carolina and third driving for McCall.
Starks will take this weekend off before resuming action in his family owned sprint car on April 23 at Cottage Grove Speedway in Cottage Grove, Ore.
QUICK RESULTS –
April 8 – Carolina Speedway in Gastonia, N.C. – Heat race: 3 (9); Feature: 15 (4).
April 9 – Lancaster Super Speedway in Lancaster, S.C. – Heat race: 1 (4); Feature: 1 (3).
SEASON STATS –
15 races, 2 wins, 2 top fives, 3 top 10s, 5 top 15s, 8 top 20s
UP NEXT –
April 23 at Cottage Grove Speedway in Cottage Grove, Ore.
MEDIA LINKS –
Website: http://www.TreyStarksRacing.com
Twitter: https://twitter.com/Starks55Trey
Facebook: https://www.facebook.com/TreyStarksRacing?fref=ts
APPAREL –
Starks has t-shirts and hoodies for sale at http://www.TreyStarksRacing.com.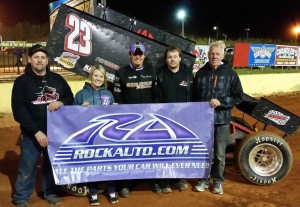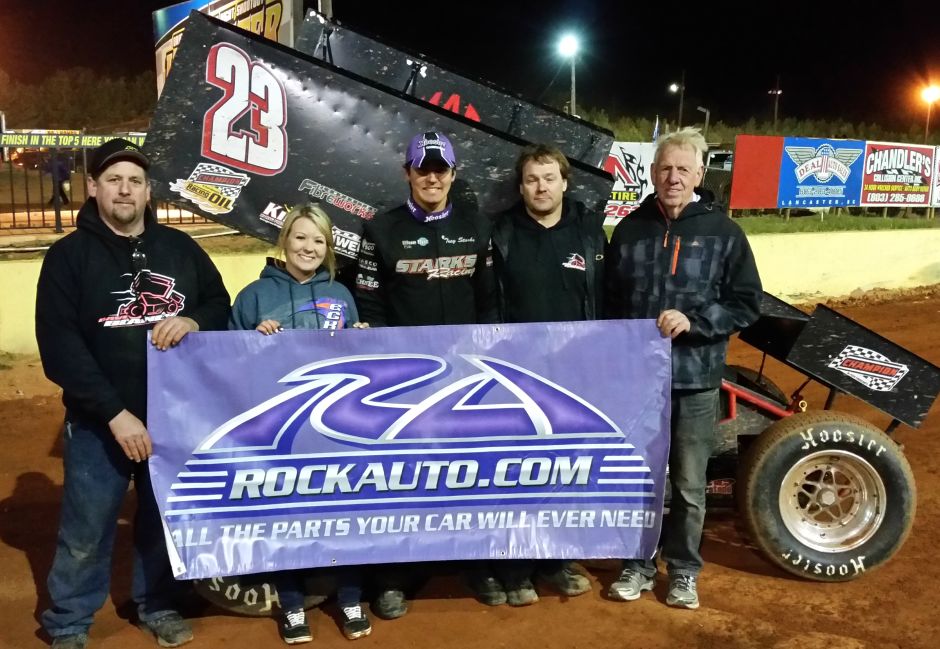 SPONSOR SPOTLIGHT – Blue Dot Fabrications
Blue Dot Fabrications is owned by Trey's uncle, Dean Starks, who fabricates various types of vehicles, including vintage cars and road race cars. Blue Dot Fabrications even built quarter midgets when Trey began racing. For more information, visit http://www.BlueDotFab.com.
"Blue Dot Fabrications is another business that has been around my family my entire life," Starks said. "My uncle, Dean, has always been around ready to fix anything that gets dinged up at the track."
Starks would also like to thank Starks Timber Processing, SpeedMart, King Racing Products and Masco Petroleum for their continued support.
INSIDE LINE PROMOTIONS –
Inside Line Promotions specializes in affordable public relations and media management for motor sports drivers, teams, sponsors, tracks, series, events, organizations and manufacturers. ILP Founder Shawn Miller leverages professional journalism with new media technologies and social networking to improve your exposure and the return on investment for your sponsors.
To meet the media relations needs of your program by joining Team ILP, contact Shawn at 541-510-3663 or Shawn@InsideLinePromotions.com. For more information on Inside Line Promotions, visit http://www.InsideLinePromotions.com.