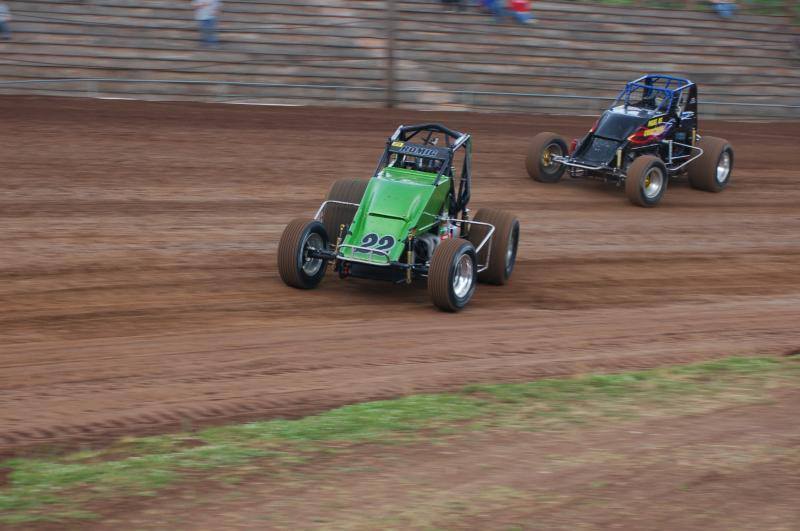 From Ben Deatherage
Since 2009 fans of Non-Wing Sprint Cars in the Pacific Northwest have had the tough decisions to make. The decision whether or not to watch the Northwest Wingless Tour or the Oregon Double Shot Series if both groups had a conflicting date to where they would be at two different facilities. Now such an occurrence won't take place in 2016 as both groups have decided to reunite under one banner, the Wingless Sprint Series.
"This is such a great thing for Non-Wing racing in this area," commented Wayne Van Raden, Business Manager of the new series, "we were close to making a deal last year but we're happy to announce that this is the year were able to make this happen. The drivers, fans, and track owners all win when we work together and the car counts should be very healthy this year."
Thirteen events are on the tentative schedule for the series this year. Spanning from the months of May to September, the WSS will make appearances at six different facilities in the states of Oregon and Washington. Madras Speedway in gorgeous central Oregon will kick things off on May 7th and Sunset Speedway Park, in Banks, will be the final scheduled leg on September 10th when the champion will be crowned.
The Oregon Double Shot Series was formed in 2002 by Mike McCann. The Double Shot series consisted of a Non-Wing Sprint group and a Midget group. The Sprints were titled the United Sprint Car Association (or USCA) while the Midgets were called the Northern Outlaw Midget Association. When the Midget division discontinued the USCA group formed a Winged division in 2011 and retained the Oregon Double Shot Series name. They would sanction Winged events until the year 2014.
The Northwest Wingless Tour originated in 2009 as both a Non-Wing and Midget group. The Midget portion would go on until 2010 before the NWWT became strictly Sprint Cars. From 2009-15 there were seven different champions over seven different seasons.
For the latest news and information regarding the Wingless Sprint Series visit their website at wingless.nwextremeseries.com. We can't wait to see all the teams returning under one banner and to get back to watching some wonderful racing action.
2016 WINGLESS SPRINT SERIES SCHEDULE (DATE-TRACK-LOCATION)
May 7th-Madras Speedway-Madras, Oregon
May 21st-Cottage Grove Speedway-Cottage Grove, Oregon
May 28th-Grays Harbor Raceway-Elma, Washington
June 11th-Grays Harbor Raceway-Elma, Washington
June 18th-Willamette Speedway-Lebanon, Oregon
June 25th-Cottage Grove Speedway-Cottage Grove, Oregon
July 9th-Madras Speedway-Madras, Oregon
July 16th-Coos Bay Speedway-Coos Bay, Oregon
July 23rd-Sunset Speedway Park-Banks, Oregon
August 6th-Willamette Speedway-Lebanon, Oregon
August 20th-Madras Speedway-Madras, Oregon
September 3rd-Madras Speedway-Madras, Oregon
September 10th-Sunset Speedway Park-Banks, Oregon