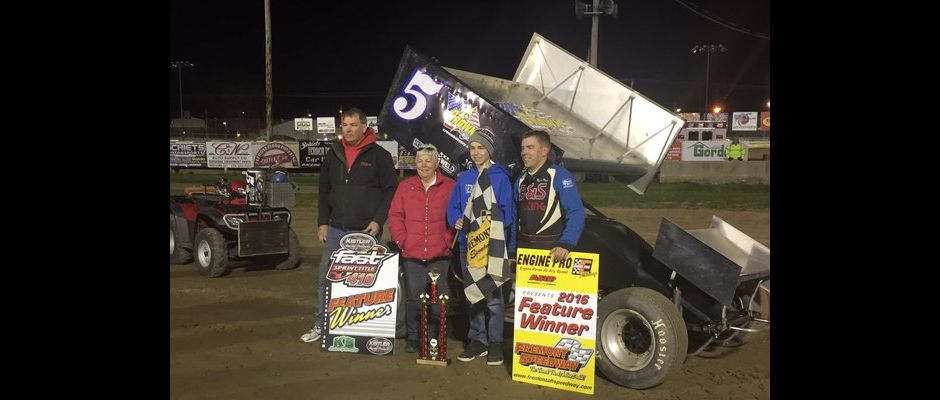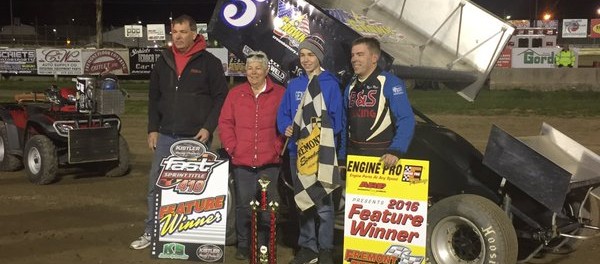 From Brian Liskai
Fremont, OH — (April 23, 2016) — Byron Reed wasn't planning on racing at Fremont Speedway Saturday. He was supposed to be at his son's sporting event. But, circumstances changed and Reed ended up at "The Track That Action Built" and he proceeded to claim his 28th career victory.
Reed, the defending and six time Fort Ball Pizza Palace 410 Sprint champion at Fremont, took the lead from Dean Jacobs with 10 laps remaining and held off a charging Craig Mintz to score the win on Tank's Meats Night. Reed now ranks 15th on Fremont Speedway's all-time win list.
"This is the first year in 27 years I decided I have to back it down a little bit and my family is getting busy and involved in all kinds of stuff. I don't want to be a guy that missing all his kids' stuff. I was going to miss the races tonight but about the middle of the night my son got sick so I figured I could stay home with him during the day and my wife could stay home with him during the night so I went racing," said Reed in the Engine Pro Victory Lane.
"We are going to miss a couple of races in the next couple of weeks. But, we'll be around….there's no retirement date set. Just backing it down a little bit to do some stuff with the family," added Reed.
"I do not like leading all this stuff like last week (he was passed on the last lap). I'd rather be the hunter than the hunted. I have to thank Crown Battery, Kistler Engines and Kistler Racing Products. And I want to thank all the fans….short track racing in Northwestern Ohio is making a come-back. I have to thank the crew at Fremont Speedway. They couldn't have made the track any nicer," concluded Reed.
The victory will have Reed atop the Kistler Racing Products FAST Championship Series Presented by KS Sales and Service point standings. He is the defending and three time FAST Champion. The FAST Championship Series will have a double-header next weekend, competing at Attica Raceway Park on Friday, April 29 and Fremont on Saturday, April 30.
Fremont's John Ivy took the lad on lap five and held on through a handful of restarts to drive to the victory in the Fremont Federal Credit Union 305 Sprints. The victory is Ivy's 51st at the track as he sits sixth on the all-time win list.
"I think we finally figured something out with this race car. I have to thank everyone who works on this….Joey, my brother, Sonny, Ronny, the Sipes family gives us great equipment, Gressman Powersports, Adkins Group, Sonny's Machine and Welding…everybody that helps us out. This is so much fun right now…I hope we can keep it going," said Ivy beside his S&S Racing, OC Detailing, CA Kustoms, Johnson's Hunting and Fishing, Tiffany's Furniture, Keller Hardware, Sipes Oceola Garage, L&R Farms, Rohr Total Lawn Care backed #77I.
The win will put Ivy atop the JLH General Contractor 305 FAST Championship Series Presented by Engine Pro standings.
Fremont's Keith Sorg held off a defending track champion Kent Brewer following a caution with just two laps to go to win his first career feature in the Burmeister Trophy Dirt Trucks. And he did it while fighting the flu as well.
"I saw Matt Foos up on the wall and he told me to go down low and I figured I'd take his advice. This would be a lot better if I felt better but I'm sure it will hit me that I finally won later tonight," said Sorg beside his Fremont Fence, M&L Excavating, D&R Transmissions, Advanced Auto Parts, West End Tire backed #4s.
"I have to thank my dad for working so hard all week to get the motor back together and everyone else that helps out," added Sorg.
Tiffin, Ohio's Chester Fitch led all 15 laps to score the victory in the McCullough Industries 602 Late Models. It was his fourth career Fremont win.
"I've been doing this stuff for 29 years and this is a blast. I want to thank Danner's Auto Wrecking, Tiffin Auto Auction, Hi-Way 101, my mom and dad and my family and MB…without everybody I couldn't do this," said Fitch.
Chris Andrews and Parker Price Miller brought the field to green for the 30 lap 410 sprint feature with Andrews gaining the advantage. Price Miller would pressure Andrews while Broc Martin, Paige Polyak, Dean Jacobs and Reed battled right behind them. Price Miller would slide off the high side of turn two on lap five, allowing Jacobs to take second with Polyak, Reed and Martin in tow.
Andrews watched his lead disappear when the caution flew for a DJ Foos spin on lap six. On the restart Jacobs drove around Andrews for the lead with Reed, Polyak, Martin and Jody Keegan in pursuit. Jess Stiger would bring out the caution on lap eight. On the ensuing restart Andrews pressured Jacobs for the lead as Reed also challenged.
Reed would take the runner-up spot on lap 10 as Jacobs maintained his lead. Reed would slowly begin reeling Jacobs in and by the half-way point the pair were side by side. Meanwhile Andrews, Martin, Polyak, Keegan, Duane Zablocki and Craig Mintz were also closing.
Lapped traffic would come into play with 13 laps remaining which allowed Jacobs to maintain his lead over Reed, Andrews, Martin and Polyak. Reed would pounce on lap 20, diving low in turns three and four to take the lead.
Zablocki would bring out the caution with five laps to go with the running order Reed, Jacobs, Andrews, Martin and Mintz (up from 16th starting position). Mintz, who started 16th, would grab fourth with three laps to go as Jacobs challenged Reed for the lead. Jacobs' run would end with two laps remaining as he coast to a stop, setting up a two lap battle to the checkers.
As the green reappeared, Reed would lead as Mintz drove around Andrews for second. Reed would stay glued to the bottom of track and drove to the win over Mintz, Andrews, Martin and Caleb Griffith.
Seth Schneider and Dustin Stroup paced the field for the 25 lap 305 sprint feature. Stroup would bolt into the lead with Ivy moving into second with Schneider, Paul Weaver, Alvin Roepke and Jason Keckler in tow. Ivy would battle with Stroup for a handful of laps before taking the lead on lap five.
Following a caution with six laps recorded for a Landon LaLonde spin, Ivy would start to pull away with Stroup, Schneider, Keckler, Roepke, Weaver, Nate Dussel and Bobby Clark trying to keep pace. Trevor Baker would bring out the caution on lap 11 and again on the restart. On the second attempt to go green, Steve Rando would experience problems.
When the green stayed out, Ivy would drive away from Stroup with Schneider trying to hold off Keckler, Roepke, Dussel and Luke Griffith. The car on the move was Dustin Dinan who had worked his way from 20th starting spot to eighth.
The final caution flew with 9 laps to go for Matt Foos wiping out a big lead for Ivy. On the restart Ivy would hold off Stroup with Schneider, Dussel, Keckler Roepke, Dinan and Clark keeping pace. As the laps ticked off Ivy began to pull away while Stroup ran comfortably in second while Schneider and Dussel battled for third.
Ivy would cruise to the win over Stroup, Schneider, Dussel and Dinan.
In the dirt truck feature a multi-truck pile-up on the start would delay the exciting race. On the ensuing restart Keith Sorg would drive from outside front row starting spot into the lead over Brandon Leighton, Jim Holcomb, Cory McCaughey and Brian Sorg.
As Keith Sorg pulled away, McCaughey drove into second on lap four while Kent Brewer and opening night winner Shawn Valenti charged through the field. With seven laps scored Sorg now led Brewer, McCaughey, Valenti, Leighton, Jim Ward and Holcomb.
Brewer closed on Sorg quickly before the caution came out with two laps to go for McCaughey who had mechanical issues. On the restart Sorg would keep his truck glued to the bottom and held off Brewer for the win. Ward, Valenti and Leighton would round out the top five.
Fitch and Matt Shipley brought the field to green for the 15 lap late model feature but several crashes in the opening laps slowed the race pace. With four laps recorded there were four cautions with the running order Fitch, Ky Harper, Tim Sabo, Mike Dukeshire, Shipley, Brandon Perkins and Steve Sabo.
The race would go the final 11 laps caution free. Fitch would stick to his line while Harper, Tim Sabo and Shipley gave chase. Harper would experience mechanical woes with two laps to go, moving Tim Sabo into second.
Fitch would drive to the win over Tim Sabo, Shipley, Dukeshire and Steve Sabo.
Fremont Speedway will be back in action Saturday, April 30 for Adkins Fence and Sanitation Night. It will be a FAST 410 point night with the 305 sprints, dirt trucks and late models also in action. Mascots from several area businesses and schools will be on hand.
For more information go to www.fremontohspeedway.com or like Fremont Speedway on Facebook at www.facebook.com/FremontSpeedway and on Twitter @FremontSpeedway.
For more information on the FAST Championship Series go to www.fastondirt.com
Fremont Speedway
Tanks Meats Night
Saturday, April 23, 2016
Starting position [*]
410 Sprints – Fort Ball Pizza Palace
Fricker's Qualifying
1.83M-Broc Martin, 12.601; 2.19-Paige Polyak, 12.676; 3.2-Parker Price-Miller, 12.688; 4.5K-Adam Kekich, 12.715; 5.73-Chris Andrews, 12.788; 6.5-Byron Reed, 12.794; 7.60-Jody Keegan, 12.851; 8.97-Dean Jacobs, 12.893; 9.6-Bill Rose, 12.918; 10.9Z-Duane Zablocki, 12.960; 11.33M-Caleb Griffith, 13.071; 12.45L-Brian Lay, 13.133; 13.2+-Brian Smith, 13.146; 14.8J-Jess Stiger, 13.182; 15.38-Matt Westfall, 13.206; 16.09-Craig Mintz, 13.213; 17.7-Shawn Valenti, 13.335; 18.23-DJ Foos, 13.362; 19.3J-Trey Jacobs, 13.365; 20.68G-Tyler Gunn, 13.961; 21.59J-Kirk Jeffries, 99.000; 22.16-Stuart Brubaker, 99.990;
Kistler Engines Heat 1 – (8 Laps, top 8 to A)
1. 2+-Brian Smith[2] ; 2. 09-Craig Mintz[1] ; 3. 60-Jody Keegan[4] ; 4. 83M-Broc Martin[6] ; 5. 9Z-Duane Zablocki[3] ; 6. 3J-Trey Jacobs[7] ; 7. 5K-Adam Kekich[5] ; 8. 16-Stuart Brubaker[8]
Pub 400 Heat 2 – (8 Laps, top 7 to A)
1. 97-Dean Jacobs[4] ; 2. 8J-Jess Stiger[2] ; 3. 33M-Caleb Griffith[3] ; 4. 73-Chris Andrews[5] ; 5. 19-Paige Polyak[6] ; 6. 7-Shawn Valenti[1] ; 7. 68G-Tyler Gunn[7]
Hoosier Tires Heat 3 – (8 Laps, top 7 to A)
1. 23-DJ Foos[1] ; 2. 38-Matt Westfall[2] ; 3. 6-Bill Rose[4] ; 4. 5-Byron Reed[5] ; 5. 2-Parker Price-Miller[6] ; 6. 45L-Brian Lay[3] ; 7. 59J-Kirk Jeffries[7]
A-Main 1 – (30 Laps)
1. 5-Byron Reed[5] ; 2. 09-Craig Mintz[16] ; 3. 73-Chris Andrews[1] ; 4. 83M-Broc Martin[4] ; 5. 33M-Caleb Griffith[10] ; 6. 19-Paige Polyak[3] ; 7. 2+-Brian Smith[13] ; 8. 60-Jody Keegan[6] ; 9. 3J-Trey Jacobs[19] ; 10. 68G-Tyler Gunn[20] ; 11. 16-Stuart Brubaker[22] ; 12. 45L-Brian Lay[12] ; 13. 6-Bill Rose[8] ; 14. 38-Matt Westfall[15] ; 15. 23-DJ Foos[18] ; 16. 5K-Adam Kekich[11] ; 17. 7-Shawn Valenti[17] ; 18. 97-Dean Jacobs[7] ; 19. 9Z-Duane Zablocki[9] ; 20. 59J-Kirk Jeffries[21] ; 21. 2-Parker Price-Miller[2] ; 22. 8J-Jess Stiger[14]
Hard Charger: Craig Mintz +14
305 Sprints – Fremont Federal Credit Union
Kistler Engines Heat 1 – (8 Laps, top 4 to A)
1. 45-Trevor baker[1] ; 2. 77I-John Ivy[4] ; 3. 1W-Paul Weaver[7] ; 4. 19R-Steve Rando[3] ; 5. 2F-Matt Foos[2] ; 6. 11X-George Englert[5] ; 7. 41-Thomas Schinderle[8] ; 8. 10-Josh Harrison[9] ; 9. 75-Jerry Dahms[6]
Pub 400 Heat 2 – (8 Laps, top 4 to A)
1. 99-Alvin Roepke[2] ; 2. 11G-Luke Griffith[6] ; 3. 20B-Cody Bova[8] ; 4. 22M-Dan McCarron[5] ; 5. 20I-Kelsey Ivy[1] ; 6. 48M-Mike Moore[3] ; 7. 9R-Dustin Rall[7] ; 8. 47-Matt Lucius[4]
Hoosier Tires Heat 3 – (8 Laps, top 4 to A)
1. 10X-Dustin Stroup[1] ; 2. 36-Seth Schneider[4] ; 3. 2L-Landon Lalonde[2] ; 4. 2-Ricky Peterson[3] ; 5. 1X-Dustin Dinan[8] ; 6. 87-Brian Gibbs[5] ; 7. 27-Cody Gallogly[7] ; 8. 5JR-Jimmy Mcgrath[6]
Computer Man Heat 4 – (8 Laps, top 4 to A)
1. 4*-Tyler Street[2] ; 2. 25-Jason Keckler[1] ; 3. 1-Nate Dussel[3] ; 4. 8-Bobby Clark[7] ; 5. 66-Jamie Miller[4] ; 6. 12-Kyle Capodice[5] ; 7. 7M-Brandon Moore[6] ; 8. 18-Frank Neill[8]
Firestone Auto Care B-Main 1 – (10 Laps, top 2 to A)
1. 2F-Matt Foos[1] ; 2. 10-Josh Harrison[2] ; 3. 20I-Kelsey Ivy[3] ; 4. 11X-George Englert[4] ; 5. 47-Matt Lucius[8] ; 6. 75-Jerry Dahms[9] ; 7. 9R-Dustin Rall[6] ; 8. 41-Thomas Schinderle[5] ; 9. 48M-Mike Moore[7]
Firestone Auto Care B-Main 2 – (10 Laps, top 2 to A)
1. 66-Jamie Miller[2] ; 2. 1X-Dustin Dinan[1] ; 3. 12-Kyle Capodice[4] ; 4. 18-Frank Neill[8] ; 5. 7M-Brandon Moore[6] ; 6. 5JR-Jimmy Mcgrath[7] ; 7. 27-Cody Gallogly[5] ; 8. 87-Brian Gibbs[3]
A-Main 1 – (25 Laps)
1. 77I-John Ivy[4] ; 2. 10X-Dustin Stroup[2] ; 3. 36-Seth Schneider[1] ; 4. 1-Nate Dussel[12] ; 5. 1X-Dustin Dinan[20] ; 6. 25-Jason Keckler[6] ; 7. 99-Alvin Roepke[3] ; 8. 8-Bobby Clark[16] ; 9. 22M-Dan McCarron[14] ; 10. 1W-Paul Weaver[5] ; 11. 11G-Luke Griffith[8] ; 12. 4*-Tyler Street[9] ; 13. 66-Jamie Miller[18] ; 14. 20B-Cody Bova[7] ; 15. 2F-Matt Foos[17] ; 16. 2-Ricky Peterson[15] ; 17. 19R-Steve Rando[13] ; 18. 45-Trevor baker[10] ; 19. 2L-Landon Lalonde[11] ; 20. 10-Josh Harrison[19]
Hard Charger: Dustin Dinan +15
Dirt Trucks – Burmeister Trophy
Kistler Engines Heat 1 – (6 Laps, top 8 to A)
1. 36M-Cory Mccaughey[4] ; 2. 4s-Keith Sorg[2] ; 3. 16-Jim Holcomb[3] ; 4. 17x-Dustin Keegan[7] ; 5. 99-Gene Potridge[6] ; 6. 33-Jeff Ward[1] ; 7. 72-Eric Potridge[5] ; 8. 221-Jeff Warnick[8]
Pub 400 Heat 2 – (6 Laps, top 8 to A)
1. 7B-Shawn Valenti[2] ; 2. 8KB-Kent Brewer[3] ; 3. 4x-Brian Sorg[1] ; 4. 22-Brandon Leighton[6] ; 5. 5s-Brad Stuckey[5] ; 6. 7f-Dana Frey[8] ; 7. 26-Kyle Lagrou[4] ; 8. 721-John Martis[7]
A-Main 1 – (15 Laps)
1. 4s-Keith Sorg[3] ; 2. 8KB-Kent Brewer[4] ; 3. 33-Jeff Ward[11] ; 4. 7B-Shawn Valenti[8] ; 5. 22-Brandon Leighton[1] ; 6. 16-Jim Holcomb[5] ; 7. 4x-Brian Sorg[6] ; 8. 17x-Dustin Keegan[2] ; 9. 721-John Martis[16] ; 10. 36M-Cory Mccaughey[7] ; 11. 99-Gene Potridge[9] ; 12. 5s-Brad Stuckey[10] ; 13. 7f-Dana Frey[12] ; 14. 72-Eric Potridge[13] ; 15. 26-Kyle Lagrou[14] ; 16. 221-Jeff Warnick[15]
Hard Charger: Jeff Ward +8
602 Late Models – McCullough Industries
Kistler Engines Heat 1 – (6 Laps, top 6 to A)
1. 12-Kyle Dukeshire[1] ; 2. 44-Matt Shipley[6] ; 3. 01-Brandon Perkins[2] ; 4. 98-Tim Sabo[5] ; 5. 17x-Dustin Keegan[3] ; 6. 16-Steve Sabo[4]
Pub 400 Heat 2 – (6 Laps, top 6 to A)
1. 00-John Brooks[1] ; 2. 101-Chester Fitch[5] ; 3. 34-Ky Harper[4] ; 4. 4M-Jamie Miller[2] ; 5. 04-Jeff Hites[3]; 6. 32-Brandon Myers [6]
A-Main 1 – (15 Laps)
1. 101-Chester Fitch[1] ; 2. 98-Tim Sabo[7] ; 3. 44-Matt Shipley[2] ; 4. 12-Kyle Dukeshire[5] ; 5. 16-Steve Sabo[11] ; 6. 04-Jeff Hites[10] ; 7. 17x-Dustin Keegan[9] ; 8. 34-Ky Harper[3] ; 9. 01-Brandon Perkins[6] ; 10. 00-John Brooks[4] ; 11. 4M-Jamie Miller[8]; 12. 32-Brandon Myers [12]