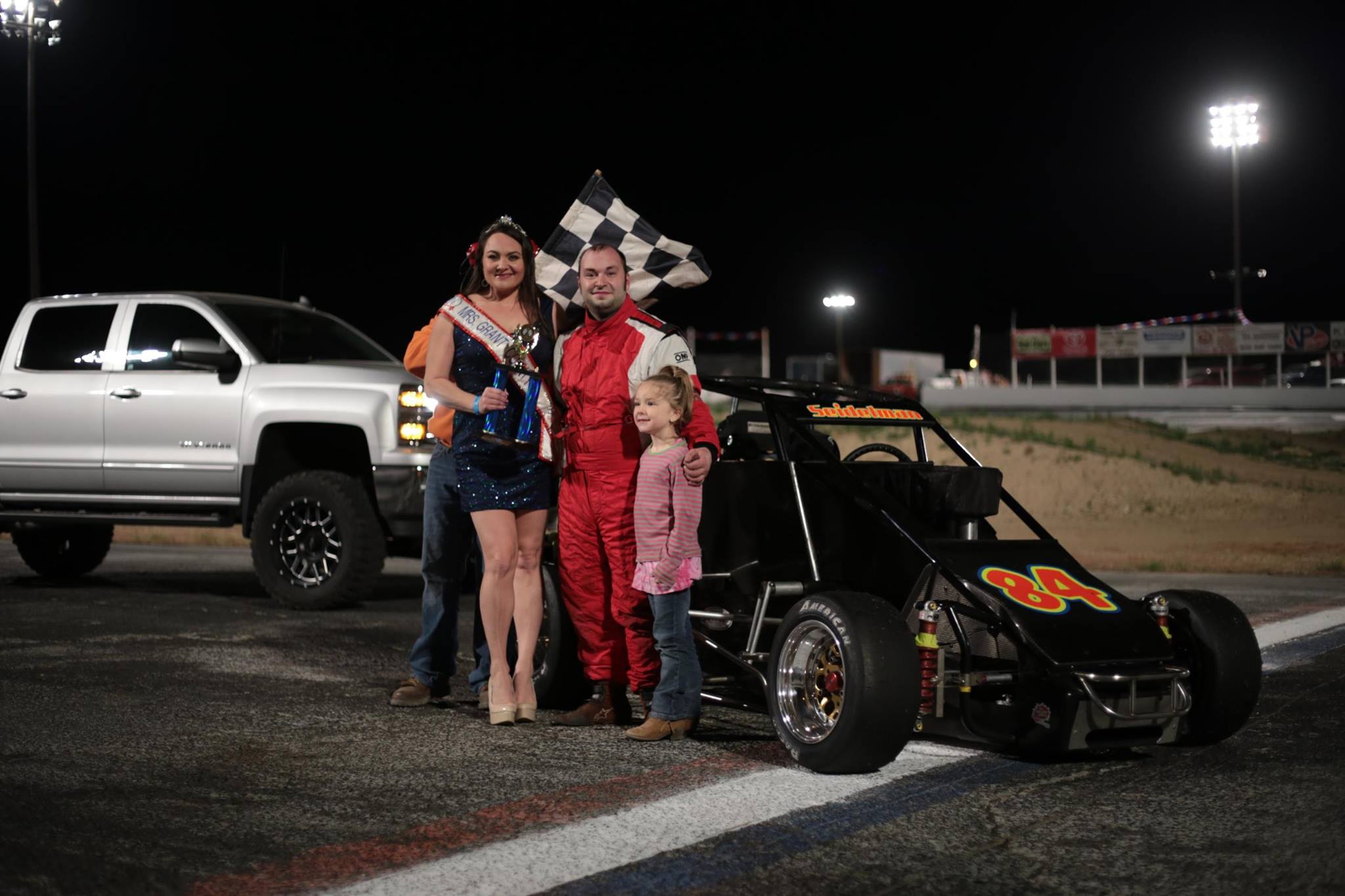 From Ben Deatherage
Ephrata, WA — (April 26, 2016) — With pretty much the entire Pacific Northwest getting rained out the Washington Midget Racing Association was able to open their 2016 campaign up on Saturday April 23rd. The WMRA would travel to Ephrata Raceway Park, located in central Washington, which is nestled on the eastern foothills of the Cascade Mountain range. A total of seven entries would report representing the state of Washington and the Canadian province of British Columbia.
Abbottsford, British Columbia's Sawyer Lind would be the early race leader when the main event would get under way. Before too long he would be overtaken by Orting pilot Skeeter Flake. Flake would set the pace for some time but would be challenged by Tony Seidelman.
Flake and Seidelman would contest for the lead in close quarter fashion as they separated from the main body of the field. Seidelman, now residing in Marysville, was able to capitalize on a slight error from Flake and made the pass around lap eighteen. Seidelman, after fighting fuel issues for the majority of the night, would construct a large lead and would go on to win the race.
Skeeter Flake was second followed by Abbottsford, British Columbia veteran Troy Globe, in third. The rest of the top five would consist of Sawyer Lind in fourth and fifth finishing Shawn Breitzman of Spanaway.
Skeeter Flake was quickest in time trials while Shawn Breitzman was victorious in the Trophy Dash. Only one heat race was ran and Tony Seidelman got the job done and won it.
The WMRA will take a few weeks off before traveling to Agassiz Speedway, in the Canadian province of British Columbia, on May 14th. For the latest news and information log on to http://www.wmraracing.wix.com/wmra . Also follow he Washington Midget Racing Association via Facebook by clicking "Like" on their page to follow them on your favorite mobile devices
Race Summary
Fast Time: 81-Skeeter Flake
Trophy Dash Winner: 4-Shawn Breitzman
Heat Race Winner: 84-Tony Seidelman
A-Main: 1. 84-Tony Seidelman, 2. 81-Skeeter Flake; 3. 11-Troy Globe; 4. 9-Sawyer Lind; 5. 4-Shawn Breitzman; 6. 7-Bobby Bird; DNS 2-Kenny Wood