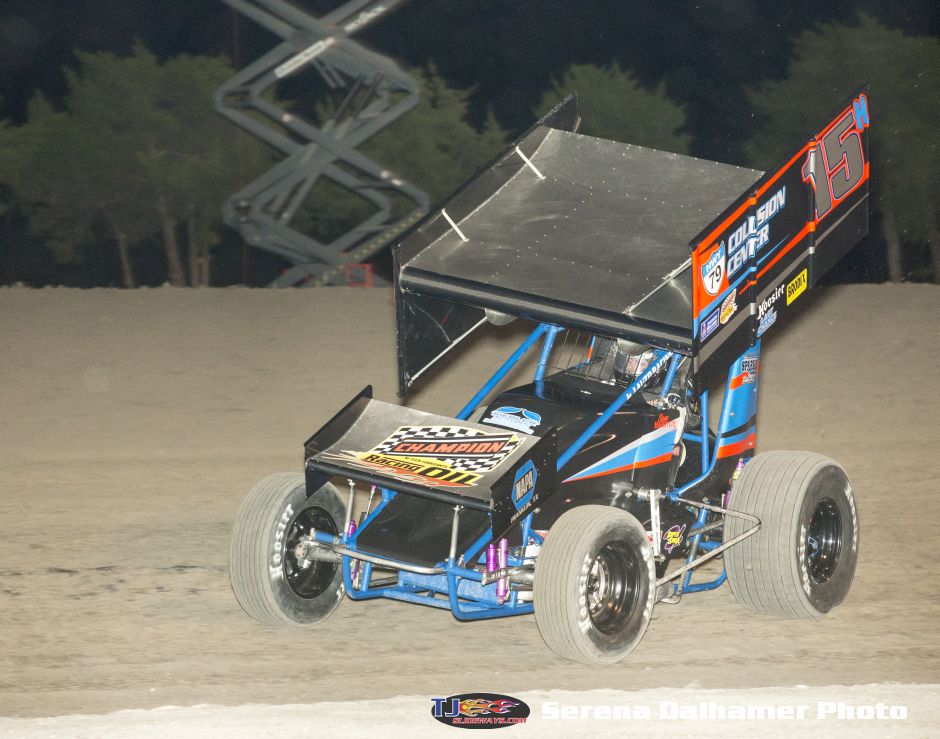 From Bryan Hulbert
Fort Worth, TX — (May 13, 2016) — With the fireworks going off, Sam Hafertepe, Jr. stood in Victory Lane at the Texas Motor Speedway Dirt Track for the second time in his career with the Lucas Oil American Sprint Car Series presented the MAVTV Motorsports Network.
"This place in awesome. I love this place. If we could race here every week and just swap out between here and Devil's Bowl; I'd love it," said Hafertepe.
"I tell you what, these guys worked really hard on the track last night after the practice we had, and we got a way better racetrack tonight and hopefully tomorrow, we get more of the same from these guys but I can't thank Ryan [Beechler] enough. We've been busting our asses for the past two weeks, and been down on ourselves, but this pays off a lot. I need to also thank Keith Dobbs for standing behind us. If it wasn't for him, we wouldn't be able to do this."
Hafertepe's victory is his first of the 2016 season with the Lucas Oil ASCS presented by the MAVTV Motorsports Network, and eighth overall with the series. In six nights of racing, six drivers have won so far in 2016.
Returning to Victory Lane at the Texas Motor Speedway Dirt Track for the first time since September, 2014, Hafertepe dropped to the deck from third on the start, moving past Danny Jennings and Johnny Herrera rolling through turns one and two to take the top spot.
Slowed by a caution on Lap 2 for Brandon Hanks, the Hwy. 79 Collision No. 15h was unchallenged on the restart. Finding traffic with eight laps complete, the race on the track was for second as Blake Hahn moved past Herrera on Lap 13.
Caution on Lap 16 for Ray Allen Kulhanek, the restart was short lived as Wayne Johnson came to a stop while running fourth after contact with another car folded the front suspension. With a trio of lapped cars between the No. 15h and the No. 52 on the restart, Hafertepe was able to pull to a 2.018 second advantage at the drop of the checkered flag.
Johnny Herrera crossed third, extending his point's lead to 27 markers over Sam Hafertepe, Jr. who moved from fourth to second in the standings. Logan Forler crossed fourth with Seth Bergman coming from ninth from complete the top-five.
Aaron Reutzel from 12th was sixth with Matt Covington seventh. Spinning while running sixth on Lap 14, Josh Baughman was able to keep his No. 17 rolling, coming back to finish eighth. Brad Loyet from 15th was night with Danny Jennings rounding out the top-ten.
With 43 drivers checking in, five Heats were followed by Qualifiers to setup the night's "A" and B-Features. Heat Races went to Blake Hahn, Ray Allen Kulhanek, Wes Wofford, Sam Hafertepe, Jr., and Johnny Herrera. Qualifiers were topped by Johnny Herrera, Seth Bergman, and Channin Tankersley.
The night's B-Mains were won by John Carney II and Travis Rilat. One provisional start was utilized by Brandon Hanks as the first eligible ASCS Red River Regional driver.
The Texas World Dirt Track Championship at the Texas Motor Speedway Dirt Track continues on Saturday, May 14, 2016 with races getting underway at 7:00 P.M. (CT). For more information and tickets, log onto http://www.texasmotorspeedway.com.
For continued updates on the Lucas Oil American Sprint Car Series presented by the MAVTV Motorsports Network, log onto http://www.ascsracing.com.
Race Results:
ASCS National & ASCS Red River
Texas Motor Speedway Dirt Track – Ft. Worth, Texas
Texas World Dirt Track Championship
Friday, May 13, 2016
Car Count: 43
ButlerBuilt Heat Races (8 Laps, top 30 in passing points advance into Qualifiers.)
Heat 1 (8 Laps): 1. 52-Blake Hahn[2]; 2. 2L-Logan Forler[7]; 3. 23-Seth Bergman[5]; 4. 14-Channin Tankersley[6]; 5. 18-Lorne Wofford[1]; 6. 17W-Harli White[3]; 7. 55-Brad Queen[4]; 8. 51-Caleb Martin[9]; 9. 2P-Logan Payne[8]
Heat 2 (8 Laps): 1. 21T-Ray Allen Kulhanek[2]; 2. 11M-Jason McDougal[1]; 3. 95-Matt Covington[7]; 4. 4J-John Carney II[3]; 5. 14K-Kyle Bellm[4]; 6. 10C-Jeremy Campbell[5]; 7. 76-Zane Lawrence[8]; 8. 7M-Chance Morton[9]; (DNS) 84-Brandon Hanks
Heat 3 (8 Laps): 1. 19-Wes Wofford[4]; 2. 1J-Danny Jennings[7]; 3. 91-Steven Russell[5]; 4. 17-Josh Baughman[8]; 5. 36-John Pate[2]; 6. 2X-Tucker Doughty[6]; 7. 20G-Jake Greider[1]; 8. 12W-Dale Wester[3]; 9. 33-Mark Huddleston[9]
Heat 4 (8 Laps): 1. 15H-Sam Hafertepe Jr[2]; 2. 7-Kevin Ramey[4]; 3. 28-Tommy Bryant[8]; 4. 02-Brandon Long[5]; 5. 3-Raven Culp[3]; 6. 26M-Fred Mattox[1]; 7. 8M-Kade Morton[6]; 8. 17G-Travis Elliott[7]
Heat 5 (8 Laps): 1. 45X-Johnny Herrera[2]; 2. 05-Brad Loyet[5]; 3. 2C-Wayne Johnson[4]; 4. 87-Aaron Reutzel[8]; 5. 29-Travis Rilat[6]; 6. 12-James Mosher[1]; 7. 2K-John Kelly[3]; 8. 98-Ryan Padgett[7]
Hoosier Tire Qualifiers (8 Laps, top 16 in combined passing points advance straight up to the A-Feature.)
Qualifier 1 (8 Laps): 1. 45X-Johnny Herrera[3]; 2. 52-Blake Hahn[4]; 3. 11M-Jason McDougal[1]; 4. 87-Aaron Reutzel[2]; 5. 2L-Logan Forler[6]; 6. 28-Tommy Bryant[5]; 7. 17W-Harli White[10]; 8. 02-Brandon Long[7]; 9. 14K-Kyle Bellm[8]; 10. 18-Lorne Wofford[9]
Qualifier 2 (8 Laps): 1. 2C-Wayne Johnson[1]; 2. 23-Seth Bergman[2]; 3. 1J-Danny Jennings[6]; 4. 4J-John Carney II[7]; 5. 21T-Ray Allen Kulhanek[4]; 6. 05-Brad Loyet[5]; 7. 7-Kevin Ramey[3]; 8. 3-Raven Culp[8]; 9. 26M-Fred Mattox[10]; 10. 2X-Tucker Doughty[9]
Qualifier 3 (8 Laps): 1. 14-Channin Tankersley[1]; 2. 15H-Sam Hafertepe Jr[4]; 3. 17-Josh Baughman[3]; 4. 95-Matt Covington[5]; 5. 91-Steven Russell[2]; 6. 29-Travis Rilat[7]; 7. 19-Wes Wofford[6]; 8. 10C-Jeremy Campbell[9]; 9. 12-James Mosher[10]; 10. 36-John Pate[8]
BMRS B-Feature (12 laps, taking top 3 from each.)
B Feature 1 (12 Laps): 1. 4J-John Carney II[1]; 2. 02-Brandon Long[3]; 3. 14K-Kyle Bellm[5]; 4. 76-Zane Lawrence[8]; 5. 7-Kevin Ramey[2]; 6. 3-Raven Culp[4]; 7. 51-Caleb Martin[9]; 8. 17G-Travis Elliott[11]; 9. 26M-Fred Mattox[6]; 10. 2K-John Kelly[10]; 11. 2P-Logan Payne[13]; 12. 36-John Pate[7]; 13. 33-Mark Huddleston[14]; 14. 20G-Jake Greider[12]
B Feature 2 (12 Laps): 1. 29-Travis Rilat[2]; 2. 91-Steven Russell[1]; 3. 17W-Harli White[3]; 4. 10C-Jeremy Campbell[4]; 5. 18-Lorne Wofford[6]; 6. 84-Brandon Hanks[13]; 7. 8M-Kade Morton[8]; 8. 98-Ryan Padgett[11]; 9. 55-Brad Queen[9]; 10. 7M-Chance Morton[10]; 11. 2X-Tucker Doughty[7]; 12. 12-James Mosher[5]; 13. 12W-Dale Wester[12]
Protect the Harvest A-Feature (20 Laps)
A Feature (20 Laps): 1. 15H-Sam Hafertepe Jr[3]; 2. 52-Blake Hahn[4]; 3. 45X-Johnny Herrera[2]; 4. 2L-Logan Forler[5]; 5. 23-Seth Bergman[9]; 6. 87-Aaron Reutzel[12]; 7. 95-Matt Covington[7]; 8. 17-Josh Baughman[10]; 9. 05-Brad Loyet[15]; 10. 1J-Danny Jennings[1]; 11. 14-Channin Tankersley[8]; 12. 11M-Jason McDougal[13]; 13. 17W-Harli White[22]; 14. 28-Tommy Bryant[14]; 15. 4J-John Carney II[17]; 16. 91-Steven Russell[20]; 17. 14K-Kyle Bellm[21]; 18. 29-Travis Rilat[18]; 19. (DNF) 2C-Wayne Johnson[6]; 20. (DNF) 21T-Ray Allen Kulhanek[11]; 21. (DNF) 19-Wes Wofford[16]; 22. (DNF) 84-Brandon Hanks[23]; 23. (DNF) 02-Brandon Long[19]
Lap Leader(s): Sam Hafertepe, Jr. 1-20
FSR High Point Driver: Danny Jennings
KSE Hard Charger: Harli White +9
Provisional(s): Brandon Hanks (Regional)
2016 ASCS National Driver Standings (Top 10): 1. Johnny Herrera 767; 2. Sam Hafertepe, Jr. 740; 3. Matt Covington 739; 4. Logan Forler 709; 5. Blake Hahn 698; 6. Wayne Johnson 686; 7. Aaron Reutzel 671; 8. Seth Bergman 667; 89. Brad Loyet 654; 10. Josh Baughman 360;