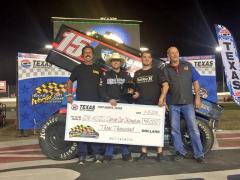 By Bill W
May 16, 2016 –  Sam Hafertepe Jr. went back to the basics to record his first win of the season last Friday night with the Lucas Oil ASCS National Series at Texas Motor Speedway north of Fort Worth.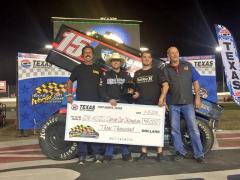 The Sunnyvale, Texas native added another podium finish in Saturday night's finale and finds himself second in the series' standings. Sam will take this weekend off to prepare for a busy June and July.
Sam would draw a starting spot outside of row one for Friday's heat. "The draw went well, but we were so good…we won the heat by about five seconds," he says. "We were just so good on Friday, that I don't think it would have mattered where we started. We just had a really, really good racecar. That made my job easy on Friday night. The car was so good; I could just go anywhere I wanted."
A couple of days of practice last week were beneficial for the Keith Dobbs #15H team. "We've been kind of hitting around on things this year trying to find some magic somewhere," says Sam. "We just found out there wasn't anything there. We've made small changes here and there that have got us too far out there with things. We went back to some things I'm more comfortable with. We found a nice combination of things that made me comfortable in the car. That's all it took."
A run from fourth to second in his Qualifier set Sam up inside row two for the feature. "The bottom had a lot of moisture off of four there," he says. "The leader took off a little bit out of it. The outside guys were out in the middle of the dry. We got that moisture on the start and we were able to get in the lead going into one. We never really looked back. We ran the top for a few laps. We knew the rubber was going to come down pretty quick so we moved down to get in it right away. That kind of sealed the victory for us."
The big win meant not sweating it out through heats and Qualifiers on Saturday. "We were locked in, which was a really big deal," says Sam. "We drew the one, so we were thinking the same way we were Friday. We were the fastest car in our hot lap session by two-tenths of a second. We felt really good."
The team made a tire change after hot laps. "I felt the rubber coming down kind of hard in hot laps," says Sam. "We had a 96 (left rear tire) on in hot laps. We decided if the rubber was going to lock down, we needed to go with a 94. That was kind of the end of our whole race. It never rubbered down hard, and not at all coming off of four. Turn two had rubber on the exit, but everything else was slick all the way across. That hurt us."
Still, Sam held onto a strong third place run. "We got stuck thinking about what the track was going to do," he says. "That's the name of the game sometimes. It just didn't do what we thought it would, and we made a decision. It may have cost us the race, but at the same time, you can't be perfect every time. To walk away with a third and a first was a great weekend for us."
Sam Online
Website: www.Sam15.com
Twitter: @SamHafertepeJr
Facebook: www.facebook.com/pages/Sam-Hafertepe-Jr-and-The-Plumbfast-Racing-Team/116304711773031?ref=br_tf
Sam's Weekly Releases
If you'd like to be added to Sam's e-mail list for weekly releases, e-mail sprntcar@hotmail.com with "Sam" in the Subject Line.
Sam would like to thank Highway 79 Collision Center, the Sparks Family, Kiebler & Sons Lawn and Landscaping, Keizer Aluminum Wheels and Champion Oil.
Photo: Sam and the team celebrate their win Friday at TMS (Texas Motor Speedway PR/ASCS Photo)