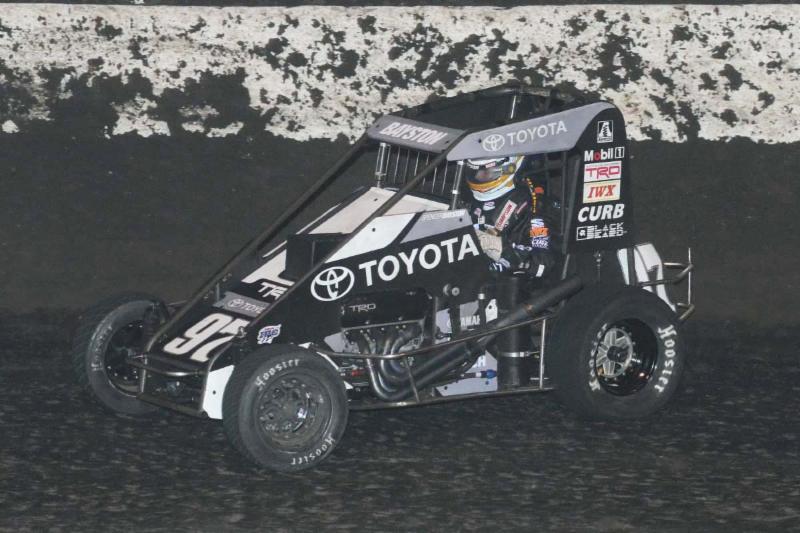 From Powri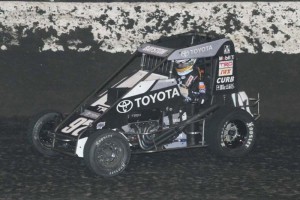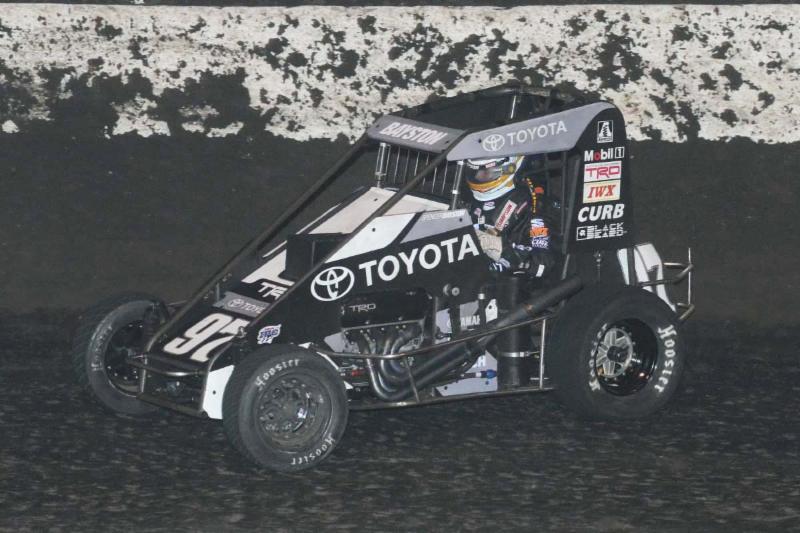 Macon, IL- Spencer Bayston of Lebanon, Indiana finally broke through to claim his first POWRi Lucas Oil National Midget Series victory in 2016 and his first with new team, Keith Kunz Curb-Agajanian Motorsports.  After three third place finishes in a row, including both nights of the Missouri Mid-State Midget Nationals and Friday night's show at Fayette County Speedway, Bayston took the checkers leading every circuit of the 30 lap main event at Macon Speedway.
In a caution filled main event, Daniel Robinson led the field to green only to have the start called back after Carson Macedo slowed in turns three and four.  Completely restarting the field, Bayston powered into the lead off turn four to lead lap one.  With six laps in the books, Daniel Robinson looped his machine off the turn two cushion collecting Zach Daum and Andrew Felker.  Returning to racing Colten Cottle and Terry Babb would slide past Kyle Schuett for second and third as Bayston closed in on lap traffic.  With 11 laps down, Andrew Felker would bring out the third caution of the evening as his machine sat off turn four.  Coming back to green Cottle worked to reel in Bayston only to have the caution fly four laps later as Tanner Thorson sat off turn four.
On the restart, Jake Neuman and Dereck King would collect each other exiting turn two, piling up Carson Macedo and Dayne Kingshott.  With the field lined back up, Terry Babb would take a shot at Cottle, but Cottle would return.  On lap 21 Carson Macedo brought out the sixth caution as his machine sat spun off turn two.  Just as soon as racing returned, the action would be halted as Brayton Lynch sat looped off turn four.  On lap 24 the action would be halted again as Tucker Klaasmeyer looped his machine entering turn three, collecting Kyle Schuett.  Ryan Robinson was also involved.
Still out front, Spencer Bayston endured two more cautions and a final red flag on his way to victory.  On lap 25 Zach Daum collected Andrew Felker, Tanner Thorson, Jake Neuman, and Daniel Adler.  Two laps later as Justin Peck pressured Terry Babb for second, the caution flew as Tucker Klaasmeyer and Zach Daum sat off turn two.  Returning to racing Dave Camfield, Jr. would find himself upside down in turn two bringing out the red flag.  With three laps left, a shootout would ensue as Justin Peck made his way to second, while Colten Cottle rounded out the top three.  Terry Babb took fourth, while Matt Ponder took fifth, a career-best.
"[Carson's] the new kid on the block and he got the win before me," said Spencer Bayston.  "We're really close, so that makes us competitive, which is really good because we actually motivate ourselves.  I just can't thank Big Al, Keith, Pete and everyone at the shop.  I'm glad we got this one out of the way.  We got it done and that's what counts."
"I was wide open around the top," Justin Peck stated.  "I was trying to throw some sliders there and some were probably questionable, but we brought it home second with a bad fast racecar."
"We kind of have a little bit of momentum going there," explained Colten Cottle.  "Last night we had a good run at Gas City, ran third for a little while, so we carried that over tonight."
Midgets
Speedway Motors Heat Race Winners: Heat 1: 91 – DERECK KING, Heat 2: 57D – DANIEL ROBINSON, Heat 3: 97 – SPENCER BAYSTON, Heat 4: 7A – ANDREW FELKER
Semi Feature Winner: 71K – CARSON MACEDO
Great Clips Feature Winner: 97 – SPENCER BAYSTON
POWRi Lucas Oil National Midget Series Feature Results (30 laps): 1. 97 – SPENCER BAYSTON  2. 5X – JUSTIN PECK  3. 5C – COLTEN COTTLE  4. 88 – TERRY BABB  5. 5H – MATT PONDER  6. 24 – DAYNE KINGSHOTT  7. 71 – RYAN ROBINSON  8. 67K – HOLLY SHELTON  9. 1K – BRAYTON LYNCH  10. 9K – KYLE SCHUETT  11. 7A – ANDREW FELKER  12. 50 – DANIEL ADLER  13. 3N – JAKE NEUMAN  14. 20 – CODY WEISENSEL  15. 82 – ERIC JOHNSON  16. 71K – CARSON MACEDO  17. 22 – ANDY MALPOCKER  18. 16 – DAVE CAMFIELD JR  19. 27 – TUCKER KLAASMEYER  20. 5D – ZACH DAUM  21. 67 – TANNER THORSON  22. 91 – DERECK KING  23. 57D – DANIEL ROBINSON