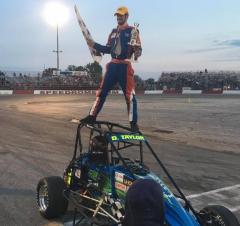 By Eric Bunn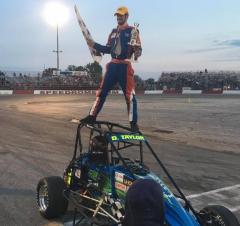 (Lebanon, IN)  In a town long associated with new track records, the drivers in the UAW American Made Mel Kenyon Midget series shattered their existing Lincoln Tech Indianapolis Speedrome track record three different times on Saturday May 21.  When the smoke cleared, Dameron Taylor drove into victory lane after setting the record, losing it and finally establishing the new mark on lap 33 of the 50-lap feature race.  Nick Hamilton briefly held the track record after breaking Taylor's fresh mark in his heat race.
From the time the green flag dropped the action was close.  Pole sitter Ashlea Albertson went to the point while Taylor and Nick Hamilton worked their way around Logan Huggler.  Taylor and Hamilton moved past Albertson on lap 14 when Taylor dove past her with Hamilton glued to his back bumper.
Rookie Chase Jones did not post a qualifying time and was forced to start scratch on the field.  By mid-race Jones had joined Taylor and Hamilton in a fierce battle for the lead.  All three cars were racing under the track record Taylor had established in qualifying.  The race was undecided when Taylor, Jones and Hamilton entered turn three coming to the checkers.  Taylor closed the deal in a dramatic drag race to finish followed by Jones and Hamilton.
Ryan Huggler and Tommy Kouns rounded out the top five, finishing 4 and 6 six seconds back from the top three.
Taylor's win catapulted him to the top of the points chart, establishing a scant two point advantage over Ryan Huggler.  Huggler tops his brother Logan by 13 while Albertson follows him by 25.  Trey Osborne completes the tops five in the UAW American Made Mel Kenyon Midget Series point standings.
The UAW American Made Mel Kenyon Midget Series returns to action on Wednesday, May 25 at Anderson Speedway.  The USSA Midgets will open Anderson Speedway's Pay Less Little 500 presented by UAW-GM week of racing action with a 30-lap feature event on Anderson's high banks.  The Wednesday night card will include the Must Racing Winged Sprint cars and Thunder Roadsters.