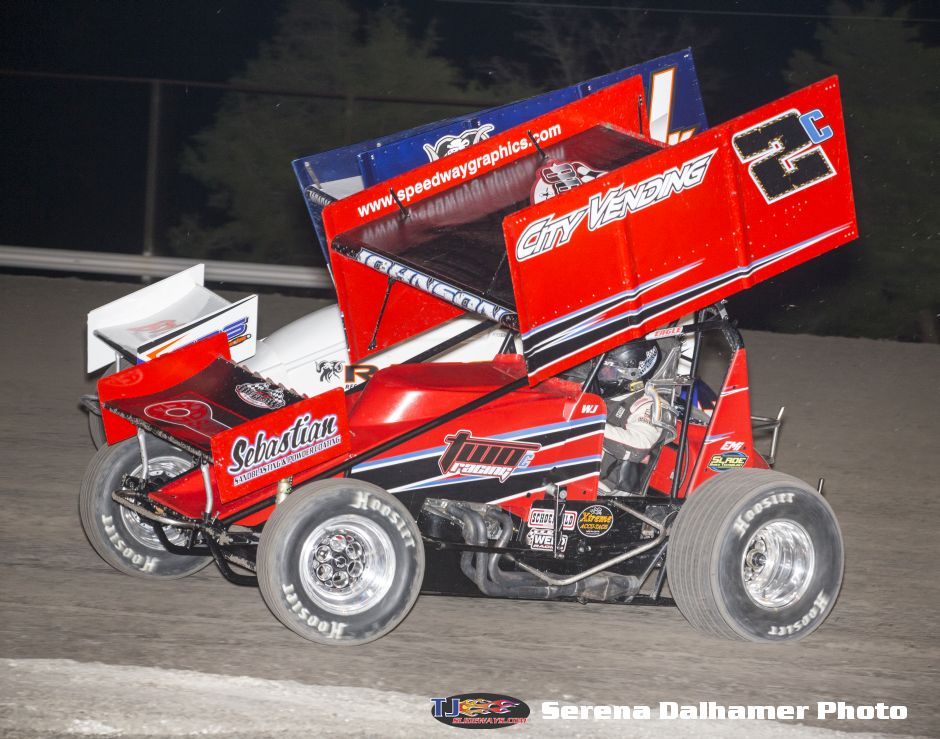 By Bill W

May 25, 2016 – Wayne Johnson and the Two-C Racing team won an exciting feature Saturday night at Lawton Speedway in Oklahoma. The win with the ASCS-Red River Region was his third in the Oklahoma City native's last three trips there. Early in his career, Lawton was a normal Saturday night stop for him. This weekend, the team plans on three events in Texas with the ASCS-Gulf South region. They include Friday at RPM Speedway near Crandall, Saturday at Devil's Bowl Speedway in Mesquite and Sunday at Lonestar Speedway near Kilgore.
On Friday, the Red River region was in action at Creek County Speedway near Sapulpa, Oklahoma. Wayne started fourth in his heat. "It had rained all week, and the track was just wet and heavy," he says. "We were able to get up to second, which was enough to get in the redraw where we drew the three."
A heavy, one-lane track awaited, and Wayne didn't get a good start from inside row two. "I got a bad start, and we were back in fourth right off the bat," he says. "We got run over going into turn one, and we were back in sixth. The racetrack was one-lane and heavy. We really didn't want to tear anything up, so we pulled it in. I think nine cars finished. A lot of drivers were busting their rear-ends out there."
Things went smoother at Lawton. The #2c went from fifth to third in the heat. "I definitely have an experience advantage over most of the drivers there," says Wayne. "I raced there every Saturday night when I started. It is a different track now though. But we've won the last three races we've been to at Lawton."
Wayne would again start third in the main event. "We were running in third or fourth there for a bit," he says. "The car got a little better as the race went on. Some of the guys in front of me were making some mistakes in traffic and stuff and we were able to gain some spots."
He would soon challenge Blake Hahn for the lead. "Blake was doing a good job up front battling with us," says Wayne. "I wasn't real comfortable in the car, but we were able to stay with him. I think there were about four laps to go, and I was able to sneak by him and a lapped car for the win."
Wayne and the team will have a different car for this weekend. "Our car definitely wasn't the best car there," he says. "We're putting a different Eagle together this week. We're just going to try something different to get our balance back to where we need it."
Follow Updates on Facebook!
Wayne will update as his race night commences at his Facebook page. Find it by searching for Wayne Johnson Racing or clicking the following link…
http://www.facebook.com/#!/WayneJohnsonRacing
Outlaw Wings – "The Wing with an Attitude"
Check out the new "recessed rivet" design put out by Outlaw Wings. Talk to Wayne about purchasing Outlaw Wings for your car! Outlaw Wings – "The Wing with an Attitude"!
Wayne's Fast Facts
Wayne arrived at his first Chili Bowl back in 2006 with style. After struggling from C to B in his preliminary, he would start Wayne Simmons #F5 in Saturday's F Feature where he finished third. He proceeded to run the alphabet from the E (4th), D (3rd), C (5th) and B (5th). Finally, his luck ran out as he dropped out with a 23rd place finish in the championship race, and a good night's sleep followed.
Partner of the Week – Rod End Supply
Whether you are running a go-cart, micro, mini-sprint, midget, modified, late model, sprint or a tractor, Rod End Supply has the assortment of rod ends, radius rods, and specialty products that will help you lead the field in performing at your maximum potential. At Rod End Supply, "They don't just sell 'em, they race 'em! Visit them on the web at www.RodEndSupply.com or call 1-800-284-2902 today!
"Wednesday's with Wayne"
"Wednesday's With Wayne" is an up close look at the past, present and future of colorful and talented sprint car driver Wayne Johnson. You'll never know what to expect next with Wayne, so don't miss us on Wednesdays!
To receive "Wednesday's with Wayne", send an e-mail to sprntcar@hotmail.com with"Wayne" in the subject line.
Wayne Johnson Racing would like to thank partners, Todd Carlile, Outlaw Wings, City Vending and product sponsors The Oil Medics, Sebastian Sandblasting & Powdercoating, Rod End Supply, Astro Titanium, Schoenfeld Headers, Simpson, Butlerbuilt, Xtreme Accu-Tach, Weld Wheels, Slade Shocks, Kustom Sprint Car Supplies, Fisher Racing Engines, Speedway Graphics and Canyon Apparel.