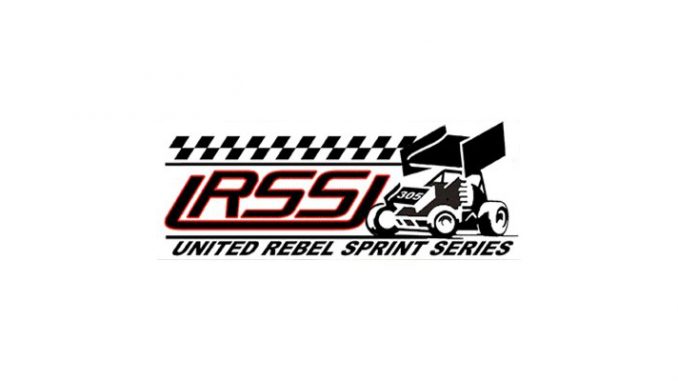 From URSS
With the result of Sunday's tantrum by Mother Nature the URSS/IMCA Racesaver Sprint Series was forced to make Monday a two show event. The fans were not disappointed as the eighteen teams that stayed for the second show put on a whale of a show with Mother Nature trying her best to interrupt the festivities. To no avail the Rebels won this battle with Fairview, Oklahoma's Jake Martens taking his first career URSS win. It also is a credit to the parity of the series as Martens is the sixth different winner in the six shows that have been ran in this rain shortened season.
Liberal Kansas's Steven Richardson led the field to the green flag with Martens on the outside beating him into turn one with Richardson, Jeff Radcliffe, Zach Blurton and CJ Johnson rounding out the top five on lap one. The caution would fall before lap three could be completed when Ken Lutters came to a stop in turn three after his entry suffered damage ending his evening.
On the restart Martens jumped out to the lead once again with CJ Johnson and first race winner Luke Cranston darted past Radcliffe to take over the fourth and fifth spots. One lap later Cranston took the fourth spot away from Johnson and set his sights on Zach Blurton who held down the third position. Farther back in the pack Jed Werner started his charge from seventeenth starting position to move into a battle with Craig Jecha for the tenth spot by lap seven.
Cranston had turned up the heat on Blurton trying to grab the third spot. Zac Taylor was hot on Cranston's tail tank as well to join the fray after making his way past CJ Johnson on lap seven. Cranston kept the pressure on Blurton until taking away the third position on lap eleven. Cranston then set his sights on Richardson for the runner up spot. Lap seventeen saw Cranston finally grab the second spot for good while farther back Taylor slipped high allowing CJ Johnson and Jeremy Huish to rocket past.
Cranston 's pass proved too little too late as Martens held as much as a straightaways lead at times. As the checkered flag fell it was Jake Martens taking the win with Luke Cranston, Steven Richardson, Zach Blurton and CJ Johnson rounding out the top five.
Jed Werner won the Keizer Aluminum Wheels Hard Charger Award by moving up 8 spots after starting 17th to finish in the ninth position.
Heat Race winners were Luke Cranston, Jake Martens and Zach Blurton.
5/30 Results at Wakeeney Speedway – Race # 2
1 Jake Martens
2 Luke Cranston
3 Steven Richardson
4 Zac Blurton
5 CJ Johnson
6 Jeremy Huish
7 Zac Taylor
8 Jeff Radcliffe
9 Jed Werner
10 Howard Van Dyke
11 Craig Jecha
12 Aaron Ploussard
13 JD Johnson DNF
14 Cody Lampe DNF
15 Nate Berry DNF
16 John Webster DNF
17 Kade Hagans DNF
18 Ken Lutters DNF