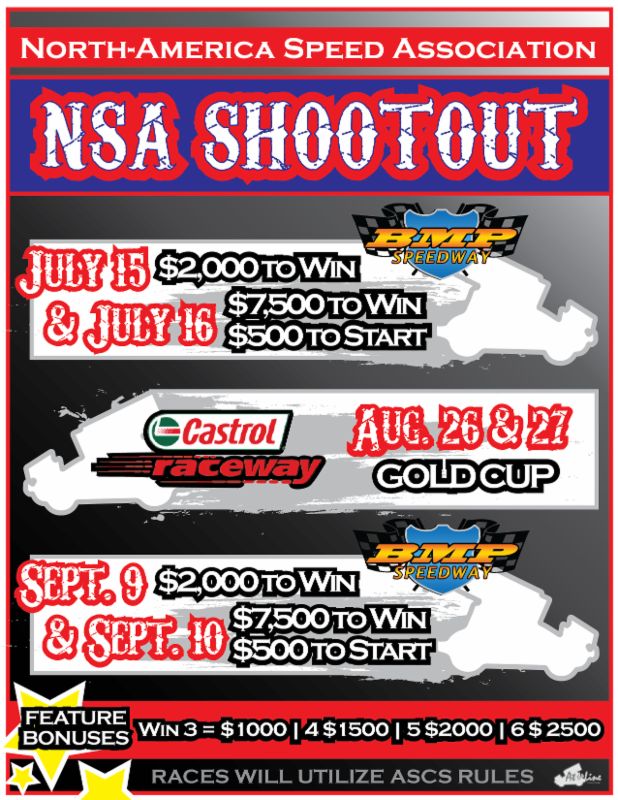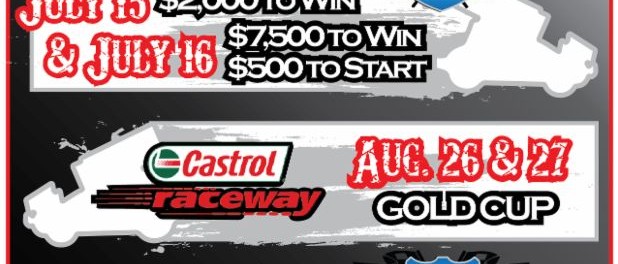 From Inside Line Promotions
Billings, MT — (June 20, 2016) — The NSA Shootout is offering a lot of money for sprint car drivers.
Billings Motorsports Park in Billings, Mont., and Castrol Raceway in Edmonton, Alberta, Canada, have teamed up to showcase a six-race event for 360ci winged sprint cars this summer.
Billings Motorsports Park will host doubleheaders on July 15-16 and Sept. 9-10 with the finale of both weekends paying $7,500 to win and $500 to start. The two-day show at Castrol Raceway on Aug. 26-27 is the 61st annual Gold Cup, which is Canada's oldest oval racing event.
"My sole focus is providing opportunities for sprint car drivers and putting on spectacular shows for race fans," Billings Motorsports Park Owner Mike Quigley said. "We are excited to team up with Castrol Raceway for this series, which we expect to garner national attention and bring in some of the top drivers in the country."
In addition to the big purse, the NSA Shootout has declared a bonus system for feature winners. Any driver who wins three of the six NSA Shootout main events will receive a $1,000 bonus. Four A Main victories nets a $1,500 bonus with five triumphs providing a $2,000 bonus. Sweeping all six races is worth an extra $2,500.
Also, Quigley is working on finalizing a points fund for owners and drivers who support the event. Stay tuned for an announcement in the near future providing the details.
All six races will use ASCS rules and the final race on Sept. 10 will be co-sanctioned with the ASCS Frontier Region.
"We want to do what's best for sprint car drivers in Montana and Canada," Quigley said. "The sport continues to grow up here and we're excited to showcase big money events that will draw drivers from across the country."
2016 NSA SHOOTOUT –
Dates :
JULY 15 – Billings Motorsports Park in Billings, Mont. – $2,000 to win
JULY 16 – Billings Motorsports Park in Billings, Mont. – $7,500 to win, $500 to start
AUG. 26 – Castrol Raceway in Edmonton, Alberta, Canada – Gold Cup
AUG. 27 – Castrol Raceway in Edmonton, Alberta, Canada – Gold Cup
SEPT. 9 – Billings Motorsports Park in Billings, Mont. – $2,000 to win
SEPT. 10 – Billings Motorsports Park in Billings, Mont. – $7,500 to win, $500 to start (co-sanctioned with ASCS Frontier Region)
Type : 360ci winged sprint cars
Rules : ASCS