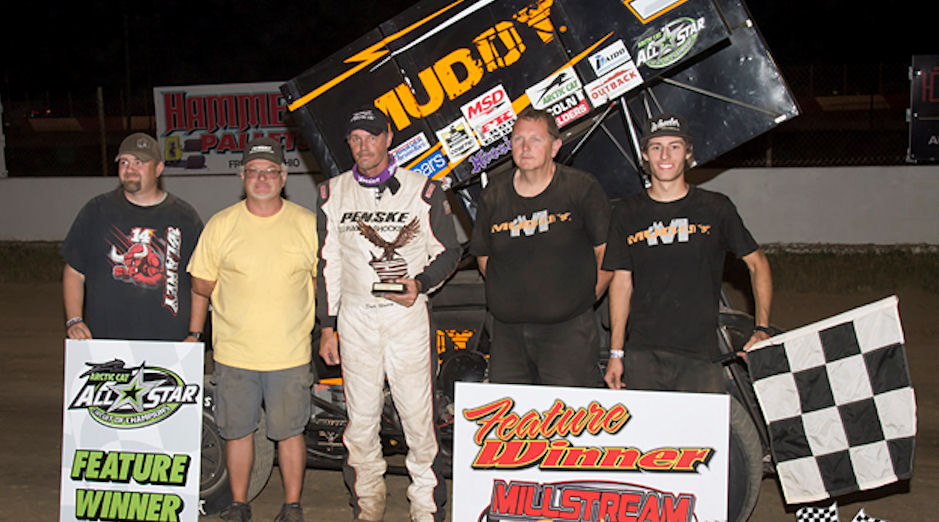 By Bob Buffenbarger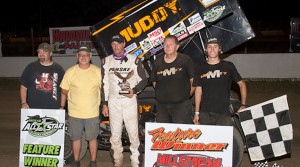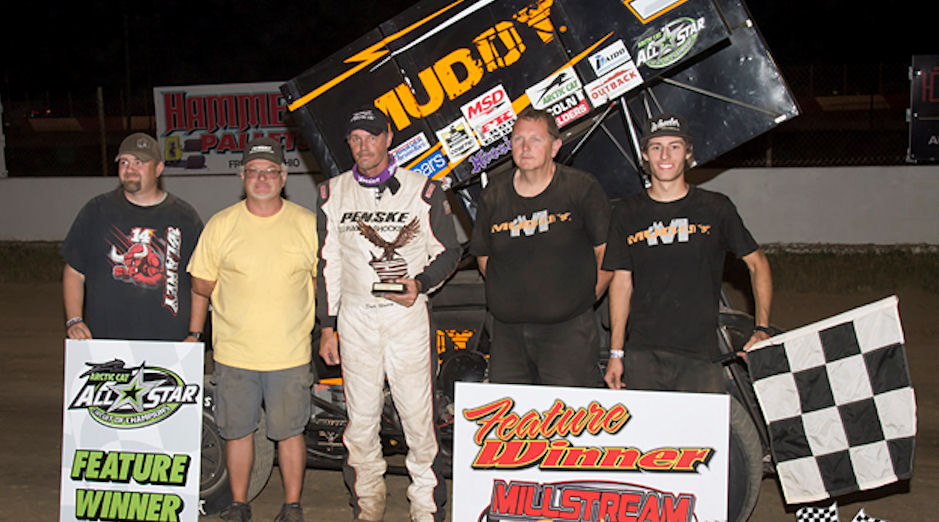 Findlay,Ohio (6-19-16)-Dale Blaney passed Chad Kemenah midway through the 30 lap feature to capture the 3rd night of the All Star Circuit Champions "Ohio Speedweek" at Millstream Speedway Sunday night.
The previous night's winner, Sheldon Haudenschild looked to be the car to beat as he led the first 10 laps until Kemenah took over. A caution for a Haudenschild flat put Cap Henry in 2nd as he looked strong. After the restart, Henry was looking to pass Kemenah on the high side on the backstretch but the two cars made contact with Henry bouncing off the outside wall and spinning to the inside.
At the midway point Blaney would get by Kemenah and maintained the position throughout.
One more caution would slow things down with Kemenah closing on Blaney, but Blaney was up to the challenge and drove to victory from his 13th starting spot over Kemenah, Kyle Larson, Travis Philo and Kraig Kinser.
A big crowd welcomed another fine field of 47 sprint cars on this warm Sunday evening.
410 Sprints – Winged | All Star Circuit of Champions
A Feature 1 (30 Laps): 1. 1-Dale Blaney[13]; 2. 10H-Chad Kemenah[2]; 3. 57-Kyle Larson[9]; 4. 5T-Travis Philo[15]; 5. 11K-Kraig Kinser[5]; 6. 49-Tim Shaffer[12]; 7. 23C-Tyler Courtney[4]; 8. 97-Dean Jacobs[10]; 9. 81-Lee Jacobs[14]; 10. 71-Jamie Veal[23]; 11. 11N-Randy Hannagan[22]; 12. 8M-T.J. Michael[25]; 13. 35-Stuart Brubaker[6]; 14. 6M-Jac Haudenschild[19]; 15. 93-Sheldon Haudenschild[1]; 16. 91-Cale Thomas[20]; 17. 70-Danny Holtgraver[17]; 18. 09X-Carson Macedo[21]; 19. 73-Chris Andrews[7]; 20. 40-Caleb Helms[8]; 21. 57X-Andrew Palker[11]; 22. 60-Kory Crabtree[18]; 23. 4-Kasey Kahne[16]; 24. 5-Byron Reed[24]; 25. 21-Cap Henry[3]
B Feature 1 (12 Laps): 1. 09X-Carson Macedo[5]; 2. 11N-Randy Hannagan[8]; 3. 71-Jamie Veal[7]; 4. 5-Byron Reed[16]; 5. 51-Roger Campbell Jr[4]; 6. 48-Danny Dietrich[15]; 7. 17W-Bryan Clauson[9]; 8. 20N-Hunter Schuerenberg[3]; 9. 49H-Bradley Howard[6]; 10. 41X-Dominic Scelzi[12]; 11. 12-Daniel Harding[13]; 12. 49D-Shawn Dancer[10]; 13. 27Z-Sean Zemunik[1]; 14. 96AU-Bruce White[11]; 15. 7-Joe Swanson[2]; 16. 4K-Kody Kinser[14]
C Feature 1 (10 Laps): 1. 48-Danny Dietrich[1]; 2. 5-Byron Reed[4]; 3. 4S-Danny Smith[2]; 4. 8M-T.J. Michael[7]; 5. 2-Parker Price-Miller[9]; 6. 24-Rico Abreu[8]; 7. 25AU-Jack Lee[10]; 8. 9-Jordan Ryan[6]; 9. 46AU-Stuart Williams[5]; 10. O7-Jacob Wilson[12]; 11. AUS96-Andrew Caruana[3]; 12. 22S-Brandon Spithaler[13]; 13. 38-D.J. Foos[11]
Dash 1 (6 Laps): 1. 93-Sheldon Haudenschild[1]; 2. 10H-Chad Kemenah[4]; 3. 21-Cap Henry[5]; 4. 23C-Tyler Courtney[3]; 5. 11K-Kraig Kinser[7]; 6. 35-Stuart Brubaker[2]; 7. 73-Chris Andrews[6]; 8. 40-Caleb Helms[8]
Heat 1 (8 Laps): 1. 21-Cap Henry[3]; 2. 40-Caleb Helms[2]; 3. 57X-Andrew Palker[5]; 4. 5T-Travis Philo[7]; 5. 60-Kory Crabtree[10]; 6. 20N-Hunter Schuerenberg[6]; 7. 51-Roger Campbell Jr[8]; 8. 27Z-Sean Zemunik[4]; 9. AUS96-Andrew Caruana[12]; 10. 96AU-Bruce White[11]; 11. 7-Joe Swanson[1]
Heat 2 (8 Laps): 1. 35-Stuart Brubaker[1]; 2. 23C-Tyler Courtney[6]; 3. 49-Tim Shaffer[2]; 4. 93-Sheldon Haudenschild[4]; 5. 11K-Kraig Kinser[3]; 6. 09X-Carson Macedo[5]; 7. 71-Jamie Veal[7]; 8. 11N-Randy Hannagan[8]; 9. 12-Daniel Harding[11]; 10. 17W-Bryan Clauson[9]; 11. 41X-Dominic Scelzi[10]; 12. 25AU-Jack Lee[12]
Heat 3 (8 Laps): 1. 73-Chris Andrews[2]; 2. 10H-Chad Kemenah[3]; 3. 1-Dale Blaney[4]; 4. 4-Kasey Kahne[6]; 5. 6M-Jac Haudenschild[9]; 6. 5-Byron Reed[10]; 7. 4S-Danny Smith[8]; 8. 48-Danny Dietrich[7]; 9. 9-Jordan Ryan[12]; 10. 49D-Shawn Dancer[1]; 11. 46AU-Stuart Williams[11]; 12. 4K-Kody Kinser[5]
Heat 4 (8 Laps): 1. 97-Dean Jacobs[1]; 2. 57-Kyle Larson[4]; 3. 81-Lee Jacobs[2]; 4. 70-Danny Holtgraver[5]; 5. 91-Cale Thomas[3]; 6. 2-Parker Price-Miller[8]; 7. 24-Rico Abreu[7]; 8. 8M-T.J. Michael[6]; 9. O7-Jacob Wilson[10]; 10. 22S-Brandon Spithaler[11]; 11. 38-D.J. Foos[9]
Qualifying 1 (2 Laps): 1. 27Z-Sean Zemunik, 15.402; 2. 21-Cap Henry, 15.407; 3. 93-Sheldon Haudenschild, 15.458; 4. 40-Caleb Helms, 15.481; 5. 11K-Kraig Kinser, 15.634; 6. 7-Joe Swanson, 15.638; 7. 57X-Andrew Palker, 15.682; 8. 20N-Hunter Schuerenberg, 15.711; 9. 49-Tim Shaffer, 15.764; 10. 5T-Travis Philo, 15.829; 11. 35-Stuart Brubaker, 15.857; 12. 51-Roger Campbell Jr, 15.882; 13. 09X-Carson Macedo, 15.883; 14. 49H-Bradley Howard, 16.027; 15. 23C-Tyler Courtney, 16.132; 16. 71-Jamie Veal, 16.159; 17. 60-Kory Crabtree, 16.167; 18. 11N-Randy Hannagan, 16.261; 19. 17W-Bryan Clauson, 16.275; 20. 1-Dale Blaney, 16.288; 21. 10H-Chad Kemenah, 16.330; 22. 73-Chris Andrews, 16.347; 23. 49D-Shawn Dancer, 16.368; 24. 96AU-Bruce White, 16.435; 25. 41X-Dominic Scelzi, 16.575; 26. 12-Daniel Harding, 16.584; 27. 4K-Kody Kinser, 16.704; 28. 4-Kasey Kahne, 16.745; 29. 48-Danny Dietrich, 16.777; 30. 4S-Danny Smith, 16.803; 31. 6M-Jac Haudenschild, 16.810; 32. 5-Byron Reed, 16.940; 33. AUS96-Andrew Caruana, 16.940; 34. 46AU-Stuart Williams, 16.985; 35. 57-Kyle Larson, 17.027; 36. 91-Cale Thomas, 17.030; 37. 9-Jordan Ryan, 17.052; 38. 81-Lee Jacobs, 17.056; 39. 97-Dean Jacobs, 17.122; 40. 70-Danny Holtgraver, 17.165; 41. 8M-T.J. Michael, 17.168; 42. 24-Rico Abreu, 17.376; 43. 2-Parker Price-Miller, 17.465; 44. 25AU-Jack Lee, 17.523; 45. 38-D.J. Foos, 17.835; 46. O7-Jacob Wilson, 17.902; 47. 22S-Brandon Spithaler, 17.934