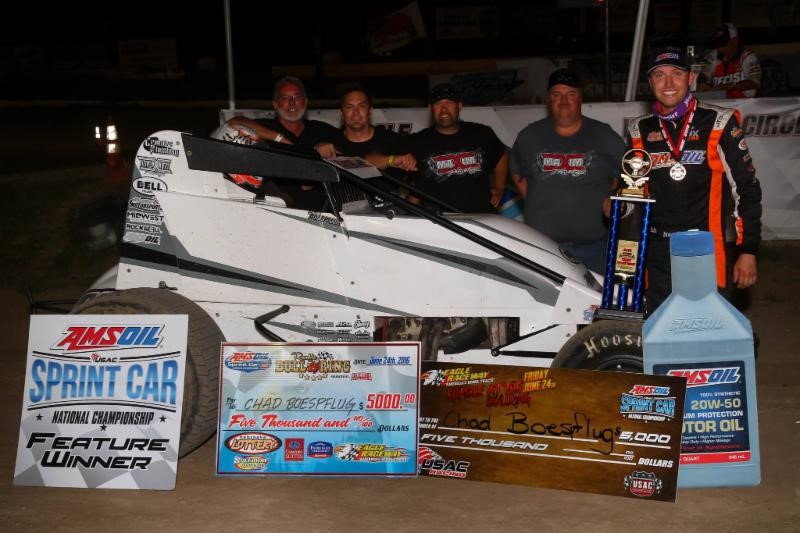 From CBR

Plainfield, IN Wednesday June 15th, 2016 –  Chad Boespflug visited the Heartland of America for four nights of Amsoil USAC National Sprint Car action this past weekend. The Midwest trip began with a stop at Jackson Motorplex in Jackson, MN followed by one night at Eagle Raceway in Eagle, NE rounding out the weekend with a two day show at Lakeside Speedway in Kansas City, KS.
Jackson Motorplex was a new track for most USAC competitors, as the series had not been in attendance there since 1988. Boespflug did not have the results they were hoping for at the Minnesota half mile. He timed 7th overall and advanced two positions in heat race competition, but fell back two positions in the feature, finishing 9th.
Night two the team traveled four hours to just outside Lincoln, NE to Eagle Raceway. A track Boespflug had visited once before when driving the Hoffman 69. A 6th place time trial meant a deeper starting spot in the heat race, but that did not hinder him as he advanced to the runner up position finishing 2nd after starting 5th. A little better qualifying effort than the night before at Jackson would in turn work in Boespflug's favor placing him into the feature invert. A front row starting spot was earned as a result of being one of the top 6 fastest qualifiers to transfer on to the AMain. Boespflug started outside Chappel on the front row. Chappel edged Boespflug to lead the first lap. Making his way around Chappel he was able to take over the race lead. Leading the remaining 29 laps to go on to win his 3rd USAC National Win of the season and first in the state of Nebraska. Boespflug had a car that was capable of running the bottom in turns 1 and 2 and the top in turns 3 and 4. Using the different lane choice to his advantage Boespflug was able to hold off Bacon and Darland in the caution filled race.
Night three and four took the team to Kansas City where Boespflug would make his first start at Lakeside Speedway Saturday for the first of two nights of racing. Having a mid pack qualifying run both nights saw Boesplfug starting mid pack come feature time as well. Night one he advanced to a fifth place early before falling back to ninth. His car was better following a late race yellow and was able to make his way back to seventh. Appeared he could have possibly advanced a little more but ran out of laps to make up any more ground. Night two was a similar story as Boespflug also made most of his ground in the later part of the race. Making his way up up to fifth after starting tenth to score another top five finish on the weekend.
Four top 10's, one top 5, and a win made for a solid weekend in the NineEight Motorsports / EZR pit. The team has made its way back home to Indiana and will return this weekend with the two day Bill Gardner Sprintacular event at Lincoln Park Speedway.
Thank You to All Continued Supporting Partners:
Amsoil, Bell Helmets, Butlerbuilt Seats, B & W Auto Mart, Claxton Engines, Creative Finishing, DLG, FK Indy, Hinchman Indy, HRP, Indy Race Parts, Manvel Motorsports, Maxim Racing, Midwest Shades, PAC Springs, RevvedUp Industries, Rockwell Time, Shaws, and STIDA.
Race Results:
USAC at Jackson Motorplex: 6/23: Qualifying: 7th / 21 Cars – Heat Race: S 4th F 2nd – AMain: S 7th F 9th
USAC at Eagle Speedway: 6/24: Qualifying: 6th / 20 Cars – Heat Race: S 5th F 2nd – AMain: S 2nd F Won
USAC at Lakeside Speedway: 6/25: Qualifying: 9th / 21 Cars – Heat Race: S 4th F 2nd – AMain: S 9th F 7th
USAC at Lakeside Speedway: 6/26: Qualifying: 10th / 24 Cars – Heat Race: S 3rd F 2nd  – AMain: S 10th F 5th