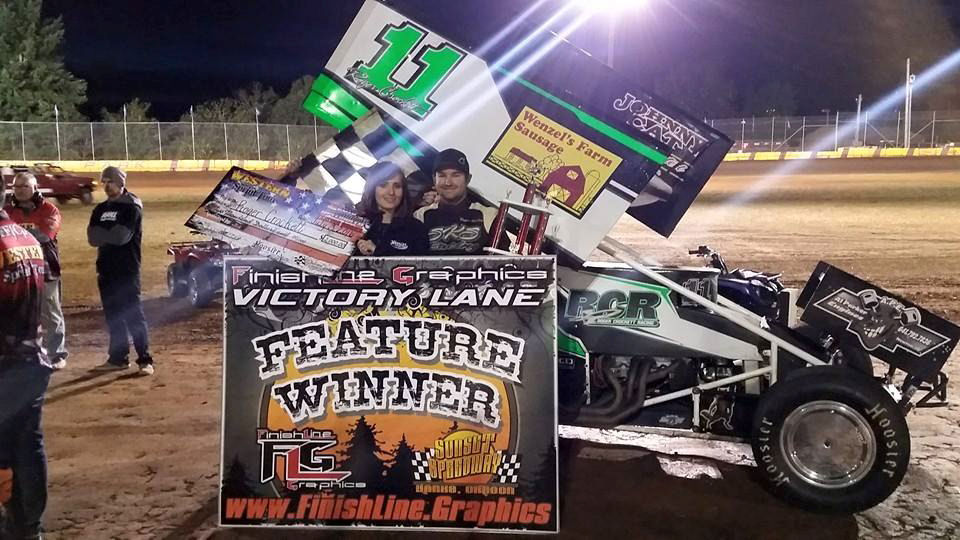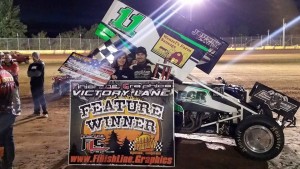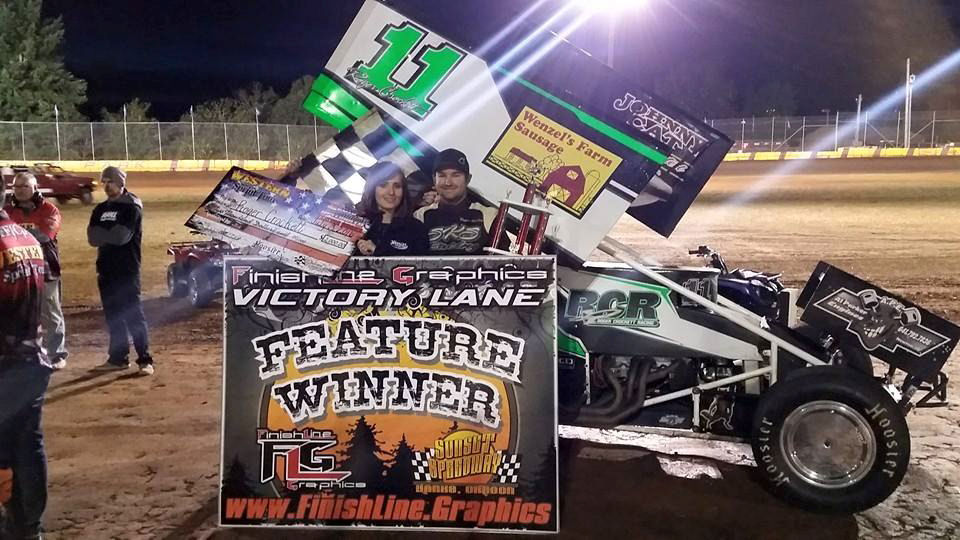 By Ben Deatherage
Banks, Oregon- The 19th annual Speedweek Northwest would open up for the first time at Sunset Speedway Park.  Located just west of the metropolis of Portland, Oregon this ¼-mile clay oval is the smallest track on the Speedweek schedule.  A total of eighteen cars would make the trip representing Oregon, Washington, and California as well as the nations of Canada and New Zealand.
After an opening start caution Roger Crockett, from Medford, would seize the lead on the first lap.  The main event would have nine total cautions over the course of the race which made restarts very crucial.
However, lapped traffic would come into play on occasion and forced Crockett to make split second decisions.  Every time slower cars were presented in front of him he would find a way quickly around them and practically went unchallenged to pace the field the entire distance.  It would mark Crockett's second ever Speedweek Northwest victory at Sunset Speedway Park and his twentieth overall Speedweek victory.
Cory Eliason, of Visalia, California and driving for Harley Van Dyke, was a respectable second while fellow Visalia pilot Steven Tiner crossed the wire in third.  Clarksburg, California's Justyn Cox was fourth in the main and the top five was completed with fifth finishing Garen Linder of Central Point.
Roger Crockett was fast time of the night in time trials.  Heat race winners were Te Auna, Southland, New Zealand's Daniel Anderson, Brian Boswell of Roseburg, and Steven Tiner.  Crockett managed to claim the victory in the trophy dash to earn the pole starting position.
Speedweek Northwest heads to Cottage Grove Speedway on Independence Day, Monday July 4th.  Tickets are Adults $15.00, Juniors/Seniors $10.00, Youth (6-12) $5.00, and Children 5 or under are FREE. Front Gates open at 4:00 PM with Racing beginning around 6:30. For more information log on to www.cottagegrovespeedway.com and check out the track's Facebook page and click "Like". To find the latest news and information regarding Speedweek Northwest visit sprints.nwextremeseries.com.
Race Summary:
Speedweek Northwest Race #1
Sunday July 3rd, 2016
Sunset Speedway Park
Banks, Oregon
A Feature: 1. 11-Roger Crockett; 2. 5H-Cory Eliason; 3. 94-Steven Tiner; 4. 31C-Justyn Cox; 5. 22-Garen Linder; 6. N8-Nate Vaughn; 7. 37-Mitchell Faccinto; 8. 10-Don Waddell; 9. 15R-Jake Gilman; 10. 2JR-Kelly Miller; 11. 11X-Chris Batalgia; 12. 8R-Trey Starks; 13. 26F-Shane Forte; 14. 5-Brian Boswell; 15. 4D-Cooper Desbiens; 16. 22C-Trevor Cook; 17. 44NZ-Daniel Anderson; 18. 21W-Jake Wheeler
Dash: 1. 11-Roger Crockett; 2. 5H-Cory Eliason; 3. 94-Steven Tiner; 4. 22-Garen Linder; 5. 4D-Cooper Desbiens; 6. 44NZ-Daniel Anderson
Heat 1: 1. 44NZ-Daniel Anderson; 2. 26F-Shane Forte; 3. 11-Roger Crockett; 4. 21W-Jake Wheeler; 5. 31C-Justyn Cox; 6. N8-Nate Vaughn
Heat 2: 1. 5-Brian Boswell; 2. 15R-Jake Gilman; 3. 2JR-Kelly Miller; 4. 8R-Trey Starks; 5. 22-Garen Linder; 6. 10-Don Waddell
Heat 3: 1. 94-Steven Tiner; 2. 5H-Cory Eliason; 3. 37-Mitchell Faccinto; 4. 4D-Cooper Desbiens; 5. 22C-Trevor Cook; 6. 11X-Chris Batalgia
Qualifying: 1. 11-Roger Crockett; 2. 22-Garen Linder; 3. 4D-Cooper Desbiens; 4. N8-Nate Vaughn; 5. 8R-Trey Starks; 6. 5H-Cory Eliason; 7. 31C-Justyn Cox; 8. 10-Don Waddell; 9. 22C-Trevor Cook; 10. 21W-Jake Wheeler; 11. 2JR-Kelly Miller; 12. 94-Steven Tiner; 13. 44NZ-Daniel Anderson; 14. 15R-Jake Gilman; 15. 37-Mitchell Faccinto; 16. 26F-Shane Forte; 17. 5-Brian Boswell; 18. 11X-Chris Batalgia
Current Speedweek Northwest Points (Top Ten):
11-Roger Crockett 98; 2. 5H-Cory Eliason 90; 3. 94-Steven Tiner 85; 4. 22-Garen Linder 82; 5. 31C-Justyn Cox 80; 6. N8-Nate Vaughn 77; 7. 37-Mitchell Faccinto 72; 8. 15R-Jake Gilman 69; T 10-Don Waddell 69; 10. 8R-Trey Starks 67
2016 Speedweek Northwest Schedule:
(Date-Track-Location-Winner)
Sunday July 3rd-Sunset Speedway Park-Banks, Oregon (Roger Crockett)
Monday July 4th-Cottage Grove Speedway-Cottage Grove, Oregon
Tuesday July 5th-Willamette Speedway-Lebanon, Oregon
Wednesday July 6th-Coos Bay Speedway-Coos Bay, Oregon
Thursday July 7th-Off Day
Friday July 8th-Siskiyou Motor Speedway-Yreka, California
Saturday July 9th-Southern Oregon Speedway-White City, Oregon