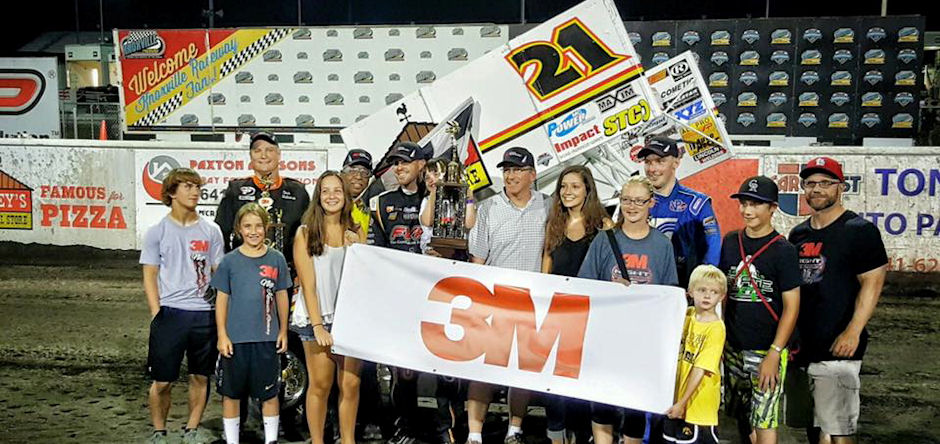 by Bill Wright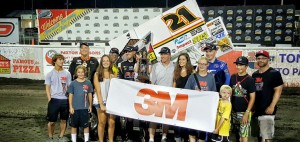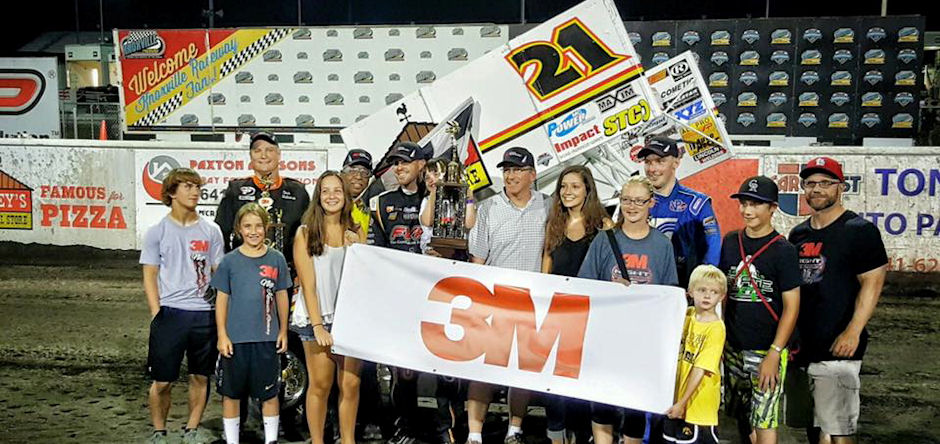 Knoxville, IA, July 23, 2016 – On a hot night, Brian Brown was even hotter! The Grain Valley, Missouri driver wired the field to win the non-stop 25-lap National Sprint League feature Saturday at the Knoxville Raceway on 3M Night. The win was the veteran's 33rd at the famous half-mile and was worth $5,000. In the 360 class, a move in lapped traffic gave Ryan Giles his second win here in as many years, and Chris Walraven picked up his third win this season in the 305 class.
Events were moved back thirty minutes for the heat, and a large crowd enjoyed a great night of racing. In addition, Casey's General Stores donated 600 pounds of candy for a Candy Dash during intermission. It didn't last long, as all the young fans went home with their share!
Ian Madsen looked like he may take the point at the beginning of the NSL main event, but his car shut down coming out of turn four. Fellow front-row starter, Brian Brown assumed the lead with Danny Lasoski right on his tail as Madsen pulled off. High-point man on the night, AJ Moeller settled into third.
Dustin Selvage would throw his hat in the ring too, taking third on the fourth lap. Craig Dollansky, who picked up a $10,000 win at Jackson Friday night, entered the top four early on and tracked down Selvage for third at the halfway mark.
Meanwhile, up front, Brown was dicing through traffic with Lasoski in pursuit. When Lasoski would have him in range, Brown was able to move through traffic seemingly with ease. Lasoski tried to keep pace, but fell seven-tenths of a second short at the line. Brown lapped up to the eighth place finisher in a commanding win. Lasoski finished second, ahead of Dollansky. Sammy Swindell charged from row five to take fourth with a lap to go, ahead of Selvage. Tasker Phillips, Cory Eliason, Josh Schneiderman, Brooke Tatnell and Davey Heskin rounded out the top ten. Lasoski set quick time, while Eliason, Phillips and Swindell won heat races.
"I don't know how it looked, but that was 25 laps about as hard as I could go right there," said Brown afterwards. "You know when you see Danny in the corner of your eye, that he's not going to give up. It takes a lot of people to make this thing go-around and I'm the lucky guy who gets to drive it. If you're going to get hot, literally, this is the time of year to do it. With a professional like Danny behind you, you have to make every move count. You get yourself in the middle, miss the bottom, or get tight, he's going to pounce."
"I felt like a couple of times mid-race, I didn't make very good corners, especially in traffic," Brown continued. "When I got by them, I knew I had to make four or five really good laps to get some distance. I kind of made a bad move with Brooke there at the end and thought I may have given him a shot. I think what you're going to see come Knoxville Nationals time, is the caliber of cars we race with every week is top notch. It's like racing with Donny Schatz and Shane Stewart every week. I think we'll be ready in a couple weeks."
Ryan Giles shot out from the pole position to lead Calvin Landis and Ian Madsen early in the 18-lap 360 main event, while Jamie Ball and Joe Beaver put on a battle for fourth. While Landis found the cushion to his liking, Giles remained in the low groove. Landis would reel in the leader and take the point on lap seven.
With two lapped cars side-by-side on the top of the track, Giles used the pick to shoot by Landis in turn two on lap ten. The lone caution of the race came with twelve laps down.
Sawyer Phillips jumped the infield berm in turn four and spun. He rejoined a field that saw Giles leading Landis, Madsen, Ball and Josh Baughman.
While Giles maintained his advantage to the checkers, Madsen used the restart to gain second. Landis finished third, ahead of Ball and Baughman. Tony Shilling, Clint Garner, hard-charger Danny Lasoski, Ryan Roberts and Beaver rounded out the top ten. Giles set quick time over the 34-car field, while Garner, Tyler Groenendyk, Lee Grosz and Baughman won heats. Casey Friedrichsen claimed the B main.
"I just knew that I needed to calm down," said Giles of getting passed by Landis for the lead early. "I needed to start hitting my marks again. The bottom started to go away a little and I didn't want to take myself out of it. Luckily, he got into lapped traffic, and I used it as a pick to my advantage. He showed his nose on the top and I thought I may be a sitting duck on that restart. So I went up top and luckily, the car was better up there than it had been on the bottom. I could hear them, but I knew if I hit my marks it would be tough to get by. I'm just glad to have my Dad here. He's done everything to allow me to be here. We're still learning this stuff."
Christian Bowman set the pace over Brad Comegys and Chris Walraven early in the 15-lap 305 feature. Devin Kline worked by both Walraven and Comegys early to move into second, but it was short-lived, as Walraven snuck by on lap five. With the leaders by the start/finish line, the caution flew for a spun Mike Mayberry.
Bowman led Walraven, Kline, Comegys and Chase Wanner back to green. Walraven challenged for the lead, and began to pull beside Bowman coming down the frontstretch. The leader made a sudden move to the top of turn one, causing Walraven to get on the binders and regain his composure. Ten laps in, McKenna Haase slowed to a stop in turn four. Mike Dapra happened on the scene, jumping Haase's left rear and flipping. No one was hurt.
Walraven used the restart to put a slider of his own on Bowman in turn two and take the lead. Kline would follow him into second. One final caution was displayed for Matthew Stelzer who slowed in turn four. At the same time, Mayberry needed the hook and Dan Henning spun to avoid.
Walraven pulled away on the restart, winning his third feature of the year utilizing the Knoxville CT525 spec engine. Kline was second, ahead of Bowman, Christopher Scank and Comegys. Joe Simbro, hard-charger Tyler Thompson, Wanner, Corey Kautz and Jeff Wilke rounded out the top ten. Bowman set quick time over the field, while Josh Jones and Walraven won heat races.
"It felt like an awful nice slide job from where I was sitting," said Walraven of his winning pass. "I don't know what he thought, but I think I had him cleared. We started sixth, and I think we were running third at the end of the first lap. That thing just came forward the whole fifteen laps. I kind of knew (Kline) would get me on the bottom if I didn't go down there. I just kind of went in protect mode. If he drove around me on the outside, then so be it. He didn't quite have enough smoke to do that I guess. This is our third win this year, and we're having a blast."
Join us next Saturday night, July 30 for Weiler Night at Knoxville! The National Sprint League will again be in action, vying for a $5,000 top prize. The 360 class will also be running, and will be tuning up for the upcoming 360 Nationals. In addition, the huge Fireworks event weathered out over the Fourth of July weekend will conclude the night! For more information, visit www.KnoxvilleRaceway.com!
410 Results
Time Trials (Qualifying Order), 2 laps: 1. 2, Danny Lasoski, Dover, MO (3), 15.293; 2. 20, AJ Moeller, Rockwell City, IA (12), 15.321; 3. 7, Dustin Selvage, Indianola, IA (20), 15.379; 4. 18, Ian Madsen, St. Mary's, NSW, Aust. (15), 15.381; 5. 55, Brooke Tatnell, Sans Souci, NSW, Aust. (1), 15.427; 6. 84, Scott Bogucki, McLaren Vale, SA, Aust. (17), 15.427; 7. 2KS, Craig Dollansky, Elk River, MN (23), 15.473; 8. 56N, Davey Heskin, St. Michael, MN (9), 15.514; 9. 21, Brian Brown, Grain Valley, MO (7), 15.559; 10. 17, Josh Baughman, Odessa, TX (21), 15.569; 11. 17B, Bill Balog, Hartland, WI (16), 15.600; 12. 26, Willie Croft, Roseville, CA (10), 15.615; 13. 10, Dakota Hendrickson, Omaha, NE (22), 15.649; 14. 49, Josh Schneiderman, West Burlington, IA (24), 15.713; 15. 1, Sammy Swindell, Germantown, TN (8), 15.727; 16. 5H, Cory Eliason, Selma, CA (11), 15.762; 17. 7W, Tasker Phillips, Pleasantville, IA (5), 15.772; 18. 71A, RJ Johnson, Tampa, FL (13), 15.842; 19. 13V, Seth Brahmer, Norfolk, NE (18), 15.998; 20. 10V, Rager Phillips, Pleasantville, IA (6), 16.109; 21. 96, Bronson Maeschen, Pleasantville, IA (14), 16.294; 22. 1B, Jake Bubak, Arvada, CO (4), 16.318; 23. 19, Bob Weuve, Newton, IA (19), 16.437; 24. 35, Kevin Hetrick, Gladstone, IL (2), 16.545.
Heat one (started), 8 Laps, 2:09.0: 1. Cory Eliason (1); 2. Craig Dollansky (4); 3. Josh Baughman (3); 4. Dakota Hendrickson (2); 5. Ian Madsen (5); 6. Danny Lasoski (6); 7. Seth Brahmer (7); 8. Jake Bubak (8)
Heat two (started), 8 Laps, 2:08.6: 1. Tasker Phillips (1); 2. Josh Schneiderman (2); 3. AJ Moeller (6); 4. Bill Balog (3); 5. Davey Heskin (4); 6. Brooke Tatnell (5); 7. Rager Phillips (7); 8. Bob Weuve (8);
Heat three (started), 8 Laps, 2:06.5: 1. Sammy Swindell (2); 2. Brian Brown (4); 3. RJ Johnson (1); 4. Scott Bogucki (5); 5. Dustin Selvage (6); 6. Willie Croft (3); 7. Bronson Maeschen (7); 8. Kevin Hetrick (8)
A main (started), 25 Laps, 7:14.4: 1. Brian Brown (2); 2. Danny Lasoski (4); 3. Craig Dollansky (5); 4. Sammy Swindell (9); 5. Dustin Selvage (3); 6. Tasker Phillips (12); 7. Cory Eliason (10); 8. Josh Schneiderman (13); 9. Brooke Tatnell (11); 10. Davey Heskin (14); 11. Bronson Maeschen (21); 12. Scott Bogucki (7); 13. Bill Balog (15); 14. Jake Bubak (22); 15. RJ Johnson (17); 16. Willie Croft (18); 17. AJ Moeller (6); 18. Bob Weuve (23); 19. Rager Phillips (20); 20. Dakota Hendrickson (16); 21. Josh Baughman (8); 22. Kevin Hetrick (24); 23. Seth Brahmer (19); 24. Ian Madsen (1). Lap Leader: Brown 1-25. Hard-charger: Maeschen.
360 Results
Time Trials (Qualifying Order), 2 laps: 1. 9, Ryan Giles, West Des Moines, IA (15), 16.144; 2. 10, Calvin Landis, Knoxville, IA (29), 16.378; 3. 5J, Jamie Ball, Knoxville, IA (24), 16.381; 4. 21, Brian Brown, Grain Valley, MO (19), 16.406; 5. 18, Ian Madsen, St. Mary's, NSW, Aust. (1), 16.450; 6. 3, Nate Van Haaften, Otley, IA (12), 16.456; 7. 53, Joe Beaver, Knoxville, IA (4), 16.490; 8. 18R, Ryan Roberts, Aurora, NE (23), 16.501; 9. 20, Casey Friedrichsen, Arthur, IA (7), 16.505; 10. 17, Tyler Groenendyk, Oskaloosa, IA (34), 16.547; 11. 22, Tony Shilling, Knoxville, IA (6), 16.556; 12. 17x, Josh Baughman, Odessa, TX (25), 16.584; 13. 40, Clint Garner, Sioux Falls, SD (18), 16.599; 14. 3P, Sawyer Phillips, Pleasantville, IA (31), 16.642; 15. 9M, Ricky Montgomery, Lakewood, CO (13), 16.650; 16. 2M, Matt Moro, Polk City, IA (32), 16.663; 17. 1m, Danny Lasoski, Dover, MO (26), 16.676; 18. 14, Randy Martin, California, MO (5), 16.691; 19. 13V, Seth Brahmer, Wisner, NE (2), 16.714; 20. 24, Josh Higday, Des Moines, IA (30), 16.722; 21. 33V, Mike Van Haaften, Otley, IA (9), 16.754; 22. 86, Tony Bruce Jr., Owasso, OK (11), 16.759; 23. 4J, Lee Grosz, Harwood, ND (21), 16.776; 24. 33, Alan Zoutte, Knoxville, IA (8), 16.805; 25. 75X, JT Imperial, Mesa, AZ (27), 16.822; 26. 44, Chris Martin, Ankeny, IA (33), 16.996; 27. 81A, Chris Morgan, Topeka, KS (14), 17.006; 28. 85, Forrest Sutherland, Cherryvale, KS (28), 17.050; 29. 8L, Tom Lenz, Marion, IA (20), 17.056; 30. 4, Evan Martin, California, MO (10), 17.079; 31. 99, John Schulz, West Burlington, IA (16), 17.174; 32. 19, Rob Weuve, Oakland Acres, IA (22), 17.289; 33. 91, Steven Russell, Springfield, IL (17), 17.322; 34. 1A, John Anderson, Des Moines, IA (3), 17.502.
Heat one (started), 7 Laps, 1:57.6: 1. Clint Garner (3); 2. Danny Lasoski (2); 3. Ryan Giles (6); 4. Ian Madsen (5); 5. Mike Van Haaften (1) / 6. Casey Friedrichsen (4); 7. JT Imperial (7); 8. Tom Lenz (8); 9. Steven Russell (9)
Heat two (started), 7 Laps, 1:57.7: 1. Tyler Groenendyk (2); 2. Calvin Landis (4); 3. Tony Bruce Jr. (1); 4. Sawyer Phillips (3); 5. Nate Van Haaften (5) / 6. Evan Martin (6); 7. Chris Martin (7); 8. John Anderson (8) DNS – Randy Martin